Impact
In the nature preserve of the Parque Nacional de Tingo María,
Peru
lies a curious limestone mountain in the shape of a woman asleep. Locals refer to her as
La Bella Durmiente
("The Sleeping Beauty" ).
Cocoa Nibs
are a key component of dormant chocolate yet to be awakened by sugar & refinement.
And these nibs in particular from the Tingo Maria area are some Bella Durmientes.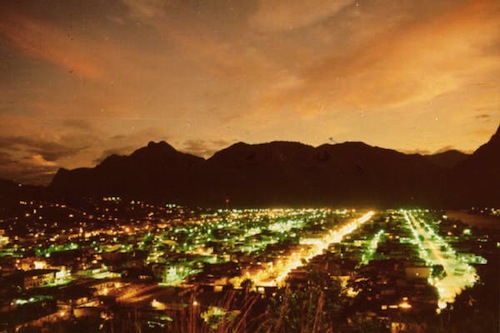 The mountainous contours of "Sleeping Beauty" above Tingo Maria
| | |
| --- | --- |
| Color: | light brown |
| Surface: | assiduously winnowed & clean |
| Temper: | just a touch of fuzz |
| Snap: | n/a |
Aroma 6.8 / 10
banana bread
medicinal herbals (e.g., cinchona)
film developer chemicals (diethanolamine-sulfur dioxide complex) followed by a stop bath (acetic acid) -- the latter expected, the former a little suspect
Mouthfeel 11.2 / 15
| | |
| --- | --- |
| Texture: | max crunch |
| Melt: | lo-fat mash |
Flavor 45 / 50
defined cocoa (quite rare, however mild, for a lead-in of
Nibs
) -> nuts & sacha inchi (more in line with the format) -> flash candied-papaya (excellent) -> the dusty sweet potato/cashew-like
lucuma
-> savory herbs (Peru balsam & lemon verbena) -> first bitter hit at the back of the palate chased by coconut cream (excellence Part II) -> cobwebs & burlap but fold neatly into the profile -> bitter returns more to the fore with due restraint as in radicchio -> soft woods -> thin stringency lines the take away
Quality 17.3 / 20
When it comes to
Peru
, there are many
cacáos
. Many among the "fine-chocolate" cartel know of 2 primary regions: a) the extreme northern nook (mainly
Piura
& lesser so
Marañón Canyon
) of, very generally speaking,
Nacional
-type varietals & b) the north-central hub around
San Martin
(mostly a wasteland of
CCN
).
Less well-known to the south, pretty much in the middle of the country, sits Tingo Maria at the "Door of the
Amazon"
... the majority of whose groves still maintain indigenous cacáos / landraces, though CCN encroaches here too as a staple of the
Cooperativa Agroindustrial Naranjillo
. A crude metric: the farther south in Peru one goes, the more native the cacáo grows.
These
Nibs
largely bear that out.
Shattell
applies a golden-mean roast on some exceedingly dry seeds (see
Texture
) that still brings out good chocolate sense & intermittent sweet spots amidst some savory points.
Quite satisfying as a stand alone snack & for nibbling on their own. Instead of breaking & spitting out pumpkin seeds, try these.
INGREDIENTS:
Cocoa Nibs
Reviewed November 5, 2013