Impact
UPDATED REVIEW: 2 Ecuadors from Holy Cacao -- Balao featured in 2014 & Los Rios in 2016. The overall rating & metrics (upper right) forms the composite average of both.


*****************************

Many are they who enjoy chocolate with sex (usually before; sometimes after; occasionally during).

Here 2 bars that come as closest as any to having sex with chocolate…. yes, that's right, a chocolate blowjob.

(May Jo Zander, a spiritualist who after all named his company Holy Cacao, forgive the transgressive thought.)
Appearance 4.4 / 5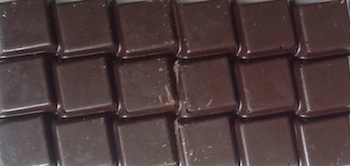 Color:
Balao: dark jet brown
Los Rios: Darth raven
Surface:
Balao:: corner voids & craters in a diagonally-scored mold
Los Rios: pocked
Temper:
tremendous albedo in effect
Snap:
heavy & hard; sheer wall
Aroma 8 / 10
Balao
malted grains / graham crackers -> tobacco spice
feigns fruiting but hangs herbal (grass & cinnamon)

Los Rios
another thicket from Holy Cacao
cocoa paste & black tea syrup
musk & must
deciduous wood
barren blackberry bush
Mouthfeel 15 / 15
| | |
| --- | --- |
| Texture: | massive; big-bodied & buxom (maybe back up the lecithin some next time?) |
| Melt: | the Holy Grail |
Flavor 44.9 / 50
Balao
instant attack on fine chocolate intermingles with cocoa dust -> the breaded instance of the Aroma comes on for a walnut fudge brownie -> sweetens towards fully-ripened & full banana -> nice flint wood sparking up against spice (sugar, vanilla, cinnamon, & hops… absolutely terrific) -> black fig galvanizes a lone bitter -> the escape a grape-ghost

Los Rios
black tea hash => dry paulo santo => caustic blackberry brandy => borojó fruit => mallow & jute => strangler fig
Quality 17.4 / 20
Balao
Sensus Chocolatis
.
Thickly lays it on all over. Huge magnitude. The bottom notes positively pounding louder than a bass amp turned up to 12. The sweet middles so direct & def. The upper register fleeting yet captivating. And no let up from the first bell -- just keeps coming & giving the business.
As if flavor weren't enough that buxom
Texture
, with an assist from major pneumatic lecithin, lifts it all.
While perhaps generally less ultra-finessed than, say,
Rogue's Balao primogenitor
, this delivers more pleasure compared to that introspective study -- the point loads so much more externalized here... to the point of pop art-popsicle -- largely though by no means exclusively on account of that
Mouthfeel
but, also, as if boosted by added cocoa cake (& should the
Barithmetic
(
Cocoa mass / Butter / Sugar ratio
) of ~8:7:5 be accurate, despite additional
cocoa butter
, then perhaps so).
So what if it's faked enhancement (lecithin). Uncontainable… never want it to end… nor could it if so desired because of inexorable expansion.
Memorable -- forever & ever.
Los Rios
A deep
Dark
. O, the fathoms that this goes. Dense claustro-flavic trap.
Holy Cacao
really sublimates the drier aspects of the forest here, encapsulating them in a textural landscape which envelopes the chamber, roping off any escape routes. Surrendering proves rewarding however. Nothing festive to be sure. More a sober if not solemn Black Mass.
And terrific at that.
INGREDIENTS:
cocoa mass, sugar,
cocoa butter
, lecithin
Balao: Reviewed June 23, 2014
Los Rios: Reviewed July 21, 2016