Milk Chocolates
by
Wild Sweets / Dominique & Cindy Duby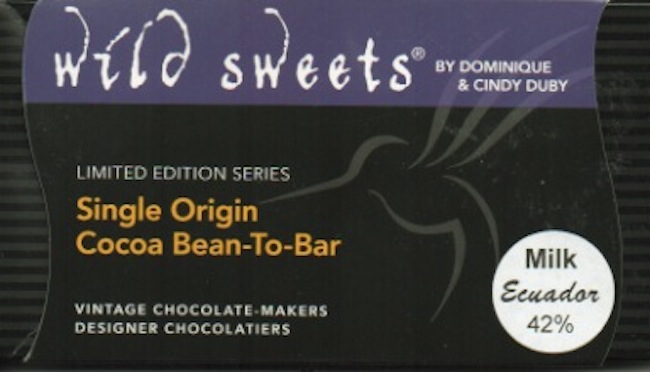 Impact
The world's strongest current is found in the Nakwakto Rapids at Slingsby Channel, BC with speeds up to 20 MPH.
And the undertow from these brackish
MCs
by
Wild Sweets
, just down the coast in Vancouver BC, measures about as forcefully.
Color:
Ecuador: MC Dark
Trinidad pewtered silver-brown
Surface:
art deco metropole designer mold
Temper:
soft jeweler polish
Snap:
distant but distinct
Aroma 9 / 10
Ecuador
pastry-bakery / dessert carousal

Trinidad
malted multi-grain cereal sweetened in carob syrup, cut by uncured tobacco leaf
Mouthfeel 12.4 / 15
| | |
| --- | --- |
| Texture: | fab flab |
| Melt: | keeps it hanging |
Flavor 45.7 / 50
Ecuador
salted caramel -> quality mineral action -> drops into a dark port tank (sensational) -> resurfaces chocolate-dipped dried cherry skin on a wafer -> nuts out

Trinidad
similar start on salt whose sprinkles glaze the airside of the mold & mineral content give this cocoa a sodium bath -> dark caramel -> sweet black mission fig -> St. John's fruit / carob pod detected in the Aroma -> extracted molasses -> licorice root (Glycyrrhiza glabra)
Quality 18.3 / 20
From the ever serious fun luvin' Dominique & Cindy Duby of
Wild Sweets
who change their line with the seasons &, seemingly, their name too.
This barsmithing duo, interestingly enough, eschews for the most part single-origin straight
Dark
bars in favor of
Milk Chocolate
for a couple reasons: a) the latter is more elaborate than the former & b) it suits their wheelhouse as supreme flavorists par excellence, a sophisticated
Zotter
so to speak. Hence even most of its
Darks
contain inclusions.
All sums into hi-level output / gastronomics.
Ecuador
Camino Verde, Balao; 42% cacáo-content
Quite the compound. A bevy of ingredients simultaneously surpass the
Camino Verde
base while fusing the components into a unit that almost fools of a traditional
Milk Chocolate
with fleur de sel that integrate flawlessly / seamlessly to revert back to the cocoa from whence it's all based.
Trinidad
Less involved than the
Ecuador
(above) but no less intriguing. The tags, especially the molasses & licorice so true, direct, & seemingly fresh.
Reviewed May 29, 2015