Impact
The Moeraki Boulders, sitting down the southeast coast to Wellington, form massive (up to 7 feet in diameter) spherical concretions (mineral lodes in embedded sedimentary rock) exposed by erosion from wave cuts along the ocean -- as if droppings of avian dinosaurs. Given their Paleocene origin... well, who knows.
These 4 bars share a similar gritty / sandy character (especially the
Textures
), several utilizing island
cacáos
washed up on the shore.... all perfectly apt for chocolate crafted in New Zealand.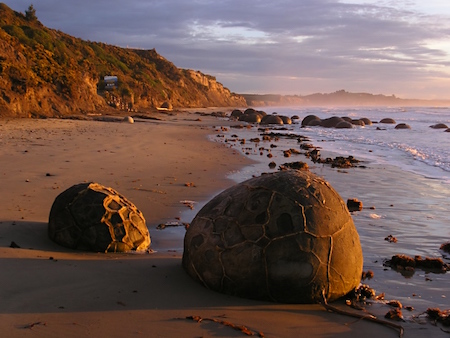 | | |
| --- | --- |
| Color: | paler shades of brown |
| Surface: | scuffed & chipped |
| Temper: | just below sunrise |
| Snap: | solid |
Aroma 7.2 / 10
Bougainville
Papua New Guinea; 70% cacao-content; Batch B15
thin top-layer of dried fruit blown off by smoked substrate (typical of PNG)
Samoa
Samoa (Fua o Elele); 77% cacáo-content; Batch S12
outdoor grove... clustered about breezy palms
Dominican Republic
Conacado Co-op; 70% cacáo-content; Batch DR28
off-scent: muddy, musty, moldy
Peru Norandino
70% cacáo-content; Batch PN37
temperate & kind, then oxidizes to a sharp point
Mouthfeel 11.6 / 15
| | |
| --- | --- |
| Texture: | generally powderful |
| Melt: | collapsible |
Flavor 43.8 / 50
Bougainville
slow starter comes on strong with those dried fruits of the
Aroma
(centered around apricot) & almost nothing but... cocoa & talc eventually emerge -> peat -> vanilla -> smoked caramel -> semi-stringent finish
Top-heavy in an attractive manner with just enough bottom to prevent toppling over.
Samoa
orange-cinnamon on a dry bed of tannic cocoa, tannins on the bitter verge without ever developing into a caustic takedown (remarkable) -> brown sugar -> taro -> kava-malt close
So much aggreeance for 77%. A bar that threatens a bitter insurrection only to maintain its poise, malting away to the very end... long in coming... thanks to
Samoa's
renowned cocoa butter composition.
Dominican Republic
brown sugar load-in -> cinnamon biscuits... toasty & tasty -> back flash fruit (apricot) comes fore (as mango) embedded in a cocoa rush -> guanabana & sapote in a recombinant fruited spice cake
Simple at the outset; intricate by the finish.
Wellington
has a knack for cinnamon & apricot tags in its bars it seems, despite some disparate
origins
(spanning from the
South Pacific
to the
Caribbean
on the other side of the globe). Maybe the
seed
selection, or the slightly browned turbinado sugar, or... something hanging in the air around the factory. Whatever the circumstance, a warm, enticing bar that defies its
Aromatics
like a dowdy dowager who turns somehow sexy under the hood.
Peru Norandino
pineapple-chocolate with shot of gin for a twist -> juniper berry -> caustic pine-nut
Shades of
Madagascar
without the red-hued technicolor.
Quality 15.5 / 20
Wellington Chocolate.... voyaging & foraging nearby islands (& afar -- re:
The D.R.
).
Deserves the
Mott Green Award
for light zero-emission eco-footprint, sailing raw materials back to their NZ base under wind power(!!) (other than that, let's face it, the CLA of the
cacáo
/ cocoa / chocolate industry taxes the environment substantially).
Overall serviceable chocolate in a country rather barren -- & therefore should be starving -- of the real deal.
INGREDIENTS:
cocoa mass, sugar
Reviewed August 2, 2016