Impact
John Kelly -- friend of
the C-spot
™, civil engineer, part-time artist, & chocolate taster -- writes-in that he tossed out painted canvases not to his liking, including a piece now dubbed
The Sniffer
.
Years later while cleaning out his mother's home right after her death last summer, he discovered that she quietly pulled & stored it in the basement. Obviously the insightful mother saw treasure in her impetuous son's trash.
Good thing too. For it captures the perfect image -- beatific really -- of how this bar performs on the senses.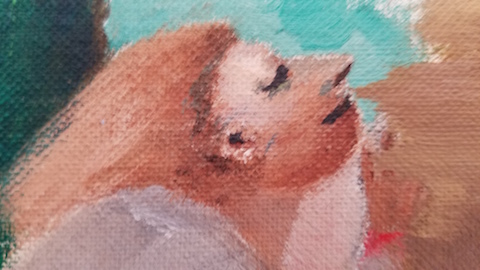 The Sniffer by John Kelly; Bar Wrapper Image (upper right) courtesy of Vera Hoffman
| | |
| --- | --- |
| Color: | blanche brown |
| Surface: | plastic wrapper transfer |
| Temper: | semi-nucleated by above Surface FXs |
| Snap: | detonates |
Aroma 9.1 / 10
a
musk
ateer
those heady only-from-
Vietnam
intoxicants... loading on musks & middle notes
Mouthfeel 12.8 / 15
| | |
| --- | --- |
| Texture: | easy come... |
| Melt: | .... easy go (in between the vast seam) |
Flavor 46 / 50
chocolate hash oozing / 'oud'ing out a censer filled with other exotic spices & fragrances... cut by talc, naturally, as any smart dealer prep in order to avoid overdosing the customer -> sweet myrrh (terrific!) -> brown rice syrup cake! -> trippy magic fig & tamarind -> black cherry pie
Quality 17.7 / 20
The liner notes fail to do justice (ditto just about all takes on this type) -- the standard conventional markers to spare anyone from being too far jolted & thus back away from the buy.
Almost indescribable.
No worries,
Soma
does justice to the matter at hand by respecting the seed / bean (or is it a
nut
? whatever).
Another
Viet
WOW-bar, the most sultry / erotic destination in
chocodom
.
A chocolate that elicits 'oohhs' & 'aahhs', moans 'n groans to twist the id inside out.
First brought to the world's attention by
Marou's 80%
cut in 2012 which remains the definitive version. Make no mistake though: this follows suit in fine form... like the laws of correspondence & sympathetic resonance -- where that gongs, this vibrates.... with after-tremors notwithstanding the buoyant play on the palate compared to others' renditions. More sugar & cocoa butter account for some of that buoyancy +
Soma's
considerable equipment works the compounds more thoroughly than the average set-up.
Tiền Giang: a singular impression.
INGREDIENTS:
cocoa mass, sugar,
cocoa butter
Reviewed August 30, 2016