Impact
In this Peruvian Suite Herr Josef Zotter relays tales about eco-cacáo projects, converting coca growers into cocoa growers, & hanging with the Chanka & Awajun peoples.
The guy goes so native & naked that he probably travels in the same circles as Annie Sprinkle & Elizabeth Stephens or at least carries their
Ecosex Manifesto
with him. Together they rebalance the ancient traditions which elevate the spiritual & sublime over the sensual & solid. The operative passages being (Editor's Notes parenthetically in
italics
):
I. We are the ecosexuals. The Earth is our lover. We are madly, passionately, & fiercely in love. In order to create a more mutual & sustainable relationship with the Earth, we collaborate with nature. We treat the Earth with kindness, respect & affection.

II. We make love with the Earth. We are aquaphiles, terraphiles, pyrophiles & aerophiles (dare say, chocophiles?!?!?!?!). We shamelessly hug trees, massage the Earth with our feet, & talk erotically to plants. We are skinny dippers, sun worshipers, & stargazers. We caress rocks, are pleasured by waterfalls, & admire the Earth's curves often. We celebrate our E-spots (Hey, that rhymes with the C-spot®). We are very dirty. (Yep, chocolate, like sex, is a messy affair.... literally & figuratively a fucking grind.)

III. As consumers we aim to buy less. (For good reason -- while many think of premium chocolate as a 'less-for-more' scam, it actually equates to a qualitative 'more-for-less' bargain.) When we must, we buy green, organic, & local (ahhh, sorry chocolatarians, that bar violates just about every tenet of the locavore movement; just the facts, ma'am).

IV. We are ecosex activists. We will save the mountains, waters & skies by any means necessary (yo, you go Malcolm X, girls), especially through love, joy & our powers of seduction (right on / on ya feet / stand up / light up them iPhones / hands in the air / say it 'loud 'n proud'). We will stop the rape, abuse & poisoning of the Earth. We embrace the revolutionary tactics of art, music, poetry, humor, & sex. We work & play tirelessly for Earth justice & global peace. Bombs hurt (ouch).

V. Ecosexual is an identity. For some of us being ecosexual is our primary (sexual) identity, whereas for others it is not. Ecosexuals can be LGBTQI, heterosexual, asexual, &/or Other. (So many others -- we call 'em the "plus"). We invite & encourage ecosexuals to come out. We are everywhere. We are polymorphous & pollen-amorous. We hold these truths to be self evident (thank you, Tommy Jefferson, for holding a mirror up to the selfie): that we are all part of, not separate from, nature. Thus all sex is ecosex. (Screw the pursuit, happiness at last).

VI. The ecosex pledge. I promise to love, honor & cherish you Earth, until death brings us closer together forever. (Really? Amen! The ecosystem as sexy death-cult.)
Appearance 4.6 / 5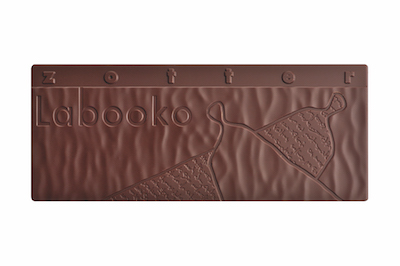 Color:
Oro Verde: rojo dorado
Huallaga Nativo: browned mauve
Tocache: battleship gun-smoke brown
Quinacho: another blusher
Surface:
down to a science
Temper:
Zotter's trademark shimmers
Snap:
pop life
Aroma 7.9 / 10
Oro Verde
very
oro
Venzy
-like draft... golden butter, nuts, cream -> palm frond pre-signals green tea
Huallaga Nativo
cream of cocoa tartar
Tocache
flash updraft of big cocoa & then just as fast draws blank
settles back to a rather dusty barren slope
Quinacho
a plume of acetic acid puffs up a powder room of florals
Mouthfeel 12 / 15
| | |
| --- | --- |
| Texture: | brittle; once past the hiccups... |
| Melt: | ... all tick-tock |
Flavor 45 / 50
Oro Verde
75% cacáo-content
aroma no lie... alights cream & cocoa things -> subliminal spice -> takes beautifully dark but subtle turn on roasted chicory -> cherimoya -> exquisite light menthol -> black tea exit
Laid back countenance & contour. Its red color a display of pedigree. Addition of
cocoa butter
almost superfluous unless Zotter aims for the etherealized heights which he strikes ever-so-softly in this shimmer of a chocolate.
Huallaga Nativo
75% cacáo-content
mild cocoa to the level of
cocoa butter
followed-on by an onslaught, a rush of heady spices to the brain... trip myrrh, frankincense, & out to fool of
Viet Tiên Giang
-> closes up on talc, perhaps the residue of
Zotter's
process which infuses the liquor with a shot of 'raw' cocoa
Wild & disorienting for a
Peruvian cacáo
Tocache
72% cacao-content; CCN varietal; San Martin vicinity
susurrous eucalyptus entrance -> spiked cocoa tannic attack -> sassafras / kola -> gradual dissolve into milder cocoa
Alien if a bit intriguing for a Peruvian on account of this
CCN
foreign invader. Though it stands up well enough, nothing really stands out either. Perhaps just one reason
Zotter
sprinkles in a little extra sugar compared to the rest of the set.
Quinacho
75% cacao-content; Apurimac Valley
instantiates brief fruit crushed by those aromatic florals which bomb the chamber... long & strong... no let up thru the mid-interior cavity as well as length -> spell broken by a cinnamon tag -> semi-stringent grip
Evidently some 2-Heptanol compounds found in this
cacáo
which imparts a combined fruit / flower / spice impressions.
Quality 17.7 / 20
A few years back the Peruvian Minister of Agriculture sent
the C-spot
®
a 108-page manual on the
cacáo diversity
flourishing within its boundaries. Despite introgression from outside genotypes (which raises concerns from a conservation perspective in a country that hardly needs any external inputs) plenty indigenous cacáos still abounds.
This collection from
Zotter
spans the north, south & central regions to re-affirm as much.
INGREDIENTS:
cocoa mass, sugar,
cocoa butter
Reviewed November 23, 2016