Impact
The alphabet cereal of chocolate from A to Z begins with
A. Morin
& ends with
Zotter
.
In between, V in chocolate once stood exclusively for
Venezuela
. With that country's troubles, including exports, V shifted to
Vietnam
.
Not to be excluded, here comes
Vanuatu
. This
South Pacific
nation sports some robust, here's another V, volcanic chocolate (which first entered the chocolate canon years ago with
Grenada
& then
Hawai'i
) befitting the atoll nature of these islands.
Ahhh, the
Varietals & Variety
of chocolate.
Color:
Epi: slate brown with a drop of rosacea
Santo: incorporates slight golden hue
Malo: trace orange
Malekula: reddish-orange shade for browned-sienna
Surface:
grease splatter out back
Temper:
sums up dim sum
Snap:
breaking waves
Aroma 8.4 / 10
Epi
Batch EII / 19
strong base cocoa surrounded by tar (both the asphalt & nicotine varieties)
soil 'n meadow (freshness)
cashew-almond center
fumes bituminously

Santo
Batch S15/19
similar, especially toward the bitumen end, but more riparian / coastal + a small melon drop with balsam

Malo
Batch MA 20/19
a dark tar pit, add molasses + latex bounce

Malekula
Batch M10/19
shares properties with all the above but distinct with copal (coconut) & black-cherry
Mouthfeel 11.5 / 15
| | |
| --- | --- |
| Texture: | globules to... |
| Melt: | ... sand (2-ingredient chocolate -- just cocoa + sugar -- which, judging by Texture, could stand an added cocoa butter pad) |
Flavor 43.8 / 50
Epi
caustic cloud hanging over a festive yam & persimmon-like entrance -> chocolate-chocolate -> rear flint (bordering on gas but contained) -> gentle cardamom -> breadfruit to cream puff

Santo
lays down a cinnamonized cocoa (excellent) on grass -> cookie dough -> walnut brownie -> small charcoal -> chalk exit

Malo
wafer then a very steady vanilla cocoa-cream in a milder version of Santo above -> Oreos out

Malekula
molasses-tar baby -> licorice -> growing pains toward cocoa… reaches it in a papaya'd nexus -> talc finish
Quality 16.1 / 20
From the land of kiln driers & polypropelene sacks. Each bar deploying cocoa culled from a different island which comprises
this nation's
chain of them.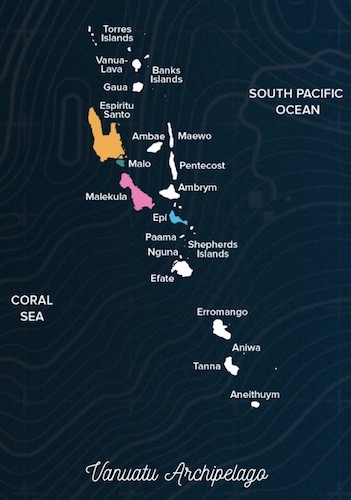 Differences, though apparent, are narrow & probably owe as much to the post-harvesting as to the
terrain
+
varietal
selection(s). A couple blips & blemishes, particularly the talc 'n chalk tags indicating drying / storage issues. Overall trendline though very much grazes in the direction of basal cocoa with soft nuances hovering.
As with the stock market & life in general, so too with cocoa: the trend is your friend.
INGREDIENTS:
cocoa mass, sugar
Reviewed February 7, 2020