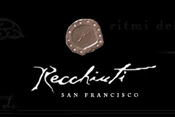 Impact
Chocolate Rothko... & Dean of the New American Chocolate Scene. What
Santander
is to bars, Recchiuti is to boxed choc: a ways off from best-in-the-world, yet he rhapsodizes some of the most seraphic & paradoxically tellurian work around. Evokes an emotional response as opposed to, say, the oft-cerebral French masters. A 'contrast-ualist', he may appear ordinarily sunny & tranquil but don't be fooled: the ground underneath rumbles like a Bach invention lying at the very epicenter of American chocolate – in SF (watch out for Portland though, it's coming) – a rolling earthquake against which all others in the area are measured on the Recchiuti Scale.
Presentation 4.4 / 5
visual-artist acetates verging on acrylic nails from the spa, housed in formal black
Aromas 4.7 / 5
cocoaroma overdrive, the sign of good to come
Textures/Melt 8.8 / 10
| | |
| --- | --- |
| Shells: | semi-thin gauge |
| Centers: | generally soft w/ quick release; almost 2:1 |
Flavor 46.9 / 50
wide-ranging Rothko-like color palette; authentic accents, some majestic, occasionally elaborate complexes
Quality 28.6 / 30
Whenever a chocolatier talks about a "chocolate concierge" arranging corporate logos on individual pieces for gift-giving/business purposes, you know expansion has set in & with it, usually, the 1st signs of decline. But it's a long way down given the heights Recchiuti has climbed. The keyword remains 'balance'... on a highwire, a prerequisite because the Recchiuti signature often mixes varying strengths of cacáo-content (
Milk Chocolate
,
Semi-Dark
,
Extra-Dark
, etc.) - all in one piece. His assembly of special combos, interiors & finishes, sums up inventive artistry.
Selections
Tarragon Grapefruit
- What? Huh? Yeah, a leap of faith; take the plunge
Honey Almond Nougat Bar
– the filling is . . . well, filling; rich chocolate, tender interior, but misses what it's missing – a WOW-chromosome
Burnt Caramel
– signature piece that just smokes up before going out
White Ginger Heart
– a mosh w/ good, lite after-draw
Piedmont
– a Bucky Fuller geodesic dome shields gianduja that breaks up quicker, sadly, than the Shuttle Columbia; simple, naked, & transparent
Bergamot
– Blend perfect. Ideal mix of mystery & clarity (w/ Keemum tea); excellent
Candied Orange
= candied orange
Rose Caramel
– white chocolate triangular monolith; sweet touch of smoke rises to a deft, opaque crescendo
Kona (Gold)
– global pyramid power (
Afric-cacao
- Holualoa coffee - Mexican vanilla) steeped in ancient warrior-strength fires; tremendous
Spring Jasmine Tea
– multi-level truth-teller; Jas just on the edge of forward as bite from both green tea & dark cacáo equalize one another, before a layer of milk chocolate carmelizes their tannins in unison
Pearl Mint Tea
– more a bauble; on the abyss of mouthwash but mercifully pulls back
Lemon Verbena
– clear & clean; among the more out front flavors; herb punctuates w/ only minor support from chocolate backbone - & then mostly at the end
Force Noir
– vanilla neat/silky straight, no chase
Sesame Nougat
– near hit, close miss into earthly depth
Cardamom Nougat
– is what it is, plain, simple, & direct
Star Anise + Pink Peppercorn
– bit of a kludge match; an alternating current between anise / pepper & highly-sweetened milk chocolate; sharp & spiced from inside out
Sur del Lago
– cream noticeably softens innate fruit in this origin cacáo heightened by tannins from the inclusion of nibs; true & thru
Ecuador 65
–
Guittard's
master work
Quevedo
supplies the base for this ganache that grabs more of its herbs than flowers