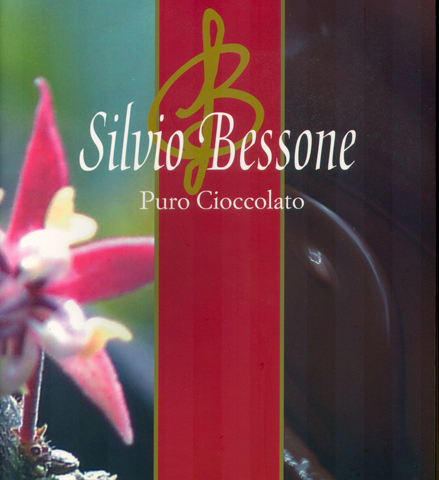 Impact
Passional. Most chocolateiers are like that tribe of verbal mutes – musicians – who let their work do all the talking. Rare it is to find someone who can play & talk equally well (Wynton Marsalis, for instance, though there's always the lurking danger of becoming irksome if it sounds didactic or polemical; the burden of too much talent?).
Silvio Bessone speaks eloquently for himself... so in his own words: daily someone somewhere becomes a chocolate master but the road is a long one, requiring innate gifts. For the past 30 years or so, I've worked to produce something magical everyday, something that really puts motion in the emotions. Before making chocolate, it helps to know its
history
,
chemistry
,
origins
, & destiny.
Silvio may still have some distance to travel in search of attaining absolute perfection – don't we all - but he's well on his way & perhaps destined to reach it... if any of us ever can.
Presentation 4.4 / 5
cellophane grab bag of pieces individually hand-wrapped in festive color-coded foil, each keyed to a separate flavor
Aromas 4.6 / 5
scented memories: by-gone fragrances of thickly spread jams & jellies studded by nuts
Textures/Melt 6.7 / 10
| | |
| --- | --- |
| Shells: | nearly all ganache |
| Centers: | firm & dry |
Flavor 45.1 / 50
exuberant; generally forward & largely an exposé on Piedmont hazelnuts rather than chocolate; other infusions well articulated & of highly-defined clarity but overall chocolate-shy, missing the muscle to be a superhero; excels in the assembly of complexed mixtures around a high number of primary elements whose precarious balance can easily be thrown off but instead display darker shades of the Spanish masters (
Torreblanca
;
Baixas
); some of the most stupendous work in the gianduja category (among tops in the world if not on the summit itself;
Venchi's
by comparison mere confectionary, albeit outstanding, next to Bessone's gravitas)
Quality 26.9 / 30
Bessone lists 'love' for the top ingredient, straight from the vena amoris, & that's no greenwashing New Age / Janet Jackson hype. Beyond that, enumerates the culinary ingredients in each & every truffle - pralines, bombones, etc. – an unprecedented practice, taking transparency in the box-chocolate world to another level.

Just to get an additional flavor for Bessone, he also bakes bread & has cultivated his own yeast for some 3 decades, handed-down to him by an elder who jealously guarded it for another 60 years... tasting time itself... a century of history in one slice from the mother yeast.

And it makes a difference, as does the shortest supply chain possible – sourcing raw materials in the closest locovore tradition.
Selections
Cacao
- bit of a misnomer as pronounced hazelnut leads & dominates this taste-pack of granulated-crunch texture leavened against a mellow,
Semi-Dark Chocolate
notable for an apricot tone at the cadence w/ persistent contrastive sweetness opposite the filbert; far from any instant gratification but grows well on the senses as distance gradually increases
Coco
- not cocoa but shredded & ground coconut meat enrobed in
Milk Choc
to take on the phantom of pineapple infusion for a tropical trinity
Nocciola
- all-out sugared-hazelnut assault on the senses w/ just minor defense from a Milk Choc base; overly sweet & too little under support
Mandorle
- almond paste (though nothing marzipan about it), nuts meld on the sugar seamlessly to seem as if they themselves express sweetness verging on orange, touched-up in whipped chocolate & vanilla; simple, true tastes
Arancio
- bleeding orange courses thru a firm body of chocolate lacking tannins to support it other than frame it
Caffé
- dark assemblage takes on synergies beyond the prime elements of hazelnuts, coffee, & chocolate including overtones of unsurprising licorice & molasses but also unpredictable blood orange & apricots too; a peak phenomenon
Rhum
- zooms into wow-territory; another spectacular fusion; launches an arsenal of rum, filberts, coffee, chocolate, & vanilla into high-stakes seamless integration to sum up unbelievable candied marshmallow FXs, especially the alcohol distilling sweet heat & cotton candy-like finesse; absolutely expert
Gianduiotti Classic
- 35%, no, not cacáo-content but hazelnut paste; adding to the gravitas, Bessone grows his own crop from a family-owned grove in the hallowed Langhe section of the Piedmont; pure, not a shred of pretense &, as expected, hazelnut-centric, condensed & enveloped by slightly smoked cocoa; 'excellent' is too mild a superlative... nirvanic soul-crusher... reverberates for days
Filled Gianduiotti
- softer, creamier, more vanilla driven, & perhaps only 32% hazelnut content, otherwise the same enraptured consequence as the
Classic
(above)
Nej
- gianduja... Black Label style;
Ceylon cacáo
& Langhe filberts line up mano y mano & hazelnuts become the chocolate... dark, tannic, exclusive reserve w/ rhubarb notes & raspberry leaf at the back; serious audiences only
Reviewed Autumn 2009