Impact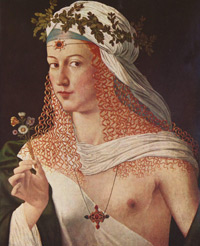 Portrait of a Woman (surmised to be Lucrezia Borgia) by Bartolomeo Veneto
Celestial Ambrosia as a Roman Candle... that transforms
Ceylon's holy cacáo
into what fellow Italian Lucrezia Borgia -- the hazel-eyed daughter of that libertine Pope Alexander VI -- might call an 'immoral pleasure'. So good it could be illicit. Enticing as this bodacious Italian TV talk show hostess: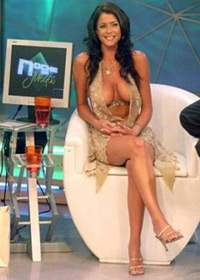 WTF?!? Oprah? Rosie? Dr. Phil? Piers Morgan? Oops, forgot The View! Sorry, but once again American TV with 60+ "reality game shows," "self-help," "prosperity theology," & 24-7-360 soundbiting feels of complete blather next to this wholesome C-rocket. Bet even Canada has it better.
| | |
| --- | --- |
| Color: | gorgeous terra cotta |
| Surface: | porous & crystallized |
| Temper: | matte |
| Snap: | breaks the subsonic barrier deep into the cochlea (the spiral-shaped cavity of the inner ear) |
Aroma 9.7 / 10
oh, those golden Valcasotto hazelnuts from the Piedmont, unctuously decadent oil of massage parlor quality flowing over vanilla ice-cream
Mouthfeel 14.6 / 15
| | |
| --- | --- |
| Texture: | pure butter fleshpile |
| Melt: | instantly automatic; no claw marks (RE: astringency) whatsoever |
Flavor 49.1 / 50
red glow (esp raspberry & rhubarb) wraps around condensed hazelnut paste in a corona -> fruit-laden
Milk Choc
(sweet & sublime) -> royal black mulberry 'n vanilla tango -> nut meat essense -> hibiscus plume cracks the door open to an immaculate marshmallow ascension
Quality 19.3 / 20
Too good. Truly, to use an overly abused word, 'awesome'. A-1 ingredients seamlessly integrated in a cohesive super-structure.
Bessone has demonstrated elsewhere in his
Boxed Chocolates
some exceptional work in the gianduja category. This unbelievably & amazingly surpasses even that peak standard. Basically his
Gianduiotti Classic
bombone with a bit more chocolate backbone.
The Ceylon Red cacáo
is stupendous in this match, carrying those exclusive reserve red notes, making wine & chocolate pairings redundant & redonkuloitus. Ditto (almost) the hazelnuts since the Ceylon already inflects with resident hazelnut tones which this just gorgeously amplifies... & then some.
If there's even the most remote & minute criticism - & this merely straining in order to find fault & walk back the praise some – it possibly may be the tiniest fraction of excess sugar. Or better yet, change the plastic wrapper on this & all of Bessone's bars for that matter (which creates some unsightly & off-putting plastic-wrapper transfer onto them). Otherwise, as the glyph formerly known as 'Prince' sang in
Raspberry Beret
... 'baby I wouldn't change a stroke'.
Given the rather average bar work in the rest of Bessone's portfolio begs whether this deserves such a lofty position in the chocolate pantheon. That an inconsistent micro-processor who has hardly made a mark is controversial enough; but for a
Flavored
bar to sit at, or even near, the pinnacle is downright scandalous, even sacrilegious.
Maybe this bar represents the fruit of
Silvio Bessone's
labor in struggling thru all his other bars in climbing the trellis of the rankings to attain this achievement.
So while justice must be blind, that doesn't mean she lacks a sense of taste. This has to be judged for what it is, on its own merits: one of the greatest confections, dare say 'chocolate bars', on Earth.
"Let justice triumph, even if the world perishes by it"
- Kant
ING:
cocoa mass, hazelnuts, sugar, cacáo butter, milk powder, soy lecithin, vanilla
Reviewed Autumn 2009