Impact
The smoothest yet also most unlikely composition of the Austrian 'Alternative Milk-Choc Quartet' (along with
Stuten (Mare)
,
Schaf (Sheep)
, and
Ziegen (Goat)
) conducted by
Maestro Josef Zotter
. It creates that proverbial silk purse (embroidered no less) from a sow's ear (or from a soy's bean here).
European music revolved around Vienna for a couple centuries where everyone from Beethoven, Haydn, Strauss, Schubert & Brahms to Mahler, Webern, Berg played/stayed. Among the pantheon of Viennese geniuses, the handiwork in this bar emulates the most preternaturally gifted: Mozart.
Before he became a household name the world-over, forevermore, synonymous with 'classical', Mozart was the great change artist of his era. Precocious & inevitably prodigious, the man to put Baroque &, to a much lesser extent Bach, in the rear-view mirror. The very definition of classic – a universally accepted standard of excellence, in whose hands the base materials of
Twinkle, Twinkle Little Star
(which he knew as the French folk-tune
Ah, vous dirais-je maman
) would turn into serious piano variations (check out
12 Variations
– from this improv boy, well before jazzz ever burped a birth note).
A bar overflowing with lilting lyricism & abundant melodies to be operatic. Beyond the
Marriage of Figaro
(spiced figs in a
Milk Choc
– getouttahere)... a fantastic marriage of beans (soy & cocoa).
Imagine the tones of the
Magic Flute
that tames beasts in the breath of that dissolute seducer-assassin
Don Giovanni
. Zotter puts these beans thru "The Temple of Ordeal" ("Hell's vengeance boileth in mine heart"), worked to enchantment by surviving the trials of fire & churning of chocolate liquor.
Then think how much different the
secco recitative
right before the ensemble duet "Là ci darem la mano" would've been, a dialogue instead of a virtual lecture, between the wily nobleman Don G & the sinister 'Queen of the Night' – both worldly-wise - rather than with a
paesana
(peasant girl Zerlina). A quantum shift in emotional temperature, with the Queen potentially devouring her subject & the Don G possibly vacillating, looking for an exit to withdraw. No lines of 'o, darlings' & sweet trembling hearts, just pure passions... a raw
ristorar le pene
(taste of pleasure).
Just as Wolfgang worked the socio-political vacuum he composed in (while revolutions brewed right at the doorstep of his studio), this bar too operates outside the warp speed interlining today's digital-media & mania. A 'slow fast-food' that will force consumers into their own Temple of Ordeal... to suffer the test of silence.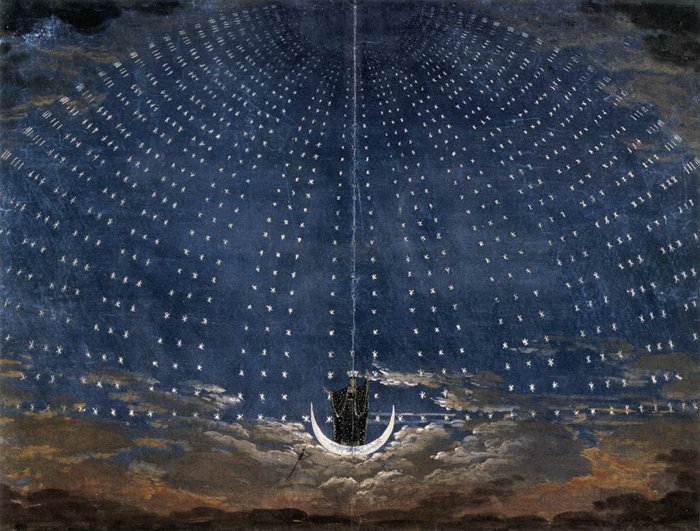 Magic Flute -- The Queen of the NIght
| | |
| --- | --- |
| Color: | jaundiced pale vegan (could use a li'l red meat protein) |
| Surface: | bad blemished skin |
| Temper: | frumpy |
| Snap: | meek snarl |
Aroma 9.7 / 10
any expectations of a strict vegan-constitutionalist dashed by this aeromatically gifted candy-bomb: cinnamon Red-Hots™ & cherry-licorice Twizzler™ sticks riding the rainbow skittles action of magic soya-cocoa to a wild gingerbread-fruit cake; adorable / phenomenal / ridiculous
Mouthfeel 11.9 / 15
| | |
| --- | --- |
| Texture: | wax factory |
| Melt: | worker-bee |
Flavor 44 / 50
what you scent is what you get... only stronger, held longer thru the soy factors (powder + emulsifier), seemingly the germinal cells from which all movement grows, to stimulate these spiced velvet tones that counter the waxen Texture -> figs & walnuts at the back
Quality 17.8 / 20
Realized with soy milk instead of dairy or some other mammal. Bright-breaking
Milk Chocolate
science. Uncannily surreal, as if GMO-soy with the addition of spice & fruit nuclei. Either that or something in the Austrian air &/or
Zotter
surreptitiously flavored this bar, then mislabeled it.
The only hint of possible explanation would be a magic-conche to ideally coat every single soy particle in
cocoa butter
. Even that would only be a partial insight.
A tremendous confection if a bit overbearing in the way it spice racks this bar.
ING:
raw cane sugar, cacáo butter, soy powder (19%), cocoa mass, salt, vanilla, lecithin
Reviewed Autumn 2010