Impact
A chocolate that pairs well with L.S. Lowry paintings of bleak & dreary Northern industrial towns in England.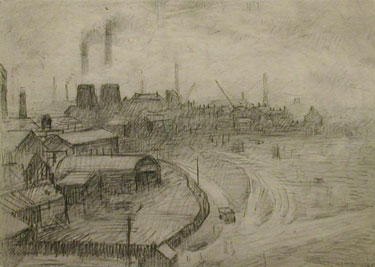 | | |
| --- | --- |
| Color: | annato (yellow-red blush on brown) |
| Surface: | flawless save for the release mark |
| Temper: | soft sheen |
| Snap: | demur but direct; perfect edge |
Aroma 6.9 / 10
steak rub: heavy treacle (smoked cane / creosote-molasses), the bar-b-q sauce normally for beef but in this case chorizo shows up instead... bring a knife to this bar -> rolls over balsam
Mouthfeel 13.1 / 15
| | |
| --- | --- |
| Texture: | smoove (smooth-groove) |
| Melt: | uneventful |
Flavor 36.4 / 50
oy vey... same as the Aroma: undying treacle darkens to molasses junction in every direction for as far as the T-buds can taste -> cocoa butter mercifully melts thru to black custard & oh-ever-so-slightly breaks the monotony -> sickly sweet raisin -> backs out jicaro (the licorice-like Crescentia alata)... plus malabar chestnut disguised in an toasted Oreo™ sandwich
Quality 15 / 20
Comparisons to
Friis-Holm's Chuno
-- that pillowcase of bliss -- extend well beyond the fact that they're the only 2 to hit the market so far for
this genotype
. Moreover, both sport similar formulations (70% cacáo weight; an added
cocoa butter
pad; & neither contains vanilla).
Friis-Holm's displays all the guile & nuance of
Stéphane Bonnat
(the actual manufacturer of it), viz., his golden roast & masterful butter cut to cuff the compounds.
This on the other hand yields a far different character: heavy & ponderous, virtually zero highlights in a generally low streaming bar without hardly any lift or air let alone fruit accents. In a word, gothic; in another, claustroflavic... so enclosed it totters just a couple steps away from falling into a tar pit.
Along with the
Duffy's Ocumare
, Chuno demonstrates a house preference for steady-state profiles that hit on a predominant note & stick to it. With
Ocumare
such constancy works because of its intrinsically high CQ (Chocolate Quotient). Chuno, less blessed & more prone, suffers a different fate here: unremarkable & inauspicious, even skint.
Any characterizations of this being bold & powerful sound off as the strains of kindness. Heeding Cicero that 'a thankful heart is the parent of all the other virtues', let's reciprocate in kind: they are secondary at most (rather than totally irrelevant) to the essentials in this apparent trans-species mix-up. If someone wants molasses, go get a properly-labeled jar of it. Anyone desiring chocolate should skip this & reach no further than
Duffy's own Indio Rojo
.
As is, this Chuno serves to question the manifold phenotypes that Xoco, the breeder behind this cultivar, christens each with a discrete trade-name when maybe they're more correctly lumped together into something more ambiguous... like '
hybrid
'.
Then again, the Friis-Holm version seems deserving to surmount any such mob-term.
Time will tell... Xoco is ambitiously seeding
the landscape
with literally millions of these for future harvests.
In the meanwhile, chalk it up to just another in the long series of the vagaries of chocolate.
ING:
cocoa mass, sugar, cocoa butter, sunflower lecithin
Reviewed November 25, 2011