Impact
A day-at-the-beach as envisioned by
Prieto
... coasting along the (card)boardwalk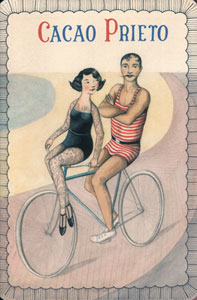 | | |
| --- | --- |
| Color: | beige, brown & grey |
| Surface: | hefty plate studded with whole blanched almonds & salt crystals |
| Temper: | blinding |
| Snap: | creaking voicebox |
Aroma 7.9 / 10
lives right up to its namesake: salted almonds
Mouthfeel 11.4 / 15
| | |
| --- | --- |
| Texture: | a fat crunching crash on a... |
| Melt: | ... collision course gnashing away |
Flavor 41.1 / 50
slides-in on waxed cardboard greased in
cocoa butter
over bare-bones chocolate -> blanched almonds -> a sprinkle or 2 of salt -> then a confused jumble among some rubber plants works its way out -> bruised olive leaf amidst the wreckage -> fine cardamom 'n mint at the finish
Quality 15.3 / 20
Quite rustic if not crude & rather raw.
Pretty honest though, relatively non-manipulated... just a bunch of elements casually tossed into a mix, almost slap-dashed together clapboard style (& the off-notes suggesting post-harvest issues).
Utilizes
Cacao Prieto's prone 72%
for a base which the salt proceeds to spike the green elements of that bar, while almonds eventually submerge the randomized tannins found in it.
To its credit,
Prieto
resists the temptation to "pour it on" & opts instead for light-handed salt. Wise choice too since that helps to meld a fairly segregated affair into a well-enough end flavor.
Should
Hershey's
worry? That's how corp execs earn their paychecks & stress-lines on their foreheads.
ING:
cocoa mass, sugar, almonds, salt, vanilla
Reviewed January 18, 2012