Impact
REDUX REVIEW -- below are segments of Mindo 67%, initially reviewed in 2012, followed by a refresher in 2014. The rating & metrics (upper right) apply the updated (& improved) version.

**************************************************
A chocorator (or
chocorateur
to Francophile sophisticrats, the chocolate equivalent of a wine sommelier) recommended this bar, explaining "it's better than
their 77%
". At first that sounded like quite the lukewarm endorsement.
In response to why that is, she resorted to instinctual preferences, "I like it more", followed by a cliff-hanger, "It has more..." .. more what?
At the risk of completing her thought... well, more definition & clarity (however streamlined).
She said so rather apologetically, even sheepishly, mindful that in her position & in this age of
macho-cacáo
when every sui-serious
Darksider
strives to out-prove themselves with ever more punishment by gorging on the highest percentage bars possible (in the 80%+ class), it takes real
cajones
& courage to go against the grain (grain, which Texturally speaking, this bar has plenty of) in stating the obvious: what a cute
Ecuadorable
bar.
Appearance 3.5 / 5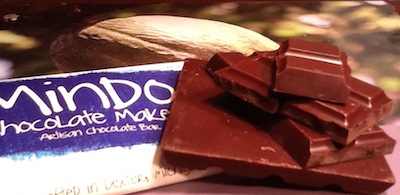 | | |
| --- | --- |
| Color: | raven brown (purple-black) |
| Surface: | fine-line scratchitti; brushed over pinholes & air bubbles |
| Temper: | semi-sullen |
| Snap: | gutsy beyond its percentage |
Aroma 8.3 / 10
2012:
draws a blank... almost unprecedented in the annals of chocolate... flat out nothing until a dusty smattering of white pepper -> opens some to expel its storage conditions (a little mold, jute sack, cement) -> then more traditional
Ecuador
appears (blackberry-ishpingo) mixed with grains / starch (especially cassava)
2014:
very related to its
77% sib
except more controlled formal restraint… wooded (recessed eucalyptus) / grounded (top soil & flintstone) without any acetic acid or rubber… & then ishpingo-tea which diffuses blackberry char in a rare stunner together
Mouthfeel 11.7 / 15
Texture:
powderful...
Melt:
2012: ... & consequently fast dissolve
2014: mealy wax
Flavor 45.2 / 50
2012:
good & nutsome blast of cocoa -> meters down & dilute toward whitish fruit &, here's another first for chocolate, water -> nuts rebound (filbert / almond blend) but no getting 'round the simple if husky cocoa -> banana, in a cross hatch to that earlier white fruit -> substrate chalk / cardboard in the aft-length
2014:
juicy blackberry-infused chocolate -> ishpingo / cinnamon allows for some slight graham crackering... undying fruitscape -> late emerging herbal greens & roots gleaned in the
77%
-> rear caramel -> slices off cocoa pound cake
Quality 17.6 / 20
2012:
Cottage-hobbyist material; safe comfort fare.
These
seeds
need help... lots of help from lots of sugar.
Yes, sugar -- the one "legal" additive which purists among the cocoa-mafia deem acceptable to still qualify as "pure chocolate" after "banning" vanilla, lecithin, & even
cocoa butter
. (
Note to The Syndicate
: chocolate is an unnatural compound with respect to its being a human invention unfounded in nature).
Even so, sugar can do only so much here.
Mindo
makes a wise choice to add 10% extra to
their fraught 77%
.
Direct-trade / direct-action chocolate as the manufacturer in Dexter Michigan has cultivated contacts & a stake in cacáo properties around the Mindo area of
Ecuador
.
2014:
The premier commercially-avalable chocolate crafted from
Heirloom V
cacáo in a superior configuration (just
cocoa nuts
& sugar).
Ridiculous levels of expressed blackberriness, practically unprecedented in scale & volume. Little-to-nil stringency that so often marks
Arriba
-type cacáos; ditto bitterness. The ponderous, irregular melt merely distracts from the main event -- Flavor -- in a peripheral sense. And in this respect, the
original Heirloom exemplar
surpasses Mindo's due to
Guittard's
roll mills that pulverize particles to a finer micron size. That one also covers a broader spectrum of the
Flavor Wheel
.
But those looking for a good gobsmacking,
Mindo 67%
rates as the 'go-to' bar for this seed lot in the
Semi-Dark
range.
ING:
cocoa mass, sugar (
cocoa butter
-- 2012)
Reviewed March 7, 2012
Revised September 24, 2014