Impact
Duane Dove, the force behind Tobago Cocoa Estate, kindly sent a complimentary bar to
the C-spot
®
of this his latest harvest with the following note: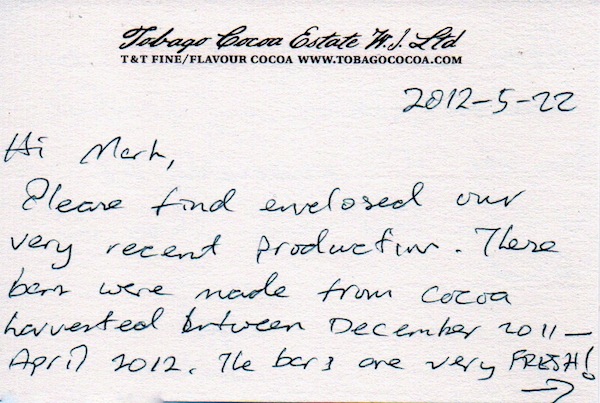 Fresh indeed, enough to dispel any gloom amidst the black precipices of
Tobago's
mountains which earned it the moniker 'Melancholy Isle' among pirates in their heyday.
Duane himself rather prefers to call it the "small island", in reference to its much larger neighbor next door --
Trinidad
... birthplace of true heritage
Trinitario cacáo
(as opposed to the riff-raft of spurious "Trinitarios" grown the all across the
20/20 Zone
).
Small island -- big taste. Happy Summer Solistice.
| | |
| --- | --- |
| Color: | burnt orange |
| Surface: | weathered face (including some matting from the foil); vigorous swirling on the back |
| Temper: | as always with Pralus -- flashy & animated if a fudged-veneer |
| Snap: | solid like a rock meeting a chisel (good medium-thickness to the pour) |
Aroma 7.2 / 10
a bit of a sticky-wicket: creosote & leather (signature
Pralus
) + molasses & raisin goop (the latter residuals of ferment tang which survive the roast's fire)
Mouthfeel 12.4 / 15
| | |
| --- | --- |
| Texture: | fudgy like its Appearance |
| Melt: | lecithin-slicked |
Flavor 45.4 / 50
liner notes are spot-on but only relay half the story: black fruit (raisin / blackberry) jam into the 3Cs (Cocoa / Cream / Caramel; just terrific) -> nuts (pistachio & black walnut) -> some considerable firing produces burnt flan / tapioca -> brief black cherry before butter subdues, even steals, the flavors & soothes the char in the melt without altogether silencing it either -> resolves walnut fudge-brownie -> beautifully resonates blackberry-rum in the aft-length
Quality 17.7 / 20
So fresh... without the benefits of aging (hence the sinking fudginess of it all). Yes,
Vintage Chocolate
certainly alters & often improves
flavor profiles
. Most notable in this regard are
Valrhone's 2002 Chuao
and
Marañón Canyon's inaugural Fortunato No. 4
.
Yet this chocolate delivers right from the start without any jagged spikes or harsh contours that can characterize a young chocolate (except for the fired up roast... more on that next). The ferment virtually lickable on this bar.
Where the earlier vintage displays more blue / purple hues, this shows considerably darker (attributable to the roasting). Black as a matter of fact, though nothing to mourn excessively about as this never ventures into the coffee pit which marks the end of
Tobago Estate's first release
. And thru it all, hi-CQ (
C
hocolate
Q
uotient for baseline cocoa flavor). In some ways, a qualitative upgrade from Tobagos past despite less of a rainbow of fruit.
All the
Pralus
hallmarks are found within -- the deep roast (on the plus side the Maillard reactions really pulling in the caramel), the conched refinements & predilection for hi-buttering. The latter bolsters the weight & Texture while cuffing the aromatics from running roughshod.
So too Duane Dove's handiwork: meticulous fermentation, careful drying & proper storage.
Another consideration might be the weather which in 2012 has been marked by generally wet conditions at Tobago Cocoa Estate, a situation that forced Duane to some early pruning to avoid "black pod" disease.
At the risk of an overstatement, weather usually affects yields more than flavor.
The primary cause for flavor variation at Tobago Cocoa Estate is mostly attributed to the different
cacáo varieties
planted. At present Tobago Estate counts 11 different TSH varieties (Trinidad Select Hybrids), plus some new experimental material. Varieties cultivated during the main harvest between December & March express fruit (raisin, plums & the like) whereas those from the secondary harvest (April thru June/July) result in chocolate character leaning towards nuts & cocoa. For this very reason,
Los Ancones
often shows drastic differences between wet & dry seasons.
No surprise then that the combined effects of climate & crop produce annual fluctuation.
Whatever the circumstance, these 2 chocolate good guys -- Dove & Pralus -- are working the partnership toward perfection & should have more in store.
INGREDIENTS:
cocoa mass, sugar, cocoa butter, lecithin
Reviewed June 21, 2012