Impact
Ding-dong.
Who's there?
Nai.
Nai? As in 'nay'.
Nay, 'nai'.
OK. And the wicked witch of the West is dead... ding-dong the witch is dead.
That's right, no one's there because Dông Nai ain't 'who' but 'where'... in
Vietnam's
monsoon country. A
cacáo
culled from the agro-forests around the primeval Cat Tien Nat'l Park.
Hồ Chí Minh reminded his nation that "a storm is the opportunity for the pine & the cypress to show their strength & stability."
He might've added cacáo to the list of trees too, seeing how this chocolate bar survives & thrives -- in the best surthrivalist sense -- thru some suboptimal conditions.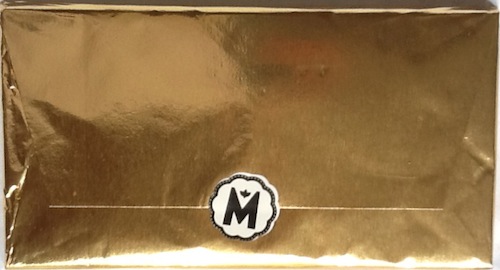 golden wonka for the inner foil
| | |
| --- | --- |
| Color: | raven dark with purple hues on the edge of black |
| Surface: | minor scratches & smudges |
| Temper: | dim |
| Snap: | pumped & ready (thick pour) |
Aroma 7.8 / 10
equal parts of worrisome sandstone, pork grinds, leather & creosate over-ridden by some hopeful balsam & toasted bread crumbs
Mouthfeel 12.9 / 15
| | |
| --- | --- |
| Texture: | waxed up |
| Melt: | a long & round dong |
Flavor 46.7 / 50
Cocoa-Nut Cream Pie: dry cocoa dust, plain 'n simple, with a cream back -> graham cracker crust borrowed from those toasted crumbs in the Aromatics -> mite astringency leads to soft spices (cinnamon, the peppery-vanilla aroma of galangal &, moreover, Vietnamese coriander with its lemon-ness) -> clay -> cashew stemwinder -> roasted cocoa in the aft-burner amidst some recessed fruit (langsat)
Quality 17.4 / 20
Very tame & stable to the point of nearly monochromatic base chocolate. Almost no offset or fruited accents whatsoever; just the beautiful constancy of chocolate 'n cream. The hazily spiced narcotics found in
Grand-Place's Dông Nai / Ben Tre blend
do however eventually show here, & more distinctively at that, thanks to the absence of vanilla.
This bar reflects some
post-harvest
deficiencies. Slight under ferment of rather mild, though sweet,
pulp
creating very focused if less dynamic compounds. They permit
Marou
to apply a suitable roast commensurate on a relatively delicate cacáo type that lines them up right in the cross-hairs of core chocolate flavor exerting respectable punching power.
The whole package then
subliminally
sweetened by a generous added
cocoa butter
pad.
A really kind, full-bodied chocolate's chocolate.
INGREDIENTS:
cocoa mass, sugar,
cocoa butter
Reviewed September 5, 2012