Impact
Yet another
barsmith
in the burgeoning American craft chocolate scene.
And add one more to the list that also eschews everything but cocoa & sugar in its spare formulations -- a conceit for a "pure", "natural" product.
Chocolate, of course, is anything but.
Neither highly refined sugar crystals nor malleable cocoa paste exist in nature. The latter amounts to the refuse discarded by monkeys & other predators. A naturally sweet pulp inside
cacáo pods
attracts them in the first place. It surrounds seeds which are a key ingredient in chocolate. That they spit those seeds out onto the forest floor results essentially in lots of jungle-trash.
Man, a garbivore, then comes along, picks them up like a popper-scooper (or more typically picks the pods off the cacáo tree before the monkey can) & transforms them into chocolate. Basically, rummaging & scavenging in the rainforest... the prequel to dumpster divers in the shopping mall parking lot.
Put another way, consider it a recycling program: rubbish repurposed into one of the greatest inventions -- chocolate.
Wow, what a positive development. Imagine what humanity can do with all the other trash littering the planet.
Appearance 4.5 / 5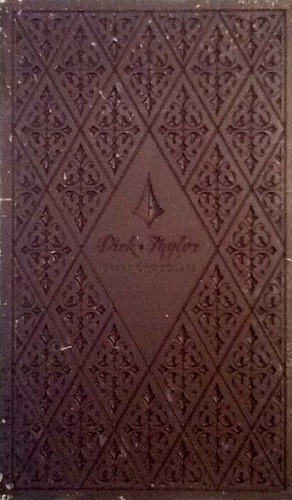 | | |
| --- | --- |
| Color: | topsoil |
| Surface: | bookish filigreed pattern to the mold |
| Temper: | a little 'frosty the bloom-man' |
| Snap: | piercing bullet |
Aroma 5.1 / 10
more riverine than the
Rio Beni
itself; no clues at all to hallmark
Bolivian
purples (plum, fuchsia, camu camu, Amazon grape [
Pourouma cecropiaefolia
], etc.)
Mouthfeel 7.3 / 15
| | |
| --- | --- |
| Texture: | hard... |
| Melt: | ... shards |
Flavor 30.6 / 50
unpacks honeyed-choc (nice) -> deteriorates into coffee & then disintegrates into mud / dirt -> twigs & bark -> metallic streak (possible ethyl methionate) across some recessed Oreo
®
FXs (probable combination of drying/storage issue(s) compounded by a stern roast) -> lead -> recovers somewhat on manioc -> faint apparition (& then only in the aftermath at the periphery) of signature
Bolivian
fruit appears
Quality 8.9 / 20
Let's face facts: the spare formulation of cocoa mass & cane sugar is easier, has fewer elements to gum up the works, & less elaborate than, say,
Milk Chocolate
.
Any problems with, to cite but one example, Texture for instance can be blamed on the bean.
But 'free bar-ing' it (i.e., going without the standard make-up kit of added cocoa butter, lecithin, & vanilla) puts the onus squarely on
seed selection
& craft technique. Neither distinguishes themselves here except in their inadequacies.
Not all
Benianos
are of equally hi-grade quality. The
best can ably tolerate higher cacáo percentages
so the 75% in this bar falls well within the acceptable range. These beans apparently fail to make the grade though, admittedly, the processing retards their progress as well.
Color, Aroma (or lack thereof), & Texture give it all away well beforehand. Taste only serves to confirm the obvious: a dead flatliner.
Message to the new cocoa-minimalists: until mastering the learning curve (which includes procurement logistics), some bars could actually use added
cocoa butter
, lecithin & vanilla like a 911 EMS patient desperately needs a paramedic.
INGREDIENTS:
cocoa mass, sugar
Reviewed November 5, 2012