Impact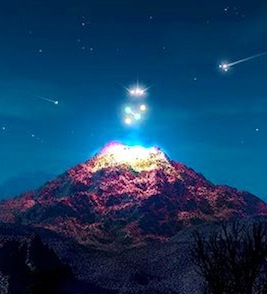 Many believe that Pic de Bugarach, the highest in the Corbières mountain range at 1,230 metres & nearby to Morin's chocolateria, possesses unusual powers. Often called the "upside-down mountain" – geologists hypothesize it exploded after its formation & the top landed upside down – Pic de Bugarach may have inspired Jules Verne's
Journey to the Centre of the Earth
& Spielberg's
Close Encounters of the 3rd Kind
. Hence its reputation as
un garage à ovnis
(an alien garage).
Ever since the 1960s it attracted New Agers who insist that it emits magnetic waves.
As one esoteric living in a yurt on the mountainside puts it: "The apocalypse we believe in is the end of a certain world & the beginning of another. A new spiritual world. The year 2012 is the end of a cycle of suffering. Bugarach is one of the major chakras of the earth, a place devoted to welcoming the energies of tomorrow."
Hello tomorrow. With the Police Navidad roundup now over & everyone successfully posted bail, w'all made it thru the 2012 Deadline. Obviously Franck Morin believes the world isn't going to hell in a hand basket; it's coming to chocolate. His chocolate.
And for good cause.
A bar to kick-off the next cycle. Cultivated in
cacáo's Mesoamerican homeland
, crafted with European refinement & distributed all around the planet in this the newest
b'ak'tun
(or 394-year interval).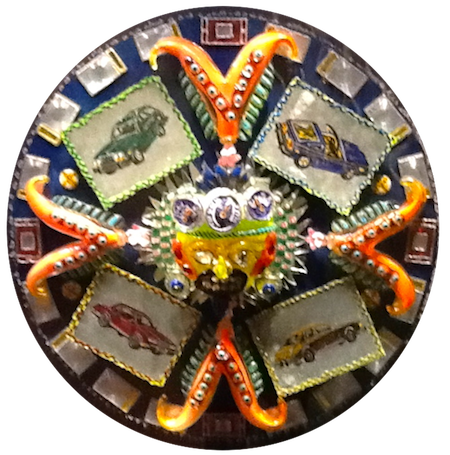 The Wheel of Time Rolls On... Modela Millenarian, an updated Aztec calendar according to Animexican brothers Jamex & Einar de la Torre
| | |
| --- | --- |
| Color: | crushed red-brick |
| Surface: | smooth |
| Temper: | calm |
| Snap: | power tool |
Aroma 6.8 / 10
recessed & retreating
closed
Mouthfeel 11.3 / 15
| | |
| --- | --- |
| Texture: | breaking rocks / breaking teeth |
| Melt: | chap stick lip balm |
Flavor 45.2 / 50
fudge over
Mexican
ground cherry (shades of chocolate-dipped strawberry / tomato) -> woods counter (ciche & balché) -> small spice FXs (achiote) -> green walnut -> stringent streak announces some acidity... musky citrus of tagete marigold culminates in a mango fruit burst, gradually gives over to pineapple, then runs the gamut of grapefruit / mangosteen / guava -> cactus juice cocktail rounds up into a tequila tonic -> cedar finish -> walnut brownie
Quality 17.4 / 20
Sub-optimum
ferment
(high residual astringency) yet once again Morin rises to the challenge. Uncanny how he salvages many a
cacáo
otherwise destined for the scrap heap.
Of course some could criticize that Morin fails to process those volatiles out completely. By easing up on the conch, however, he avoids stripping flavor tags which then allows for them to transmute the stringency into alcoholic impressions which, when combined together, also lengthen the progression.
While less refined / streamlined than other French-Mex bars (
Bonnat Xoconuzco
&
Cluizel Mokaya
), this certainly is more dynamic; more in line with
Chocovic
or
Askinosie's
earlier offerings from the same general region. Particularly the latter with his alcohol-tinged bars such as
the African Tenende
.
Morin's
Mexique Xoconusco Real
-- a potent royal flush & distant if hybridized reminder of the legacy left behind by the Olmecs, Zapotecs, Mayans, & Mexìcâ among the Mesoamerican civilization.
INGREDIENTS:
cocoa mass, sugar,
cocoa butter
Reviewed January 7, 2013