Impact
Africa – the perennial cause célèbre;
Askinosie
– now a great cause for jubilation: good chocolate doing chocolate good.
No overestimating how far Shawn Askinosie & his charges are willing to go to get the job done & complete the mission. Tenende may roll mellifluously off the tongue but also off the map as Google has no coordinates for it as of February 2011. Which only emboldens Askinosie all the more to put it there.
Located 22 hours on a bumptious bus ride southwest of Dar (short for Dar es Salaam,
Tanzania
) on the Malawian border along Lake Nyasa, Tenende is now the site of possible ongoing cocoa enterprise.
Unlike the Americas, no chocolate culture exists whatsoever in this village, cacáo known merely as a cash crop for export. The oft-abused cliché holds especially true here: few if anyone in these whereabouts has ever tasted finished chocolate from the fruits of their labor. Maybe they've chomped on a raw bean or two but that's it. This bar & its enveloping project changed all that.
With the help of Maji-Tech, Drury University, Dr. Tom Prater, Goodwill Ambassador Doug Pitt, the Tanzania Education Trust & many donors, Askinosie's Chocolate University raised money to send a dozen Central High School students from Springfield, MO to East Africa. There they acquired first-hand experience in what the C-spot™ dubs
Bar-to-bean™
chocolate -- literally taking youth from the consuming north whose only real exposure to chocolate comes from eating candy or the occasional fine bar, & introducing them to cacáo growers.
The ultimate C-spot (for Connection): Askinosie & Tenende are how the twain meet.
Chocolate University also funded a deep well to provide clean water to its 2,000 or so residents as well as textbooks for a local school system.
Which calls up the debate spurred by Zambian-born Dambisa Moyo, author of
Dead Aid: Why Aid is Not Working & How There is a Better Way For Africa
. For the chocolate world this is brought home by the efforts of the World Cocoa Foundation, FLO (Fair-Trade Labeling Organization), & various WFCL groups (Worst Forms of Child Labor).
That development aid fails miserably & yet continues to absorb massive donor funding can be illustrated, writ small, in an exchange between Shana Dressler of the Global Cocoa Project & Stéphane Bonnat of
Bonnat Chocolate
in Voiron, France.
Shana hoped to solicit a donation in kind from Stéphane for an unpcoming fundraiser directed at helping cocoa villagers in
Ivory Coast
. Partnering with socially conscious chocolatiers is no accident for the Global Cocoa Project. Its very mission mission is to furnish cacáo farmers around the world with tools necessary for the improvement of their cocoa quality, & basic necessities for daily living (such as scales to weigh their own beans & keep brokers who buy from them honest). Additionally, it aims to educate Americans about the realities of the cocoa industry & leverage the power of knowledgeable concerned consumers to help make cacáo growing a profitable occupation. Proceeds from her events have been earmarked to support West African growers who live below the poverty line, & work in dire conditions without basic needs that run anywhere from accessing clean water & transportation to other infrastructure improvements.
However, if plentiful development aid were so effective, why does
Africa
remain a destination for cradle-robbers to adopt babies while touting "extreme poverty" that everyone should join in to alleviate?
The answer ranges about a complicated mix that includes malfeasance, horrendous goverance, social discord, the burden of historical legacies (both colonial & previous) &, fundamentally, low inputs (the last being mainly substandard remuneration; in short, like the Walmart's™ economy in the West, too many people earn below a livable wage for an honest day's work). Instead of truly free & fair-trade (& not FLO "Fair-Trade" which exists first & foremost for their own staff), a Messiah complex operates in which external benevolence can be brought in, an intervention to "save" the "poor starving farmers" who seem helpless to feed themselves. Perpetuate this long enough & a charity industry permanently takes root. And who can be against charity except maybe Christopher Hitchens attacking Mother Teresa?
As usual, Hitch' might have a point... or two... & often three.
Stéphane Bonnat resisted Shana Dressler's entreaties & explained that he too performs good works; that his family has been conducting business in Côte d'Ivoire for over a hundred years. Indeed, the first single origin labeled as such to hit the market is arguably the
Bonnat Côte d'Ivoire
... in 1904(!), some 80 years before
Valrhona
seized the concept & marketed it under its "grand cru" line.
A couple seasons ago, Bonnat gave away a few brand new bicycles (for anyone unfamiliar with the Tour de France, the French love their bikes) to some children in a Côte d'Ivoire village only to discover that they'd been sold – twice no less – that afternoon.
The obvious question for Shawn Askinosie & his accolytes becomes 'why bother'?
Hype averse, he ain't in it for the pay-off (it's too damn hard to line up contacts, make travel arrangements, endure the road work, partner with growers to properly ferment & dry when most do neither because time equals money & the longer the post-harvest takes, the more exposed a grower opens himself or herself up to theives who'll snatch the beans to sell to some int'l broker; oh, & the paper stack involved to export a commodity). It's all too risky & potentially a financial loss.
No, his is a faith-based initiative of a fierce spirituality that guides him.
Social business, to Askinosie, means how we treat people anywhere / everywhere. It doesn't entail a CSR dept of some MNC, or outsourced to an NGO, so they can engage in
red-bathing
(i.e., the social counterpart to green-washing, as in being "down with the natives"). It forms instead a core value for him – the defining center-point of his life in the best intent of those who went to Africa centuries ago like the
Basel Missions
. (And please no surly comments about the pavement on the road to hell.)
Askinosie practices direct-trading premised on fair exchange. His projects effect technology transfers & pay a supra-premium for the cocoa. It's the Calgary in him: working to redeem a fraught situation. Not as any superstar savior. Rather, thru thoughtful action, voluntary service & good deeds that pour the bedrock for normal standard behavior in a moral life (bizarre as that sounds in a world where making clean money ain't easy). In the spirit of St. Ignatius de Loyola before the Jesuits became institutionalized. 'Washing of the feet' so to speak (even Chris HItchen's wouldn't mind a little foot massage.)
But ask Shawn & he'll tell you that the Tanzanians showered him with lavish if humble hospitality & gave as much in return, if not more. Revelation comes in the understanding that he & his group are there less to help than to learn & accompany the locals.
In such a dynamic, that much branded word "sustainable" becomes like the beached starfish parable & the little kid throwing them back in the ocean. He might not get to them all. One is all it takes, however, who in turn influences the flock to live on in the right
self-sustaining
light so they can tap their own resources without outside aid.
Most vitally, it works
both
ways, give & take, back & forth, between Africa & America. Chances are that one or more of the futures among the young American students on Askinosie's tour will be impacted by their experience in Tenende to carry it forward in a rippling effect.
Non-condescending.
It's how we should treat one other anyways.
Stéphane Bonnat knows this as well... for he, after all the debating died down, gave to Shana Dressler's Cocoa Global Project.
Buy this Tenende chocolate & you can too. If only for that reason alone, it'd be just an excuse. To top it all off, it's one of the best on the planet & takes a backseat to no one – bar none.
And that virtually guarantees no buyer's-remorse whatsoever.
An all-too-rare exemplar blending social cause & good taste.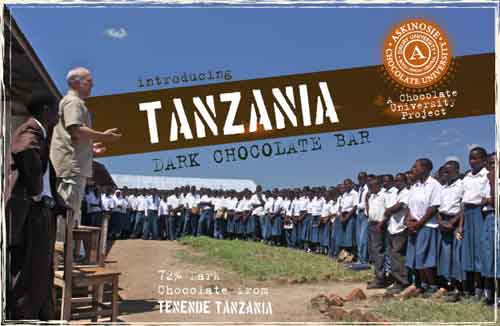 | | |
| --- | --- |
| Color: | black-watch w/ red cast |
| Surface: | flawless -- sharp print / molding |
| Temper: | excellently buffed |
| Snap: | muffled soft; perfect edge wall |
Aroma 8.3 / 10
very grounded &
Earthen
: strongly dessicated cocoa powder -> hammy Indian Ocean wind (as if dried under a controlled-fire in
Java
) -> coconut shells -> oil of muhuhu wood (tingling w/ fruit 'n spice... a balsamic-vetiver of sorts) -> airs into a nutful chocolate & a flower too (damn intriguing – wild cherry blossoms)
Mouthfeel 13.2 / 15
| | |
| --- | --- |
| Texture: | soft padded |
| Melt: | easy, w/ tempo on the fast side (little in the way of added butter to brake or serve as a speed bump) |
Flavor 47.6 / 50
I-N-T-E-N-S-E: opening rivals a
Dominican
on steroids...then the fruit tones begin to flower & a cherry bomb explodes off of chocolate & it's off the Richter scale -> wood (the muhuhu + bamboo & cedar too) slingshots sharp fruit (baobab fruit pulp) thru the entire length which at first a) starts fragmenting the structure -> b) stumbles over stone werks (trademark
Askinosie
) -> c) reclaims itself & gets up vodka tonic -> very (good) bitter almond -> citric express, really tart (tamarind) but holding its poise -> streaks lighter to pink grapefruit to quench it all down
Quality 19.1 / 20
Raw power without the "
raw
". Uncanny & unorthodox. Bracing in a very accomplished way: drunk... DWI... almost
Domori
in its alcoholic consumptive state; nearly
Madagascar
in its high register notes but vodka instead of gin.
CQ (Chocolate Quotient for baseline cocoa flavor free of any nunances) early on fades as the high notes overrun their wooded chocolate base but, unlike
Mast Bros' Madagascar
which also loses its chocolate backbone, this scrapes & picks up tannic undercoating along the way to stay intact, furnishing enough restraint to prevent an acid bath that would've dissolved the tongue. As is, it all creates an incredible 'dark-light' F/X with an enduring length despite a faster-than-average Melt.
Sourced from the UWATE group of 32 members, 10 of them women including the leader Perece Kyeja, affectionately called Mama Kyeja. They all husband cacáo within about a 5 mile radius of the town of Kyela. The size of their pods tend toward the large side, as do the beans inside. Each member ferments in microbatches, using the pile method on banana leaves, then dried on bamboo planks, checking for moisture content by sound & feel. A central facility is under development that will standardize the post-harvest methods.
These seeds were exceedingly well fermented (perhaps excessively so) & yet their flavors modulate extremely well thru this bar's progression (save for that stumble in mid-palate, an intermission / pre-announcement really of more to come), formed partially thru deft control despite a light touch applied by Askinosie at the dials.
Where the rough-hewn bean empendadas in
Askinosie's Ecuador
cacáo just disintegrate & fall flat, this benefits from his low roast / low conche processing & maintains vibrancy. Indeed, a fantastic house style-to-varietal match.
The precise settings are unknown since Askinosie admits his roaster comes equipped without any programable logic, nor even thermostatic control. That's clutch transmission, ladies & gentleman. It discourages any reliance on inexperienced hands or interns who'd likely be thumbing some txt until a beeper sounds. Exec time for this CEO might be better spent in interviews with Oprah's magazine or the Food Channel yet here's Shawn Askinosie personally sticking his mug in it, like Stéphane Bonnet, until his nose senses exactly the right moment 'when' to tell him to 'stop'. The 35 kilo batches are then placed in the Universal machine before the ol' Carly conche where manual digits determine the finish (re: that 'finger-licking-good' test).
A daring roast & long ferment yet good equilibrium between assertive & relaxed. Simple, well-defined & drawn out with enough brawn to keep opening as it goes along.
Whether by accident or design, Askinoisie's best to date. The
New American stylee
... at its strongest.
ING:
cocoa mass, sugar, cocoa butter;
CBS
Index (Cocoa mass / Butter / Sugar ratio): ~7:8:6
Reviewed January 30, 2011