Impact
Appearance 4.7 / 5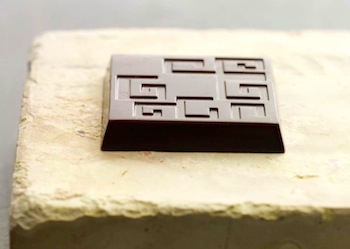 | | |
| --- | --- |
| Color: | antique brown |
| Surface: | geometric labyrinth design; visually impressive |
| Temper: | soft sheen |
| Snap: | BIG for an MC |
Aroma 9.3 / 10
pastry art of an
MC
bar: cream puffs & croissants... warm, buttered 'n flaky feuilletine crumbs
Mouthfeel 11.5 / 15
| | |
| --- | --- |
| Texture: | taffy (explains the Snap) |
| Melt: | crawls |
Flavor 34.2 / 50
honey drops with bee pollen -> takes a hard malted turn & hits caramel... stays on it forever -> softens to Milk Duds® -> ethylmaltol (think cotton candy) softens it further -> cloys down to mulberry
Quality 12.4 / 20
Massive aromatic letdown... the scent too comforting; the flavor so repelling.
Denies justice to
Oialla Dark
&
Beniano
.
Dairy compounds way too strong for such a benign varietal cacáo. The farther this gets from those milk components, the closer it comes to holding any interest. Only at the very tail, when the melt-thru dissipates the malted FXs & this cacáo's ever subtle influence can be felt, if not quite tasted, does the bar stand for any true flavors.
Back to the drawing board... start by deconstructing
Morin's similarly-sourced & weighted Dark-Milk Lait Bolivie Sauvage
.
INGREDIENTS:
sugar, cocoa mass,
cocoa butter
, whole-milk powder, soy lecithin, vanilla
Reviewed February 18, 2013