Impact
Lawmakers in Santa Cruz,
Bolivia
(the country where
the cacáo in this bar
comes from) declare it illegal for a man to have sex with a woman & her daughter at the same time. Separately is fine; but together, no. Presumably this posed a big enough problem that they passed a law against it.
Maybe the same holds true for
Milk Chocolate
. Especially this outlaw bar from the French A. Morin.
Guess who is what in this illicit 'bar-rage à trois' featuring
cacáo
, milk, & sugar?
Appearance 3.7 / 5
mummy-wrapped tighter than an XS-sized condom on a Big 10"
| | |
| --- | --- |
| Color: | fuchsia brown |
| Surface: | a little worse for the wear |
| Temper: | retired |
| Snap: | a screamer |
Aroma 8.9 / 10
uncanny Cinnamon Red Hot® candy
huge / persistent / lasts-all-day
doctored or not, laughably fun
Mouthfeel 12.4 / 15
| | |
| --- | --- |
| Texture: | max wax |
| Melt: | thoroughly liquifies |
Flavor 47.2 / 50
soft caramel twirls about a cinnamon stick -> chocolate milk (as opposed to the other way around) -> Red Hots® hung over from the Aroma -> vanilla (none added) spices a banana cream float -> more spice... gingerbread -> goes out vegetal / green / herbal matcha tea
Quality 18 / 20
Purists shun vanilla nowadays in their
Dark
bars but who dares go without in
Milk Chocolate
?
Good thing no one told Franck Morin.
No need for vanilla with his level of custom tailoring.
Tastes positively manipulated beyond a mere Milk Chocolate, as though venturing into stealth territory, compromised ala
Dos Rios
with
Flavored
infusions.
Outstanding alignment of compounds. Those esters responsible for
Bolivia's signature
dried-fruit notes -- gleaned in
A. Morin's straight 70% Dark
-- convert to pronounced
spices
under the influence of lactose sugars in this bar.
High quality French milk too, almost bottle-fresh, compared to the tainted dairy found in
Duffy's Dark-Milk Ocumare
that should stigmatize English cows with 'contaminated' on their foreheads. Only trace milk powder detected in this, the components so well integrated.
A near-seamless pairing; check that, Franck Morin daisy-chains
cacáo
, milk, & sugar into a flavorful threesome.

INGREDIENTS:
sugar,
cocoa butter
, cocoa mass, whole milk powder
Reviewed December 14, 2012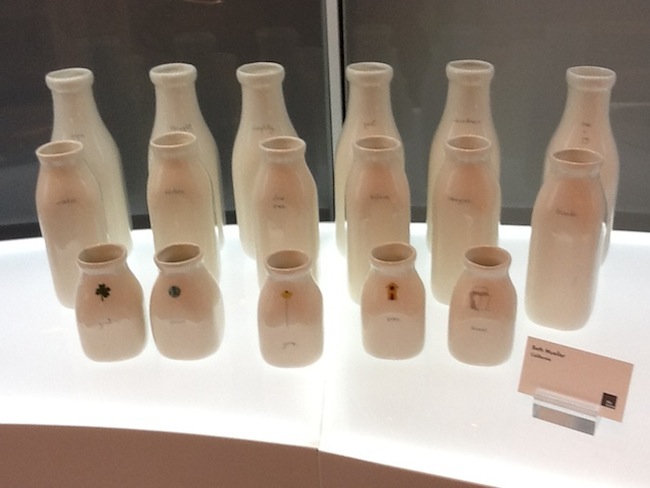 Beth Mueller's milk bottles inscribed with 'Believe', 'Love', 'Joy' & 'Cheers' among other positive attributes that Morin pours into this bar