Impact
Nēnē
is a species of goose endemic to
Hawai'i
; the state bird, in fact. Its name comes from its mewling call.
Padded toes & reduced webbing are their adaptation that allow them to swiftly traverse Hawai'i's rough terrain of lava plains. As herbivores, Nēnēs graze on seeds, fruits & flowers, so
cacáo
could be on their menu.
Consequently, this bar doesn't lay any goose eggs on behalf of
The Chocolate Garage
in Palo Alto, CA that co-created it & holds an exclusive on it, but a gooseberry instead (aka
poha
in Hawaiian). Check
Flavor
section below for details.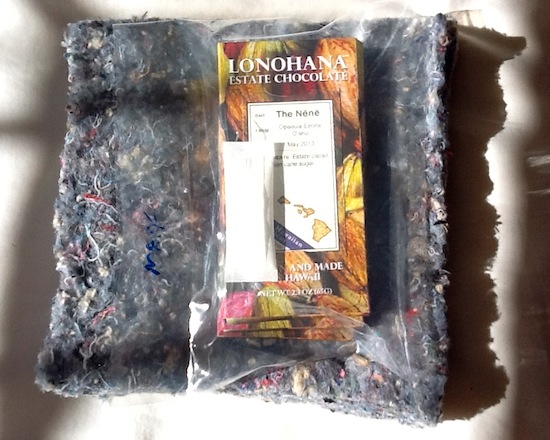 Who needs ice-coolers & gel packs? Padded wool safely nestles bars inside iron-crimped plastic with silicon desiccant... now that's the way to ship chocolate thru blazing summer temperatures.
| | |
| --- | --- |
| Color: | Hawai'i's now-familiar Indigo rose |
| Surface: | beta-mode kitch-mold laying out the Hawaiian Islands on the front; dimples & divots out back |
| Temper: | buffed |
| Snap: | quiet bend |
Aroma 7.8 / 10
many in choc talk about "
forest floor
" or the "the whiff of the farmyard", this encapsulates the great outdoors --
Hawaiian
style -- dominated by stone, rocks, & sedimentary layers seemingly fertilized, if possible, by lava; very geologic / highly mineralized
add ethanol in the tank... fermentation tank, that is... another
Oceania
beer bar in league with
Adi's cocoa pub
that sours up a gooseberry
Mouthfeel 13.1 / 15
| | |
| --- | --- |
| Texture: | very natural fat / body-mass index |
| Melt: | speed bump in the mid-section -- a bit clumped -- otherwise smooth & hydrates nicely |
Flavor 45.4 / 50
gooseberry / starfruit on chocolate rolling into a brownie patch -> goes lightly white (breadfruit & atemoya) -> cinnamon / kola nut + sandalwood which becomes the mainstay, long & subtle over that abiding now-lava chocolate... til bituminous dust / charcoal heralds black cherry -> bluestone (stone-ground chocolate) -> recedes into starch (poi better known as taro)
Quality 18 / 20
A couple years ago, Seneca Klassen of
Lonohana
slipped a prototype of this bar into a few hands along the chocolate underground. That one showed even more volcanic chocolate / cocoa dust & blacker fruit (black berry / black currant / black cherry) with licorice twists. Only a wash of bagasse (pulp from the sugar cane) spared it from a complete black-out.
The update here really licks the flames without burning the tongue. Combination soil & roast creates those black FXs -- the volcano & the fire that is
Hawai'i terra
& Lonohana
barsmithing
-- in a chocolate cauldron. And yet brighter than its past.
A prototype now archetype... very grounded / close to the source: extremely Hawaiian... fruit juice, packed with anthocyanins, made from concentrate with smooches of black-lava chocolate. All sweetly stratified / layered atop one another.
After a spate of very trying bars by other barsmiths on these islands, Lonohana revives the earlier promise of Hawaiian cacáo that attended
the Dole-Guittard release called Waialua
.
Still some kinks to work out. Klassen readily acknowledges that he often improvises, currently following no set regime in his post-harvest practices, which have included experiments of inocula (yeasts / bacteria) to accelerate microbiota activity in the fermentation. He generally abandoned those, settling on a straight up natural ferment. Ditto the processing back inside the workshop where a standard oven, the ubiquitous Cocoatown 65L all-purpose unit, & a Selmi temperer handle the finishing touches.
Improvements continue apace. The formerly unsettling
Texture
(which required additional kneading in the conche) as well as the rugged flavor tail (that lent a
rough-hewn American
feel) have given way to refinements.
Coupled with his extensive agronomic field work (to be explored further in
tomorrow's Daily Review
), it all announces in no uncertain terms that Seneca's venture is driving its stakes deep in the ground for the long haul.
INGREDIENTS:
cocoa, sugar
Reviewed August 22, 2013