Impact
About a month ago
a review
delved into the subject of The Last Meal Chocolate -- a parlor game played by chocomanes -- that involves which chocolate to covet on death row, right before the executioner arrives, to cap off the goodbye supper.
Who in their right mind could hold down & stomach any meal under such circumstances. And who wouldn't be busy plotting a last-minute escape?
Well, if finality does arrive, this should be on the menu. Christ, on this Holy Thursday, consider a little break 'n bite with
Soma's Roasted White
instead of passing the bread wafers around. Tastes of sweet communion.
A great
White
that cakewalks with vanilla after dancing with the devil of fire.
Appearance 5 / 5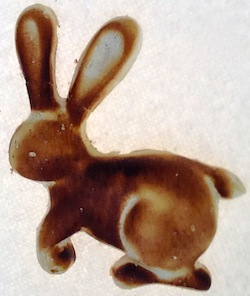 a shame to behead this bunny
| | |
| --- | --- |
| Color: | lightly-toasted marshmallow |
| Surface: | rabbit mold |
| Temper: | hopping |
| Snap: | wheeking thump |
Aroma 9.1 / 10
a delicate & refined
White
… ahhh, yes, a "fine White Chocolate"
bakery butter / cream / pastry flour
patisserie-level… none of the fake dough conditioners, mono-glycerides or heavy AMF… just the lightest croissant flakes with White Chocolate's traditional lemon touched by spices (sugar + vanilla) into pineapple
aerates roasted marshmallow
Mouthfeel 12.4 / 15
| | |
| --- | --- |
| Texture: | bubble monster of some grain & slippage |
| Melt: | all tortoise, no hare (what happened to the rabbit?) |
Flavor 45.9 / 50
toasted bread crumbs -> vanilla egg cream -> pure
white choc
-> lemon drop honey -> cake frosting
& where doth it all go after melting… suspended in a breathlessly fragile balance before scurrying down the rabbit hole, of course
Quality 17.6 / 20
So superb it borders fulsome in transforming an Easter tchotchke up to hi gastro-art.
Traditional yet innovative.
Soma
utilizes
Valrhona's considerable Ivoire
& improves it considerably. Serves in some ways as a counterpoint to
Fruition 's Toasted White
which caramelizes the action throughout while this hints as much in singeing the outer skin but then reverts to a more standardized
White
within, for the best of both.
The only frustration might be that Soma could roast deeper into the subcutaneous folds to further enrich & extend those toasted biscuit notes at the top that are so atypical for the category.
White Luvin' Fooles will wuv this bunny wabbit.
INGREDIENTS:
sugar,
cocoa butter
, milk, vanilla, lecithin
Reviewed April 17, 2014