Fahrenheit 132
Wild Bení
Island Growers
Ecuador Los Rios
Büffel Milch
+ more...
by
Georgia Ramon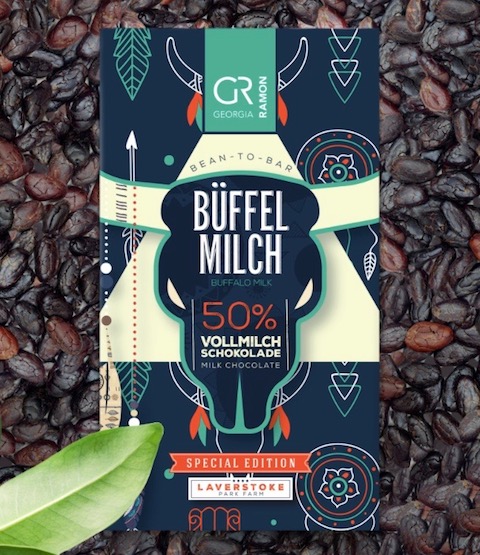 Impact
REDUX REVIEW:
Added 2 news below September 2017 (
Kardamom
and
Grünkohl & Senf
) to this barsmith's ever-growing catalog
*****************************
Georgia Ramon
... 2 people from whom 2 German words come to mind:
Besetzungenergie ("charge")
Befriedigung (sexual satisfaction / pleasure but also pacification of a state of tension / agitation)
| | |
| --- | --- |
| Color: | a crayon box of colors |
| Surface: | some haste |
| Temper: | semigloss |
| Snap: | daggers to the heart |
Aroma 9 / 10
Fahrenheit 132
a cinder block under licorice & molasses gives way to alpine woods & herbs
Wild Bení
the hydrator: perspiration & watermelon -> flattens off onto some dark deposits over another cinder
Island Growers
Play-doh
®
, water colors & a musty cupboard
Ecuador Los Rios
flower power
unpicked & still potted
Büffel Milch
dried legumes open up to rye, caraway, cream, lemon verbena & knotty pine
unusual
Maracuja & Basilikum
the most fragrant ever?
multiple aromas-therapy in a single bar
luscious
Himbeere & Rose
rose in all its many glories
oil, water, hips, otto, petals, essence...
a rose is rose is a no-no
Himbeere
pure raspberry to the very pip
Kardamom
sparkling sharp spice loaded up on a flatbed of über-
ürth
Grünkohl & Senf
matcha & spirulina putty
Mouthfeel 11.8 / 15
| | |
| --- | --- |
| Texture: | from slick to sandy |
| Melt: | generally lengthy |
Flavor 46.3 / 50
Fahrenheit 132
Peru; 82% cacáo-content
bitter buttermilk (none added) -> bark -> cinnamon breakpoint... temporarily -> alt-sugar (lucuma-like) -> unleavened baker's yeast
Stark / austere. Jarring to most yet quite tolerable for both the percentage (82%) & the "rawness" (everything below 132ºF). Well-mannered in fact. Unroasted + Low-impact processing = simple as ABC.
Wild Bení
Beníano; Tranquilidad Estate, Itenez, Bolivia; 84% cacáo-content
flash caramel -> pom seed -> bitter rolls into deep cocoa root digging in soil -> faint spice -> back honey
One of the most stripped down
Beníanos
ever. Attributable to the high cacáo-content + zealous melanging.
Island Growers
Saint Lucia; Varietal Blend; 77% cacáo-content
black cherry marinade immediately surrenders to core cocoa / base chocolate -> cookie dough sandwich -> spice bread -> nut skin rear
Very plain & so simple & really excellent. Nostalgia kids stuff for grown ids.
Georg Bernardini of
Georgia Ramon
no stranger to this island. Ever since his days at
Coppeneur
he has crafted well by this origin cacáo.
A right-in-the-grill / smash-mouth of a 5-Star bar.
Ecuador Los Rios
Nacional; 90% cacáo-content
true bitter-sweet front lip -> settles into a concentrated cocoa complex (dense & dark & dry) -> miraculous sap burst -> all-spice conjures black treacle -> môlé
Verges at points into
unsweetened
100% territory. The listed "minimum 90%" translates to just that -- 'minimum'-- for it tastes higher despite 10% sugar + add cocoa butter no less.
Büffel Milch
Dominican Republic; 50% cacáo-content
surges in on the herbal
Aromatics
(re: verbena) -> caraway -> buttery feel & flavor -> rear lavender!
Terrific flavor exposition that fools of inclusions. On a site that covered practically every milk known to the animal kingdom mixed with chocolate -- except buffalo -- this bar from
Georgia Ramon
a welcome shock. Flavor dissipates some as the combined fats conspire but those initial impressions at the front of the progression still prove everlasting.
Sensational.
Maracuja & Basilikum
40% cacáo-content
fast-advance flavor (& crunch) from the mix-ins (
Passionfruit
&
Basil
, particularly the latter) in a
White Chocolate
base.
Though basil seems secondary, its licorice-like component offsets the bracing passionfruit for a terrific hi-lo vertical axis.
Himbeere & Rose
Dominican Republic; 40% cacao-content (White Chocolate)
same on the tongue as the fragrance in the aromatics except an added tart thanks to raspberry
A perfume splash in a bar. Romantically overbearing
Himbeere
similar White Choc format as the
Himbeere & Rose
(above) without the rose however... just straight raspberry full-on; basically a tart but warm raspberry ice-cream
Kardamom
no surprise here
that scintillating spice in the
Aroma
expertly tucked into a 70% house-blend of various origins to conjure up phantom gingerbread; projects such clean flavor on the verge of antiseptic
Grünkohl & Senf
(
English translation: Kale & Mustard Seed
)
faithful to the fragrance... add some spackle + the crunch of popped mustard seeds in a
White Chocolate
base -> heat from those seeds ever-so-gradually creeps up
Bizarre yet somehow appetizing as if this adequately substitutes for all the skipped vegetable servings missed over the years. Consider it a drastically modified
V-8
juice in a bar.
SUCHTI CONFECTION LINE
Cashes in Kaffee - the finest ingredients makes for the best savor... G-R spares no cost in combining jumbo organic cashews enrobed in cocoa dust & Ethiopian Bench Maji coffee, the primogenitor of all café. Ebony & ivory encapsulated on a nut.

Wilde Bergmandeln in Himbeere -- if the raspberry bars (above) prove too tart, this nuggets of cocoa 'n raspberry-crusted almonds provide the antidote thanks to the wild-harvested mountain variety of nuts from Uzbekistan that seem salted (but in fact aren't; higher-than-average intrinsic sodium content?)

Ingwer in Maracuja -- passionfruit re-spells f-r-e-s-h while ginger hits turbo camphor-levels
their combined FX: medicinal-strength

Cranberries in Lavendel -- beguiling...
Golden raisins? No.
Pineapple? No.
Ahhh, lavender, yes.
And the chewy, fleshly bite finally turns over... cranberry.
Stupendous & superb.

Sizliansche Haselnüsse in Caramel & Nougat -- yeah, the title's a mouthful; ditto the flavor; the hazelnuts from Sicily just sizzle in their cream bath caramelized to phantom cinnamon, + incredible audio to boot on the bite down crunch; outstanding

Gianduja -- the inbred flow-relative of the Haselnüsse (above), G-R-style; quite nut heavy, express filbert oil, chocolate adds scuba-depth charges; exceptional
Quality 18.6 / 20
Anyone familiar with Georg Bernardini knows one thing: he, now teamed with his new parter Ramona, won't let tastebuds down. This duo know papillae like Casanova the vulvae. Tickling & tingling stimulation.

Even the couple rough spots (Wild Bení for instance) might be interpreted as part of the 50 Shades phenomenon today.

With the addition of more advanced equipment, G-R, already coming into its own, shall be nearing the top of its game.

Reviewed May 25, 2017