Impact
FULL DISCLOSURE:
the C-spot™ holds a vested interest in this chocolate. This bar therefore is unrated.
****************************************************************
Introducing a brand new cacáo strain:
Juruá
.
'New' in the sense of centuries if not millennia in the making in its home environs –
Amazônia
-- but unknown at least in the modern era.
Until now.
Like discovering a new planet except wild-harvested in the jungle (not cultivated or farmed). Unique single-seed
monogentics
with the caveat that future developments may fill gaps in the int'l germplasm database to change interrelationships & its standing among them (hey, Pluto got delisted; just saying). A veritable heirloom. DNA tested, analyzed & verified.
Cacáos
like these are a driving inspiration of this site's sister project
Landmark Wild Chocolate Reserve
This particular family of cacáo trees resides between
Purús
and
Contamana
, both geographically & genetically (natural botany often works like that).
Rios Purús & Juruá start in
Peru
. The former slides to the Madre de Dios basin & the latter towards Uyacali. A ridge in the Fitzcarraldo Arch separates their valleys which might account for the genetic drift from each other.
Juruá boasts some of the largest cacáo trees on record. Ever since Chandless surveyed the region in 1868 & collected pods from there, its cacáo drew comparisons & links to that in the Ucayali basin. So much so some consider one a subdivision of the other. If indeed closely related as a genotype & intertwined, the question remains from which one did it originate.
Yum it up, chocolatarians, before Big Data with its digital plant mgmt of robots 'n drones racing against "pests" & Big Ag with its GM cacáo, chemicals baths & designer chocolate muck up the transgen future (transhumans inclusive).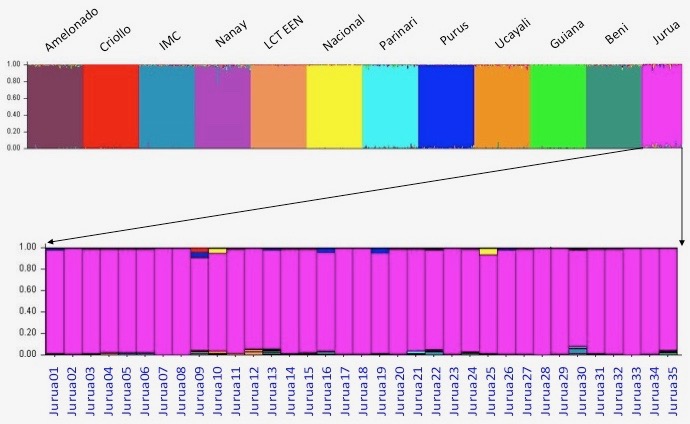 Code Pink: 35 random samples picked from up & down the Rio Juruá basin. The color pink marks the spot for Juruá's unique DNA cacáo on this genetic graph which covers... virtually everywhere. It indicates a purebred strain with li'l-to-nil cross contamination from other genotypes.
| | |
| --- | --- |
| Color: | on the cream side of brown |
| Surface: | dusted |
| Temper: | semi-polished |
| Snap: | small |
Aroma -- / 10
very arid
hay, cotton, cassava cut by a dry bromeliad, parched by wind & sun
small yeast funk (candida) + lactose lipolysis)
baleful (both quantitative & qualitative)
aeration improves the draft, swirling bromeliad fronds into concentrated citrus
Mouthfeel -- / 15
| | |
| --- | --- |
| Texture: | sandy / fine grain |
| Melt: | nice deceleration |
Flavor -- / 50
floral-gilded chocolate blossoms all over the bean (tuberose -- think jasmine with a spike) -> rising sweet spot (pitanga to apricot) climbs sweeter (biriba) & sweeter still to molten cachaça, next lychee, then just white cane (sugar) -> puffs up candied flowers (honeysuckle & sweet acacia) -> faint buttermilk -> backdrop cowpea bean -> abiu in the guise of perfumed caramel
Quality -- / 20
Flower Power.
Juruá
-- a chocolate florist.
Far from complex, as expected of a
monogenetic
thoroughbred, but, wow, what a simplex.
Brought to the world by ace cacao-hunter Andre Banks, his
barsmith
daughter Luisa Abram, & CINTRA (a co-op organized by 7 brothers -- scions to a rubber baron in the area). Their families comprise the entire community of Novo Horizonte. Other families dot the riverside further along its banks. Helpers pick & collect the cacáo for transport to a central fermentary, curing the seeds for up to 6 days. They dwell in one of the most pleasant stretches of Amazônia at the river head often topped but not shrouded in mist. And so few mosquitos!!
The chocolate reflects the region as well as the characteristics of the cacáo
pulp
. Pleasant with an extra long persistence at that front-loading fragrance – this cacáo's linalool compounds just spraying the floral mists.
Not a
Contamana
(aka Scavina) with its planar / grounded flowers but here vaporized / diffuse / rarefied, the difference between petals vs. perfume. Nor the pronounced lactating dairy tones of
Purus
; in Juruá a mere undercurrent. Call it a 'flavor hybrid': the floral aspect of one & the cream seam of the other.
This vintage, harvest & iteration expresses the greatest florescence of any chocolate on Earth. Pardon the pun, bar none. Even people with their nose cut off & tongue torn out can sense that.
INGREDIENTS:
cocoa mass, sugar
Reviewed January 7, 2019