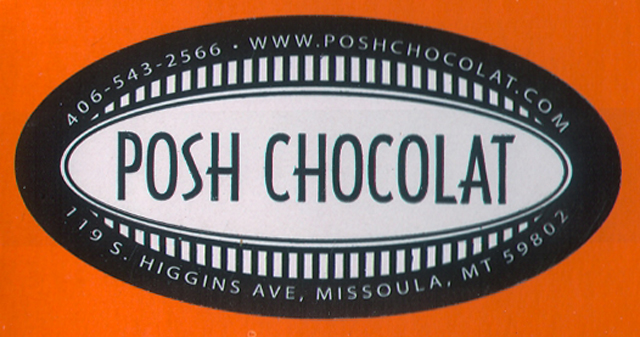 Impact
None too posh to push nor too vain to undergo a C-section for fear of scarring (although pieces do look suitable to glaze the bottoms with urethane, glue a magnet on them & use as fridge-magnets – they're pretty like that).

Instead, this box pushes aside all fears, ready to labor on the frontier outpost of Big Sky Montana with a Latin edge & pops out daring if occasionally aborted flavors.


Presentation 4.6 / 5
nicely thought-out: 60's World's Fair chic-orange packaging w/ retro-cool logo (note French spelling of chocolate) replete w/ a freebie Posh Chocolat sticker for a notebook or palm device; u-fold-em box w/ clean, precisely-cut silicon inner parchment; interesting pop crinkle for those who like to step on plastic bubble liner - Jackson Pollack / Meredith Monk / Warhol-esque performance art, dudes – then strong double-ribbon seal which begrudgingly yields to a printed flavor-key that opens on some lovely, well-constructed (albeit Whitman's Sampler™ slick) pieces sitting in a light-gold caddy; finished w/ a sprinkle here & a dab there…same mold, same covering; all works together beautifully
Aromas 2.9 / 5
open that inner liner to a mix of industrial-strength fumes to make the client weary of what kind of frankenchocolat lay in wait…. herbs 'n spices overpower the box (black pepper, strong curry, dusty nutmeg, chem cinnamon & spun sugar) along w/ high-school gym floor wax, old cardboard shoe box, branch water, ozone, plastic diaper pail
Textures/Melt 6.3 / 10
| | |
| --- | --- |
| Shells: | gossamer thin in spots displaying track marks on bottom replete w/ uncovered patches of filling |
| Centers: | ganache a one-note base (slightly sandy, dry & un-voluptuous) |
Flavor 36.6 / 50
uneven split: a) antibiotic frankencandy in a few pieces (highly synthetic & unbalanced chemicals melded w/ poor chocolate base to coin a new concept: "petroleum-forward")... basically supermarket clearance-aisle flavorings; b) stupendous & bold in many more instances, creative & reaching (to cite the couverture, again, an unusual choice), including a few synergistic blends extending well beyond the length of their elements
Quality 21.8 / 30
Smoke 'n mirrors from a chemistry-set mentality exhibiting erratic mixology. In some places it works wonders; in others it reverts to a complexity even lower than, ah, a, b,c... uh, don't say what comes next. The form & design skill-set are all here & only add'l substance is required to back it up.
Quality suffers from the outset with problematic couverture (
República del Cacao
) which comes blank (even the temper shows low gloss ala Crisco™) in some pieces (on the plus side it rarely obstructs flavor patterns). Suggestion: start with a solid, mid-line product like Noël or even Cacao Barry of decent manufacture, uniform & rather forgiving when working with oils & essences for ganaches & fillings, then move on from there. Everyone wants to reinvent the wheel or chocolate bar; sooner to build on a firm foundation.
These CIA grads (Culinary Institute of America, re: chef factory that often pumps out egos with a set of knives) are well into logging the years of work, apprenticeship, talent, passion, respect, knowledge & understanding of what works & why. They represent one more example that Americans, who've been the joke of the chocolate world for years, are getting on course.
Selections
Raspberry
- the right balance of essence (even if the fruit is about as real as Pam Anderson's tits) w/ good dispersion
Balsamic
– uh, hello Posh, in the culinary world a 10-year balsamic is like screwing a 13 year-old 'cause they "look old enough"; pink peppercorn dresses up Jon Benet Ramsey-style, a young flounce of tannin 'n tart / sweet 'n sour closeted by that roasted
Ecuador cocoa
; just a twee bit perverted
Coconut Curry - average Indian curry mix blended into the base ganache of little panache, just psychotropic Vindaloo w/ yellow bleed-thru on the shell
White Truffle Oil / Tahitian Vanilla
– frightening oil can sprays thru
White Choc
gism ganache enrobed by inconsequential 74%
Dark
South American Dark
– buffed as if a spray-on colored-butter passes for a Brazilian bikini model's tan (lucky South America doesn't come up here & kick ass for slander); cream-centered
Semi-Dark
w/ fruit punch in the middle of that, then a roasted cocoa halo that fades on focus as a sponge painting of slight soap-astringency & ultimately washes out to dangerously approach
Hershey's™ 'Special Dark'
; respectable nonetheless
Lavender
- Granny's undies' sachet, pulverized, then dusted in sugar… bit synthetic, nasty, & sweet
Garam Masala
– possibly the shiner of the bunch; hits the 4-corners... nice fragrance, mouthfeel, heat & flavor that simulates pumpkin pie spice served in Mumbai
Mojito
- please ship a 10-pound box of these to Mssrs. Bush & Barack for jobs well done in counterfeiting money; vapor-strong to cauterize teeth & tongue
Café con Leché
- viscous, slimy lecherous; get out the insulin before trying this
Fennel Pollen
– these pollen of fennel conjure up anise, licorice &, then, of all things, a brush of curry in a salted caramelized gestalt; excels wondrously
Reviewed Spring 2010