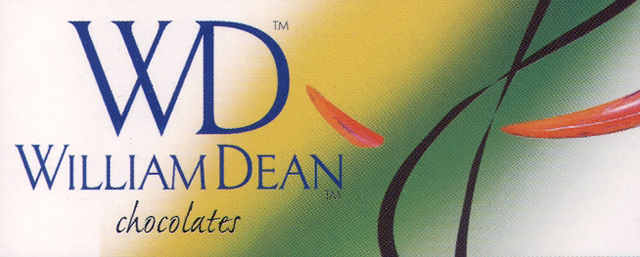 Impact
Full Discloure: William Dean gifted the C-spot™ a complimentary box
When Honda released the first Accord, the Big 3 in Detroit purchased dozens of them, ripped them apart & tried to learn how to make a great car again.
Many so-called top chocolatiers / lunkheads out there, here's your template: get with William Dean, take a bite & start taking notes… there's a lot of catching up to do.
A box that easily slides the wheels up to float & bob as its own Carnaval cruise line. Lots of flash, style, & grace. Moreover, some substance too.
If
Vosges
and
Godiva
are $50 whores, William Dean is a top flight Geisha (OK, maybe transvestite, trans-sexual, trans-wahteva). The Megan Fox of the boxed transformers (aka re-melters): could stand an ounce more gravitas but plenty of heft.
This guy gets that a 'bonbon' means 'good-good'.
Presentation 5 / 5
Major glitz; Vacheron Constantin-worthy, takes the high line & makes a statement right off: no regular flip-top but a slide-out instead – very impressive - custom packaging of cobalt blue 'n deep copper textured silk-satin gaufraged paper w/ cold-stamped gold foil lettering; hand-folded chocolate paper reveals Art Culinair cover/Harry Winston diamond bonbons, each perfectly decorated, true to its Floridian base – dazzlers w/ lots of light, color & splash... transfer sheets, techni-color butters, in all shapes of mainly one-size (squares, trapezoids, fleur-de-lis, geodesic domes, etc); snug finishes (even the lone appearance of a crack is really a crease by design); all finished to a soft, almost alive polished sheen; very switched-on. Extra-bonus pt.

(Nit Picking: design transfer on the flat top pieces – a box of this caliber deserves to be totally airbrushed, drizzled or painted…..show the handiwork… the skills, the passion, the staff are there… go for perfection, Mr. Dean).
Aromas 3.9 / 5
enticing: a botanitcal garden orchard; pick any neotropic fruit & bound to be in here to arouse the nipples hard w/ anticipation (or at least a good contact high) but, alas, also off/odd scent of the
White Chocs
(which comes stronger on the bottom... a plastic-cocoa butter transfer?) turning flat wax for a mix of hot bicycle brakes, cherries in the sun, old menthol, dusty Victorian rose + grandma's crystallized orange peels (a mismatch to the caliber of the visuals)
Textures/Melt 9.1 / 10
| | |
| --- | --- |
| Shells: | oh-so-thin gauge (range from .05mm to 1mm); fine crêpe snap yielding to the millimeter gauged bottom |
| Centers: | pornucopia: some wet, some crunch, some ooze, some sticky... basically great sex w/ a beloved partner at top accommodations overlooking the bay in __________ (insert favorite island view here)… almost too much to comprehend, unfolds & oozes onto the tongue / palate unfurling sensual fillings |
Flavor 43.1 / 50
fresh, clean, nearly precise: assertive sugars, real natural fruits, cream, caramelizing all in good order; no chemical burn / sour after-tastes (even an hour later); balance points a couple fractions away from golden ratios that should come soon for this maker established in 2007 (translates into symbiosis over synthesis); profiles run on a bit too sweetly-exuberant (part of this due to a preponderence of
White Choc
offerings [some of the better expositions w/, oddly, the strongest chocolate presence in the collection]; the rest just sugar-glee on the part of the maker; even so, no fatal sugar overdose here)
Quality 26.4 / 30
Upfront / luminous: WYSIWYG: fun & boisterous, ripened fresh too. Plays on regional flavors & the advantages of locale along Florida's Gulf Coast in much the way
Kakao
banks off its indigenous
Venezuela
treasures. Also bears some
Norman Love
-like tendencies (an in-state rival) in look & taste (particularly in the
White Choc
category where both predominately dwell).
Moreover, William Dean's grasp of the rules, techniques & tools enables this company to rewrite, renew & refresh the classics; making them their own in launching to the cutting edge & beyond without missing a trick. From technical savvy (.05mm thick shells made from fine coverture - no taste / trace of chemicals here) to the classic Japanese packaging & the haute French textures & supple Flavors, these guys get it…big time. No stogy old-school formulaic stuff. No New School one-trick pony making up for lack of skill/understanding. No mass produced Barbie Doll candies (Iooks beautiful but tastes of wax lips). Just the deal… a chocolatier mastering the craft & raising it to art.
Strong, command footing; among the best of the patisserie-type chocolatiers.
Selections
Tanzania
- sweet acetate design in homage to
African
textiles; WD so fruit-laden even the nose on this fills w/ citrus (could just be cross-piece leakage in the box) then Cabernet; pops its lid (literally the top fell off) but nothing's lost as on the Pal (for Palate) a 75% heavy w/ almond meal & tonka cream making a lot of hay 'n spices; tremendous staying power too
Venezuela
- naked as Swayze's can't waiting to 'get u home'... so does it in the nearest bathroom instead; semi-similar to the
Tanzania
above, this too a cinnamonized tonka-cream except sweeter 'n blacker, more in line with
Valrhona's 72% Araguani
w/ those soft
Venzy
tannins
Espresso
- pulls a shock of a shot... black as an ink blot... then the cream just mugs it for mocha java
PB&J
- micro-crunching peanuts topped by a 3 jelly-jam dunked in
Milk Choc
; salt crystals then bind the sandwich; LCD pandering w/ hi-brow purpose especially in that weirdly
Dark
shadow at the very back
Biscotti
- nothing crunching here... all smooth as quick honey flows thru
Milk Choc
to soak the biscuit until a silent killer – stealth anise - infuses loudly at the back; great entry & even better horizontal movement to the finish
Fleur-de-Lis
- rapid succession of mealy pistachios, honey, balsamic-level raisins, & molasses, then closes on a flickering tail of
Dark Chocolate
; stupendously fortified, leaves one in a bangover
Crème Brulée
- strong ivory
cacáo butter
w/ lemon ringtones topped w/ a dollop of chambord & vanilla streaks; well-orchestrated / sound equilibrium
Passion Fruit
- citric puree set in wet caramel against
Whit Choc
; super fine cake frosting
Key Lime
- clarion call in
White Chocolate
; definitive WD spirit
Rosemary
- triple-threat of sweet, savory, & sharp: viscous caramel right on the heels of pungent rosemary balmed in sugared
White Choc
to conjure up an antiseptic citrus herb for big flavor capable of healing all wounds -- emotional or otherwise
Grapefruit Tarragon
- tart / tannic citrus-herb folded into fluid caramel surrounded by a great White, (that's right, a great
White Choc
) whose liquid-tongue entrances & paralyzes its victims; scary good
Salted Caramel
- seductively rich / orgasmically creamy-caramel (semi-viscous); pure
Cassi Crunch
- granular blackberry thermonucleates to a slightly crystallized ganache (could it be the pectin from the fruit recrystalizing the sugar); sexy, sultry, refined, voluptuous & sensual: undulating over the palate warmer than molten sunshine; tremendous delivery system
Port Plum
- slamming grapes poured onto 2mm plum gelé paired to top quality ganache; what's better?
Reviewed Autumn 2009