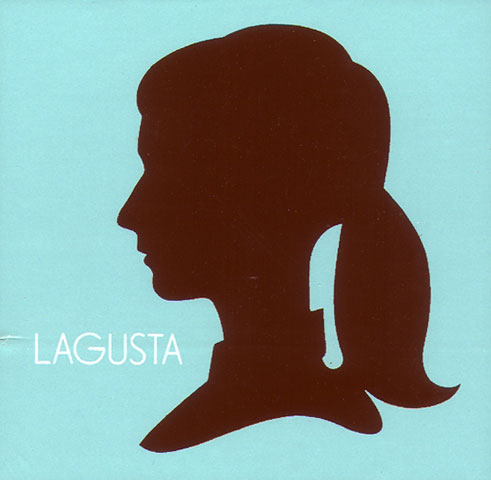 Impact
New Paltz in the Hudson Valley, home to a SUNY college campus; a hub of trails for hiking & biking; hard on the heels of the Mohonk nature preserve; & just an hour or so bus ride from NYC.
Far enough away from the mayhem but close enough to the action.
And now that the internet plugs everyone in from just about anywhere, it's easier to connect & track the goings on. Which may explain how
Tcho
from SF out West finds its couverture in Upstate NY on the Eastcoast, tucked within a little C-spot like this.
Lagusta... accomplishes with chocolate what the Hudson River School did with paint -- by extolling it.
A box very much in congress with its surroundings --
glocalized
to use the sign o' the times -- innately local with a global perspective.
Yes, even in some of the more far-off places, the fields are alive with the taste of chocolate.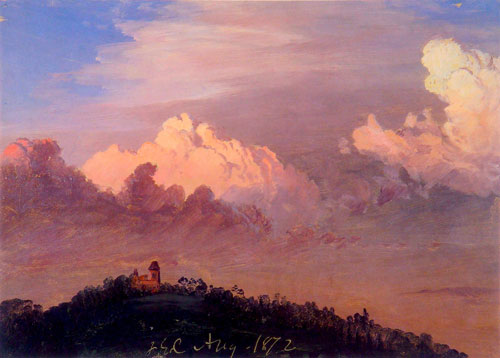 Clouds Over Olana by Frederick Edwin Church whose estate Olana rises atop a knoll overlooking the Hudson Valley a few miles across the river from Lagusta
Presentation 3.8 / 5
serviceable packaging; double-bite hefty chunks
Aromas 4 / 5
perfumed
Textures/Melt 7.3 / 10
| | |
| --- | --- |
| Shells: | armored; many of them hand-dropped for extra thickness |
| Centers: | full bodied |
Flavor 46.1 / 50
somewhat stratified flavor construction compared to, say,
the hyper-finessed fusion of the European masters
; boldly American -- strokes & fires on all cylinders (thick casings ensuring strong chocolate presence; forward infusions to override the vanilla-driven couverture & plenteous cream in the ganache) for truffles at full throttle that let T-buds (for Taste) speak for themselves
Quality 24.9 / 30
Homemade / kitchen-fresh & really goes for it. Technically inexact, relaxed, even casual. All of that simply reinforces the winsome quality & comfort found in this box.
Selections
Solid Heart
- who knew that despite a brand a bit maligned when it comes to their eating-bars,
Tcho
turns Pro & comes true with its couverture, good chocolate presence of decent CQ (for Chocolate Quotient laying down baseline cocoa flavor).
A simple no-nonsense vanilla-chocolate in the
semi-sweet range
with faint fruit interlining, nothing busy / nothing special, just straight up... indeed, a stalwart that forms a solid foundation for flavor-infused truffles (shades of
Tcho's Chocolatey bar
in this ProBlend utilizing bulk-grade
Ghana
).
The extra
butter
in the couverture line both masks & subtly sweetens Tcho's rather austere
flavor profiles
& furnishes a backbone that stands up well to even strong infusions. Might this be where the California company makes both its mark & its money?
Pomegranate
- first & foremost an antioxidant before a truffle; garnished with rose petals crushed by a hi-tart pom... decent chocolate back at the finish; gushy overall
Furious Vulva
- named after Noel Furie but unbeknownst to the Lagusta sisterhood,
cacáo pods
in
Mesoamerica cosmovision
symolized female deities (the shape their breasts, the ridges their vulva & the seeds their fertility)... this piece goes all pink on it -- pink Himalayan salt & pink peppercorns... the savory & the sassy with sugar the sweet & chocolate the sauce; yep, a full women in treat
Croissant Caramel
- in an ode to
Theo's Bread & Chocolate bar
, this butterscotch / crushed crumbs-under-
Dark
couverture holds all its nerves together as each serves as the frosting, flour & flavoring, respectively, for a chocolate cake in a truffle; bigger than a slice, more than a piece, a bomb-bomb
Coriander-Beet
- stupendous; what sounds incongruous, even bizarre, turns out uncanny; beet interacts as an add'l sweetener (remember beet-sugar?) on the spice & the chocolate, & then it all perfumes together into major floral overtones (coriander's orange blossoms / rose beets / & cacáo's oft-jasmine inflections); impressive synergies on par with Bach Flower Remedies
Autumn
- all the Fall harvest in that only-in-New-England autumnal splendor; a purée of maple cream, chestnuts, kabocha squash & baby moonshine whiskey tucked in a
Dark
log; Native abundance with Yankee resourcefulness for pure fireside fondness
Fennel-Apple
- spice hangs back in the face of a full fruit assault from potent apple brandy (not Calvados but local) that tingles the T-buds tart as a plum &, when in combination with
Dark Chocolate
, rises to the level of a dry Poire Williams; excellence fortified
Rosemary
- sharp herb spiked by fleur de sel + a thick, even uneasy, tug of caramel; major savor with lots of pull... a kill shot & the height of the collection
Smokey Corn on the Cob
- in bar format rather than a truffle; corn smoked by paprika, salt 'n pepper & the real coup de grace -- sage leaf -- evens out all of the preceding; the height of the collection just got a little higher with this All-American chocolate (save for sugar native to SE Asia)
Reviewed February 15, 2011