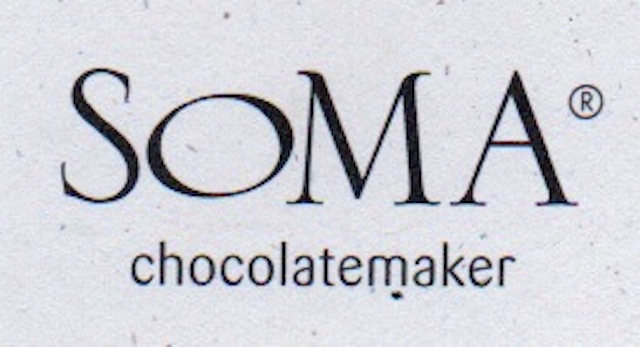 Impact
The kind souls at Soma Chocolatemaker sent along a new add to their confection collection:
Lemon Toffee
(first entry in the
Selections
section below). It solidifies Soma's position as the lead force in Canada, & perhaps in all the Americas.

A Redux Review that first appeared in 2012 with an update in Autumn 2013.
********************************
Canada numbers so many "First Nations" people -- over 600 at last count -- from the Mi'kmaq in the East to the Coast Salish out west in British Columbia that it all becomes a game of 'Who's on First'.
"We're first." "No, they're first." "All are first?" "How many can be on first?"
One thing is for sure, when it comes to chocolate in Canada, Soma indisputably comes in first.
Without a doubt David Castellan of
Soma
is hands down the most accomplished chocolate maker in Canada today. Some may snicker, 'well, that's not saying too much… what else Canada got? Purdy's? Camino?
Choklat
?
Olivia
?'. Fair enough. Let's extend a bit further then: Soma's standing in Canadian chocolate lore rises to the level of historical import.
It joins ranks with the early
barsmiths
there in the 1800s: John F. Furgeson of Halifax; John P. Mott's Spice & Cocoa Company in Dartmouth, Nova Scotia; James Moir, also of Nova Scotia; John Warren Cowen in Toronto; &, sorry
Masts
, the Ganong Bros. of New Brunswick who blazed the cocoa roasters with many firsts including the nickel candy bar in North America starting around 1910.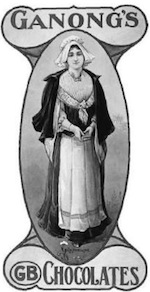 The Ganongs also introduced the sexy Acadian Evangeline Bellefontaine to chocolate. Immortalized in the poem by Longfellow, Evangeline, a heroine emblematic of Le Grand Dérangement when New Englanders & the British forcibly expelled French Canadians from the Maritime Provinces, graced their boxes.
Beyond that, Soma trumps most of the competition to the south in the superpower USA craft chocolate movement by working from the raw cocoa bean to produce both pure
chocolate bars
as well as
filled chocolate bombones
. Perhaps the best all-purpose chocolate maker in the New World (bar & box chocolate).
It ain't easy being top-ranked: a lot of due diligence, sweat equity, trials, & luck too.
But the 'good news': one reason this box is so easy to eat, to paraphrase Longfellow on Evangeline, is because it was so hard to make.
So hard yet so easy that it induces a
Somatose condition
, the exact opposite of comatose. That is, you'll be in a soma... the new zen.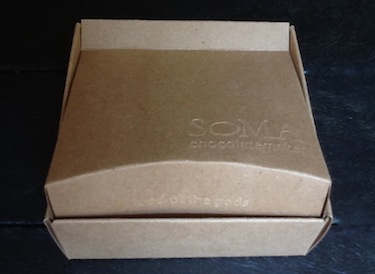 The Grand Somatic Opening
Presentation 3.4 / 5
rustic posh -- UPS shipping box, embossed lighter than a watermark -- for understated class; a crowded set within, very tightly shoe-horned in, shoved into pleated cups & leaning all over the place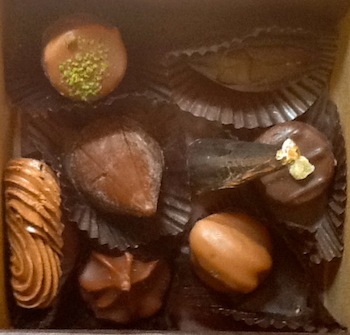 Overpopulation in the Chocolate Universe?
Aromas 3.8 / 5
Textures/Melt 8.8 / 10
| | |
| --- | --- |
| Shells: | great tooth / enclosure, often more an extension than a separation of the interior |
| Centers: | very substantial; thick pudding |
Flavor 45.3 / 50
Clear definition with undeniable mergers of the components & yet reminders that chocolate still rules.
Less sublime than some stellar master boxers, such as
Torreblanca
, but hits the cross-points between clarity/weight & levity/gravity as strong -- though be no means overpowering -- infusions are matched by hi-CQ (for Chocolate Quotient or baseline cocoa flavor free of any nuances).
Quality 26.8 / 30
Thoroughly hi-brow yet manages to straddle the candy ledge for accessibility. Hence the overall 'Mainstream Style' with major crossover appeal.

Combines both power & finesse that have become all too rare today, exemplified in full bodied Textures yet smooth & effortless melts.
Selections
Lemon Toffee
--
Milk Chocolate
base beneath dustings of emerald pistachios to mimc the mossy surface of another planet (Scotland, maybe?) oozing with invisible clouds of butter; achingly soft exfoliant crunch… somewhat strong on the lemon extract (tucking it in some by swapping out oil for fresh-squeezed might elevate this in line with Soma's
Douglas Fir
[below] as one of the best bombones on this planet); simple yet brilliant in its conception, still dextrous in its execution, & devoured in its consumption… a winning trifecta.
8 Yr Balsamic
- a little young, whether by vinegar or dating standards, but well-aligned with the
Dark
chocolate chaperone providing strong backing & support; full bodied, flirty & tasteful; terrific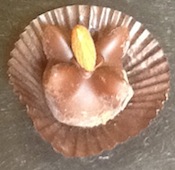 Costa Rican Milk Chocolate Almond Cluster
-- bit of a hydra-headed mouse ear's construction; layers it on pretty heavy, especially the pointed almonds -- crunching their way thru the
Milk Choc
... fabulously roasted with an assist from just a pinch of salt that spikes the whole combine; excellent
Gianduja
- a piped curl of a slab; hyper sweet & stuck with integration problems, the sugar at points almost stands alone, plus an off false-note too
Sparky
- 360º sensory FX -- Texture, Audio, & Flavor -- as the micro-crunch from rock candy teethes into a sort of hazelnut praliné / feuilletine bed, followed by a fantastic butter glide at the back; sensational... literally
Pecan Butter
-- or Butter Pecan?... whatever the name, a balanced stack of Milk Choc / pecan meat / caramel construction
Lemon & Ginger
- candy cloy
Roasted Cocoa Bean
-- pod-shaped mold with whole bean enclosed; flavor fools of a caramelized almond with a raisin skin & only the slightest tannic grate on the finish (nicely relieved however by pink BubbleYum
®
inflection in the aft-length); the
barsmith's
mastery on display; phenomenal
Douglas Fir
-- highly unusual; essential oil of the evergreen permeates this soft-'n-sweet-as-jelly ganache... berry tart / pine sharp & resinous throughout, mellowed by a buttery chocolate with a slight meaty / pemmican finish; in a world where bonbons proliferate by the millions to make the pursuit of them a foolhardy Faustian bargain, this stands its ground against any on-comers; truly a rare uniquity; stupendous
Arbequina
- a cone of mild olive oil acts more as a Textural conduit for a chocolate fabric-softener until vanilla, tonka, hay & light tannins pronounce themselves in hushed tones so, please, sit down & be quiet to fully appreciate
Caramel Cream Kiss
- light caramel Taste backed in thick cream Texture whipped into spongey foam marshmallow, all framed in solid chocolate; with a piece like this David Castellan of
Soma
has no need to give shout outs or smooches & pecks on the cheeks... he delivers the full-frontal / deep-throttle 'kiss-out'
Reviewed Summer 2012
Updated Autumn 2013