Impact
After a celebrated launch in 2013 with
critically-declaimed calamity bars
(the
lowest-rated Chuao
on record, for instance; no mean feat considering the degree of difficulty in destroying
chocodom's most enduring potentate
),
Alain Ducasse
sends out the artillery in this rather unFrench box of bonbons… loud infusions of low chocolate potency… as if in retaliation (or just a case of this site's self-importance?).
Whatever the exact motivation (probably just all business), these pieces feel spiteful yet uninspired.
Francophile Ben Franklin instructs -- whatever begins in anger ends in shame.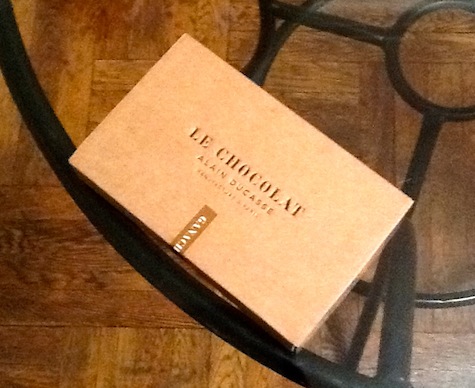 Presentation 2.3 / 5
pedestrian for such a well-heeled brand
arrives basically in UPS parcel post shipping box
plebe pieces within; wedged together without a gap to breathe in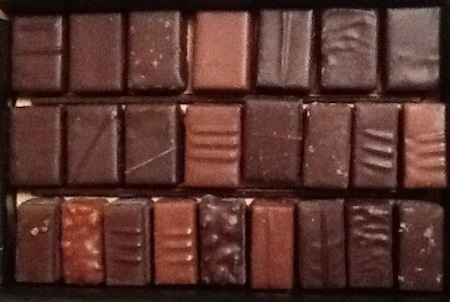 Aromas 4.1 / 5
good, nut-based
Textures/Melt 6.5 / 10
| | |
| --- | --- |
| Shells: | light snap (some detach pre-bite down) |
| Centers: | gummy which slows up the melt |
Flavor 37.8 / 50
Oft-overstated infusions contra a couverture / boring envelope that brings nothing to the party
Quality 20.6 / 30
Clearly too much filler, stabilizers, conditioners, preservatives in this open coffin. Sunflower lecithin which can terribly color a chocolate, invert sugar, sorbitol, glucose, dextrose, pectin… all in the arsenal to mainly prolong self-life. None belong for quality.
Selections
| | |
| --- | --- |
| Couverture: | in-house (presumably) or bulk (same difference) |
Caramel
-- gel ganache, subtle salted-caramel leans into a rising lemon grace note
Pistache
-- brooding praline lifted by a touch of, huh?, mayo?…
mon diet
from the home of
gauche
; a mistake or magic? either way, incongruous & offensive yet perfectly acceptable
Thé et Citron
-- so named but really mealy-mouth texture & flavor of coconut (supposedly marzipan though), clear lemon for sure & maybe tea at the back; slapdash architecture / assembly
Citron Vert
-- lime zest & juice in an all-
Dark
ganache; amateur blare
Cacahuète
-- peanut butter spam of gummy mouth ala glucose / HFCS; an affront to the humble peanut
Noir Amande Éclat
-- praliné of caramelized almonds; what this lacks in chocolate presence it doubles-down with sugar; très sweet
Lait Amande Éclat
--
Milk Chocolate
version of the above; triples down on sugar; ATTN Dentists: get set to drill & fill; when the French start whiffing badly at this old national standby, Élysée Palace needs to step in & act
Vanille
-- plain, even bland, with no real distinction; compared to the others in the box, a winner
Noir Noistte Amande Fondantes
-- extremely thin shell covers smooth ganache of hazelnuts & almonds of an almost egg-white body backed in rich butter bream; really kneads the flavor points deeply; a standout
Lait Noistte Amande Fondantes
-- the Milk twin of the hazelnuts & almond above & equally sumptuous except Milk Choc lacks the depth of its Dark counterpart
Framboise
-- raspberry pulp fortified with raspberry liqueur with no regard whatsoever for chocolate; one-sided
Pruneau Armagnac
-- prunes marinated in brandy & enrobed in a Dark coat; absolutely fab combo… the fruit sugar cools the liquor while the heat of alcohol warms the sweet; creative, cunning, & culinary; easily the best of the set
Coconut
-- another praliné with a real promising start on roasted coconut & peanut (?) only to suffer the onslaught of another très sweet decline
Tonka
-- when did this heavy spice become bland as warm milk before bedtime
Menthe
-- Middle Eastern tea-strength mint, fresh & true sans excess
Café
-- as the French say,
ordinaireReviewed January 7, 2015