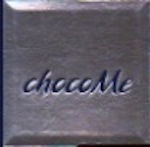 Impact
From Rock Me Amadeus to chocoMe of Hungary, the Earth's a pleasure craft. And this collection specifically approaches the level of chocolate porn.

How?

Well, studies using a vaginal plethysmograph (a device that measures blood-flow & lubrication) indicate that female response to visual stimuli such as chocolate photos, packaging & products is visceral, immediate, & pronounced. chocoMe's entire portfolio enhances the phenomenon.

Delivers everything & a bit more.
Presentation 5 / 5
innovative & alluring packaging design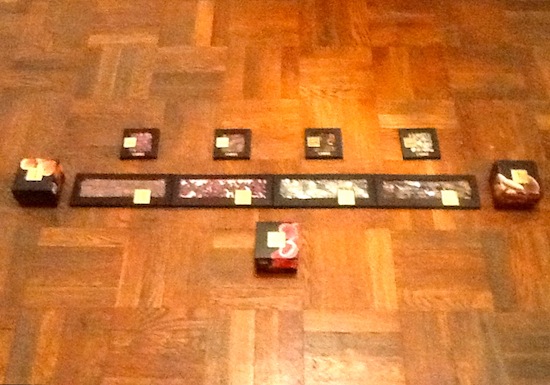 The Great Banquet Hall of chocoMe
Aromas 4.7 / 5
vibrant & true to ingredients
Textures/Melt 8.3 / 10
| | |
| --- | --- |
| Shells: | every tactile sensation in... |
| Centers: | … chocodom |
Flavor 42 / 50
everything in the pantry… nuts, fruits, spices… just name it
a great mess (emphasis great)
Quality 23.8 / 30
A fun-mix taste buds party. Yes, purists will object that some confections include glucose & the like but, hey, they'll end up sitting in a quiet corner by themselves while the rest mosh on... to tongues hi-fiving the roofs of their mouths.

Little wonder this company sold more than 1 million chocoMe products worldwide so far.
Selections
BARS:
1. Ostensibly part of
chocoMe's
Spicy Collection -- mint & lime all over the nose & tongue… a very sweet 65%
dark choc
base proves more consequential than anticipated as it warms the cooling elements; among the most refreshing bars around because, while it manages an array (to be expected with inclusions) + surprising depth of flavors, it stays buoyant / light on the palate
2. dry moldy chocolate hosts pecans, pistachios & cranberry &, really, to nul effect as this never lifts, just sits; either the components cancel each other out (hard to believe) or the they went stale
3. splurges on every dried red berry commonly available (cranberry, raspberry & the cherry fruit too… all but the strawberry in a pretty ineffectual
White Chocolate
base other than providing dazzling visual contrast & add'l sugar); consider it a sort of melting cherry vanilla ice-cream
4. absolutely, positively glorious aroma (pastry) matched by a flavor rich in buttery salted
milk chocolate
, caramelized sugar & crunching pecans; a
tour de force
that hits on all cylinders
RAFFINÉE:
5. enrobed & dusted almonds seasoned seemingly with fresh-cracked black pepper but, oh no, this
64% Madagascar chocolate
aligns with that island's mildly fiery
voatsiperifery pepper
; quite the novel triple-stack -- almond base,
Madagascan cacáo's
soaring acidity & the peppered middle notes
6. overly spiced (cinnamon) whole filberts covered in Milk Choc; strangely, the nuts & the chocolate-coating nearly the same texture / consistency (re: soft as opposed to contrastive crunch vs. smooth)
7. freeze-dried raspberries surrounded in White Chocolat, basically raspberries 'n cream shortcake; pippin' hot
Reviewed April 16, 2015