Impact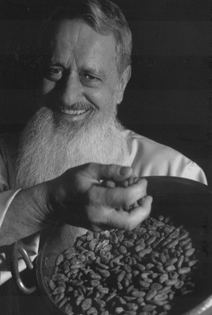 Ancient wizard of the Tuscan Chocolate Valley. Undeniable singularity. What
Dufoux
is to France, Catinari is to Italy: both belong in the all-time chocolate pantheon, & together with Spain's
Torreblanca
form a brotherhood who resonate to a shared equilibrium & symbiosis -- Europe's
Holy Cacáo
Trinity of the
boxed chocolate
set.
Presentation 5 / 5
off-the-box -- butcher paper instead (sure sign of serious intent); pieces represent a U.N. of shapes & sizes (patés, rochers, demi-tasse, nut molds, enrobes, truffles, whips & swirls)
Aromas 4.2 / 5
ventilates nut/creams, maples & birch trees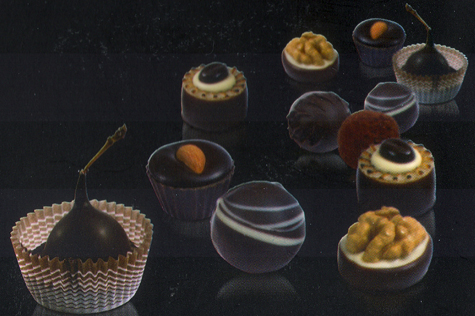 Textures/Melt 7.9 / 10
| | |
| --- | --- |
| Shells: | medium light; pronounced snap |
| Centers: | substantially firm (RE: low-cream) ganache to liquid in the liquors |
Flavor 48.3 / 50
'Fresh' doesn't begin to describe just how ripe; nearly incomparable & nothing stilted – that's how embarrassing it must feel to the rest of the field... super calibration / spare / utility... Unparalleled consistency thru-out the entire line-up, every piece one right after the other, virtually no misses. Even those that start off errant miraculously turn toward greatness. About the only valid critique that can be leveled, & a rather significant one, is the lack of much chocolate attack on the uptake & at mid-palate though it usually shows by the back.
Cacáo
rarely the hero, & far from the superstar here. Instead, Catinari possesses that ability to see the invisible effects of combinations so that chocolate's influence is recessed but present, deployed to generate complementary under & overtones, then hangs back, happy to bask in the reflected glory among a constellation of elements.
Quality 29.7 / 30
Experienced. Art is often the wisdom of knowing when enough is enough, & when to stop. Only the very 'hard-of-tasting' would label this 'banal' for which it's occasionally reproached but proves revealing by dint of its very simplicity.
Selections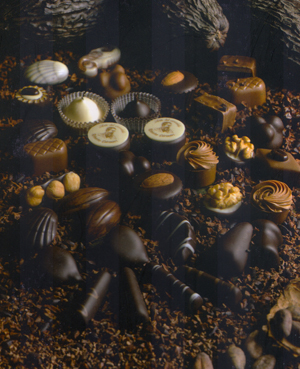 Cremini Classico
- alternating layers of
Dark Chocolate
& gianduja essence blanketed in a
Milk Choc
shell, the gestalt almost yielding sweet almond oil; great depth & good horizontal spread across palate; compared to
Venchi's mass-market classic
, this is the personalized craft
Cremini al Pistacchio
- tritone complex (
Dark Choc
, Classic Gianduja, & Pistachio) swathed in
Milk Choc
generating all sorts of overtones (vanilla gelato, fruit glacé, & almond again in add'n to the stated elements); a world beater
Cremini alla Nocciola
- instead of the more even-textured
Classic
or
Pistacchio
,
Dark
choc base plays to chopped hazelnuts; by altering the formula a few degree it pays off in huge differentials... thicker more viscous & rustic flavor igniting a vapor of brandy; perhaps too great a departure for some, while for others a heretic eventually canonized like a saint burnt at the stake (think Giordano Bruno) then compare this to
Domori's rendering
Rusticelli Fondente
- coarsely-chopped hazelnuts bathed in 71% Dark; naked preparation, stark presentation, & segregated flavors; rustic Tuscan beauty
Rusticelli al Latte
- same unadorned form as the
Rusticelli Fondente
but here swathed in
Milk Choc
whose flavors in the act of masticating integrate for nut-toffees delivering a umami zap to the back
Rusticelli Bianco
- more clean simple lines that epitomize Tuscany in general & these
Rusticelli
in particular, with
White Choc
taking its turn... finely roasted buttered nuts; simplicity kills
Noci
- part of Catinari's
Forme del Bosco
or 'Wood Series', this vents maple-walnut on the inhale while the inside taste reveals more of the same, just deeper... a walnut crunch covered in
Milk Choc
, the elements fuse so seamlessly by the end there's no clue of the constituents save for a residual of the namesake origin: wood grain & walnut leaves; stunning brilliance
Monachina
- walnut, marzipan-style; drier & mealier than traditional almond-marzipan with an inside-out play of
White Choc
sealing the interior nut-meat then
Dark
fondant wrapping all that; conjures up sweet-almond cherry streaking to soft orange bergamot at the back; sensational
Marzapone Quadratino
- classic marzipan paste expressing fresh almond to extracted levels like oil coated in
Dark
; so utterly true & unpretentious that even those without a hankering jones for marzipan will recognize its honesty
Marzapone Sarotto
- among the most elaborate assemblies of the collection; chocolate-covered café bean leans hard into a
Dark
fondant cupping the
White Choc
center laced with marzipan... hurtles dangerously on the edge of losing control in an all-out caffeine frenzy, then almond of all things restrains the kinetics & the piece regains its poise; a breathtaker
Champagne
- pops the cork right off & splits it in half, the pressurized bubbles shooting tiny projectiles in this very liquid piece sealed in a
Dark
chocolate cask which together become a sweet toast to a kind of rich wedding cake; excellent fun-damentals
Grappa alla Pera
- another liquid oozy-gun just splatters the taste-buds into a sticky sugar state; potent & dry, almost Tequila strength & arid; pear pomace pummeling the senses nearly numb & senseless yet, once again, fortified couverture matches the liqueur, cooling & calming the hot vapors trails by the finish for a type of distilled chocolate; an event of patience-rewarded; superb
Rhum Bacioni
- an apricot kiss (buoyed by egg whites to give it that plush marshmallow cush) on a crisp wafer sozzled in rum; initially cums off a cheap hooker then, as ever with Catinari, turns to the real textural thing - soft & cocoa-hot with banana in between – to simulate that characteristic bittersweet-nut of Amaretto diSaronno; serious love only
80% Bar
- Catinari may be no bean-to-bar maker, he is however a 1st rate re-smelter (beautifully brushed plate); the label reads
São Tomé
but the percentage, the aromagrams (wickedly fermented & roasted), & the all-telling flavor point to bud-to-bud barsmith (that's cacáo flower bud to human taste-bud)
Claudio Corallo
on the neighboring island of
Príncipe
; coarse texture / coarse conche as expected (with
Nibs
no less) produces a stonewood opening -> good mid-point chocolate -> butter & cream take over the progression to escort fleeting reds to the smoked finish... flavor-wise one of the softest Corolla's yet, remiscent of his
75% Nibble Bar
with the greater cacáo-content probably made up in butter
Reviewed Autumn 2010