Impact
Prof. Paglia, the controversial art historian with Italian blood flooding her veins, reminds that nothing but art truly explains the awesome mysteries of the universe.
Dante dramatized this when Virgil, the Roman poet who guides him thru purgatory & hell, leaves him at the gates of paradise. Virgil stands for reason & language, but sacred vision requires that leap into another dimension.
A narrative that testifies to the different conceptual frames with which musicians, dancers, painters, et. al., process the world, for senses have their own internal logic & primacy. Perception - expanded - is a habitat closer to animals instinctively attuned to their environment.
Enter Gianluca Franzoni aka
Mack Domori
. On the face of it he engages in the stylistic arms race that becomes chocolate nowadays, though any obsession of his with design & marketing-sizzle obviously rank secondary to quality.
Ever operatic & improvisational, his craftsmanship tames & cultures cacáo to heighten its best traits. Many a purist & punk on the prowl for the next fad may claim Domori has taken the soul, the South America, out of this great bean by over-processing (true, this features none of the dirt tones found among the new horde of most single-plantation grinders). Like saying the statue of David appears too serene (ha, just check the glare in his eyes). And Domori
is
the Michelangelo of cacáo.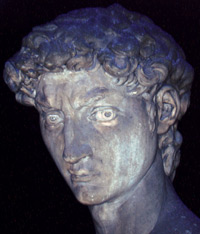 The instability in this bar alternates with rigidity as it stays versant to the ground & the Earth that produced it... but only for the time it takes to melt like wax closing-in on the tongue's fire. Fragility of power yet certainty of flavor multiply the imperative to ravish, this, so salicious (salacious / delicious). All of this is all in the bean; Domori just brings out what's already there. (Michelangelo again.)
Portends the death of the hero. Everybody undertakes the well-clad saint who sings up a stage about love & oneness then shows later a drunk asshole at, say, the Gramercy Hotel bar, eventually slumped over, bare-chested, on a cold wintery night. Next song... blames loneliness (see Quality section below).
A bar that clocks out with its cock out. Mondo chocolate uninterruptus (no mid-bar crisis or lapses at all). The letters will come flooding in, such as the recent one from a subscriber, either disgruntled or titilated, who writes, "hey, a LOT of the reviews contain sexual inuendo, sometimes blatant".
OK, maintaining
the C-spot's
™ Seduciary Responsibility, let's be direct: it's ALL about sex. Power, money, art, fashion... every step in biological evolution, for God's sake. None of us would be here except for it; human consciousness as we know it ends without it.
25 grams (yep, that's all Magoo) to bliss... when you can use somebody or something to get thru the daze.
To borrow the AA meetings maxim -- one bite is too many, & 12 not enough.
And the melt on this? An oral sex bomb – the hot 'n sultry foreplay to getting laid.
A
Chuao
on par with Monica Belluci.
Ciao.
Appearance 4.8 / 5
warm sepia packaging - elegant & enticing; classic & cutting-edge all at the same time
| | |
| --- | --- |
| Color: | white-mahogany (a Dark-Milk really... see below) |
| Surface: | magazine cover picture-perfect hi-plate finish on a slight, small & thinner bar scored into a windowpane, each quadrant w/ a dimple on the back |
| Temper: | glassine (minor scratches & smudges but textbook) |
| Snap: | outsized for such a thin pour... loud, sharp, terse... this baby barks when snapping it, letting all know its pedigree: Don Chuao (that's Señor Criollo to all bitches out there); lightly striated on the edge |
Aroma 9.3 / 10
smells like sex on a hot night: potent Earth / pure-play
Domori
- beautiful brushed/matte gold-mylar inner-wrap opens onto roasted almonds driving the scent home, their skins drenched in cocoa-alcohol (signature Domori ferment) & freshly-ground espresso -> tell-tale
Chuao
vanilla -> black pepper -> trails green (palm & leguminous trees along w/ bromeliads & tonka bean) -> cheese spunk on the bottom -> warm bee's wax / mead over dark sex in leather & latex -> eventually alights in raw
Milk-Chocolate
cream for super-deluxe Milk Choc Almond bar
Mouthfeel 14.7 / 15
| | |
| --- | --- |
| Texture: | textured gold: dream cream; nary a single granule; just a mite of grip 'n stick |
| Melt: | evenly supreme pace... light, yielding, the syncopated & smoothly controlled melt just wolf in sheep's clothing to... |
Flavor 49.1 / 50
... a cacophony assaults the senses, dizzy really... eyes roll up into the head, the world blurs… just feel the endorphins & tryptophan surging… better then hot shots… this legal crack (so good it should at least be limited if not illegal) bangs off soft milk chocolate right away -> charms gold threads out of those milky moonbeams w/ spectral nectars... bright-breaking huge sweet-spot fruit drop (dried papaya to fresh apricot & tart cocona, add kumquat & currants)... all floating on tender yet deeply undulating chocolate rippling thru... soft heartwood & sandalwood provide the constant backbeats ala a single-malt Scotch vapor whose cask has been thrashed at sea for years while carrying the loam -> hickory-smoked almonds -> cream w/ vanilla seams -> caramelized abiu -> ever so slightly assertive bitter (backcross to the wood) conjures tonka -> frangipani -> spirited cocoa tannin -> clears apricot kernel; whew, too amazing to nip & nibble
Quality 19.8 / 20
Dead simple (just cocoa 'n sugar) yet profound. Rarefied cream of the crop... literally & symbolically.
Parrallels to other
Chuaos
are fruitless for this is distinct, apart, singular... a kind of 'Chuao exceptionalism'.
The backstory starts some time ago: while every other bar-smith today scrambles around the Chuao Valley in a media-worthy frenzy, Domori & the Franceschis, ever so sly & prescient, quietly transported the best of the best from there in 1994 to sculpt a masterwork in 2010. You see, far from any red-carpet of pure Criollo, the village of Chuao, west of Caracas on Venezuela's northern coast, hosts a mix of differing cacáo types. The Franceschi family, proprietors of Hancienda San José on the Paria penisula way to the east, transplanted the pick of the crop from Chuao, some obviously rare varietals boasting white seeds, making it more Porcelana than
Porcelana
(only whose skin, rather than its seeds, are white). They do as well as just about anyone in isolating the differing varietals on their property which make for heirloom cacáo that Chuao Village has possibly lost thru cross breeding.
Heavier toned than Porcelana, especially that wood backing, which both neophytes & some cognoscenti may object to, but renders depth & stamina in a similar vein to
Coppeneur's Venzy
(which comes about thru roasting, where this emerges more from inherent genetics).
What it lacks in a native Chuao's minerality (created by river sediments in that valley), it makes up for with phenomenal transparency that gives a clear window onto the natural balance of this bean's genes, thanks to
Domori's
ever light hands on the technique. He massages this bar to its optimum, without any theatrical make-up whatsoever (neither vanilla, lecithin, nor even added cacáo butter) save for sugar cane. True control from cultivation, harvest, fermentation, drying, roast, grind, blend & conche…..hard to mention them all because Domori hardly misses a tick or trick. No cut corners, just near perfection. And self-effacing: low 'n slow heat, plus a thoroughly gentle conche job, polish this bean's natural endowments rather than shine up the maker's mark.
There are sweeter, more fruit-laden bars out there. Some even with bigger scale & greater complex. None are finer, nor as intrinsically harmonized. A super nova of technique bordering on alchemy.
ING:
cocoa mass, sugar
Reviewed Autumn 2010