Impact
Among the K'iche' Maya of Chichicastenango,
Guatemala
– a town whose very name dances the cha-cha all over the tongue just saying it –
cacáo
stands for the good taboo tree which must be protected & honored at every turn. Because of its associations with female fertility & postpartum nourishment, it serves there as a galactagogue (an inducer to bring the mother's milk down & ensure a healthy supply of it).
This bar shows
Danta
aka Cheebs' unslaked
ganas
(real appetite / craving in Spanish) for both cacáo & milk.
A
Milk Chocolate
stacked with measurements: 39L for 39% LARGE cacáo-content, & that only begins the STATs (as in Standing Tall And Tenacious).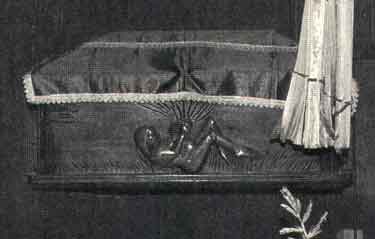 Pregnant mother carved on a sacred chest containing cacáo seeds (Santiago Atitlan, Guatemala; courtesy of Cameron McNeil)
| | |
| --- | --- |
| Color: | sandbar |
| Surface: | ideal; absolute perfection |
| Temper: | absorbent sheen |
| Snap: | another of Danta's too-beautiful-to-break molds... close to expectations for a 39% MC – lower frequency / slight hollow |
Aroma 8.4 / 10
volcanic milk... leaves lava-burns on the nose-tip -> balsamic grape cuts thru molten caramel
Mouthfeel 10.9 / 15
| | |
| --- | --- |
| Texture: | more tight & knotty than a Victoria Secret 'Biofit 7-Ways' bra |
| Melt: | viscous |
Flavor 43.3 / 50
classic Cadbury caramel (hugely malted) cupped in volcanic formation -> underlying cacáo fruits (sticky prune & raisin) stroke wood (mesquite chips) then coax sap & syrup out of 'em (alternatively sweet, sour & savor) -> birch sweetener -> sweet fennel -> ear-flower -> fenugreek w/ background zest (pomelo)
Quality 16.1 / 20
Qualifies as one of those
MC
-oddball freaks along with
Amano's Ocumare Milk
on the edge of hyper sweet.
39% technically fits within the upper range for a
Milk Choc
but this delivers flavor so big & sustained it belongs among the ranks of the
Dark-Milks
. Dairy quality seems a bit suspect. No telling where it comes from other than no place near
Swiss
or
Tyrolean
mountainsides.
Ditto the Texture – which holds true for just about all
Danta
chocolate.
Still, this bar gels together well. The cacáo, re-formatted with the addition of milk from Danta's outsized
Las Acacias bar
, cuts thru the cow-fat with ease, joins sugar, sparking a fruit break rarely tasted in Milk Chocolate... at this or any percentage... to the point where the dairy factor is almost forgotten by the end. So many other effects shaping the final impressions, especially the wood thru which it filters, & so tainted by the passage that it becomes definitional bitter-sweet.
By processing this to a now-customary rough 'n rugged trait, Danta produces a kind of outdoor character, the components left high & dry in the natural elements to weather them or wither underneath. This clearly has the stamina, netting all those dried fruits, resins, & volcanic caramel.
A Milk Choc not for the faint but the brave-hearted.
ING:
sugar, vitamin-enriched milk pwdr, cacáo butter, cocoa mass, soy lecithin, vanilla bean
Reviewed Autumn 2010