Impact
Notable author / James Beard Award-winner Betty Fussell (
Eating In
,
Home Bistro
,
My Kitchen Wars
,
Slice of Life
&, of course, her
Story of Corn
) enjoys a privileged seat at the world's dinner table to observe that people eat with their head first, then their heart, & finally the stomach.
Mack Domori
knows this, feels this & hungers for it because this bar sounds simple enough – a
Milk Chocolate
to harken back to childhood memories but tastes as rare as the
Java
volcanoes & European Alps that meet-up in this cacáo-cow bar.
Spin-babble copy on the box makes a seasoned Chocomane suspicious. Too much pat-on-the-back verbiage = total BS... most of the time.
This one's excused.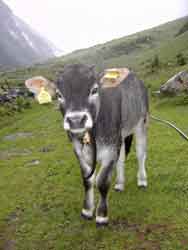 Marries that drunk
Javablond
bimbo to a Tyrolese grey heifer – the Grauvieh, a dual purpose 'milk 'n beef' cow. More akin to pets than cattle, the 'grey ones', as they're affectionately called, stand lightweight with hard claws. Perfect locomotors for ambling & grazing solely off the grassy mountainsides which they've done for 3,000 years in Tyrol, home to wine, apples, milk & the craggy Dolomites – those Grand Tetons of the Alps & a dream launch pad for base-jumpers' everywhere.
So many layers of scent/flavors (not to mention Texture) wafting in & out like tripping on the best s'rooms imaginable.
This deep (in a quiet way), rounded, well-roasted & conched beauty has enough supremely-crafted chocolate to keep but the most recalcitrant, die-hard
Dark-Sider
happy while spurting a wet dream for any
Milkie
. And varietal-snobs will kowtow to this deity.
Refined, bodacious, luscious, & a cream-in-this-cacáo's-genes
de-light
(to effectively use a term on the C-spot's™
Banned Words List
).
Appearance 4.4 / 5
neo-mod silver box w/ stylized illustration & slick raised 'D Fusion' logo… matching mylar inner wrapper sporting great raw sepia 'n gold Domori logo… think 1960's Sophia Loren in schtump-me pumps
| | |
| --- | --- |
| Color: | silver strawberry blonde ala Swiss Miss cocoa |
| Surface: | lunar surface sliced into quadrants |
| Temper: | soft wax |
| Snap: | aggressive resistant hoof... a "no, I don't wanna" snap (got the physical balls of a 60%) w/ top Parmesan cleave |
Aroma 8 / 10
mink chocolate under a lush stick of butter-maiden tang & nothing but... until chestnut butter toffee & vanilla musk -> Alpine honey & beeswax + dew on sugared mountain-violets
Mouthfeel 13.9 / 15
| | |
| --- | --- |
| Texture: | slippery (slight lecithin interference) & succulent |
| Melt: | slow-to-start, a "work-for-it" melt, then builds to a hi-plateau across the mouth for a smoove flow; stuff performs like a top-flight courtesan |
Flavor 45.2 / 50
savory triple-cream as if lightly salted -> buttermilk caramel -> thin slicing smoked Gouda (classic
Java
) -> lots of meadow grass turns into feathery golden hay -> saffron (incl trace metallic ribbon for a 24k gold finish) in honey -> soft choc w/ scoop of South Sea island loam -> rolls deep into tonka bean -> Alpine herb & floral switchbacks
Quality 18.7 / 20
A
Milk Chocolate
paradox – gentle yet potent. Exceedingly fine if a bit bulked-up & another example of why
Java cacáo
suits the Milk Choc category so well.
Borderline magic-bar from the husbandry of the trees, harvest, fermentation/drying, clean roast, excessive grinding into liquor, mixing, conche... da da da.
Many lacto-philes / turnophiles (that's right, chocophiles... you're not alone; there are other philiacs out there) cite Grey Cows' exceptional fat to protein ratio (gram-for-gram almost 1 to 1). In keeping with these cows' character, very tolerant of even
Javablond's
dirty citrus. All the butter fat just tenderizes it into citric scrub found only at the edges.
No wax-back that plagues high-percentage milks. Even the after taste - we're talking 10 minutes, folks, from here to infinity & beyond - is clean & lingering.
Where Bonnat's Javanese Milk Trinity (
Asfarth
/
Java
/
Surabaya
) offers varying degrees of robust & rustic, this comes in hushed & whispering tones, more akin to
Amano's Jembrana Milk
(sourced from nearby Bali) except without the broader if super-subtle range of Jembrana.
The balance here tilts decidedly on the side of dairy producing this rather chocolate-milk instead of the other way around. The cacáo-content feels light for 45% because butter greases the skids & holds most of the carrying weight, so the disproportionately low cocoa mass merely influences the dairy, which it gracefully escorts while steering clear of the adipose
Valrhona Jivara
or
Choklat's gutless butterbars
.
ING:
sugar, cacáo butter, whole milk, cocoa mass, lecithin
Reviewed Autumn 2010