Impact
The
Tawantinsuyu
a k a 'Inca' take credit for
quipu
textiles made from spun or plied fibers, mostly alpaca & llama wool, even if they pre-date them by about... oh, 4,000 years. Their many strands tied up in varying lengths that assigned each with a value were used as a kind of calculator / computer. Though clearly in base-10 numerals, it remains a system of mystery knots & then some. So much so that a few modern researchers ascribe a lot more to what on the face of it seems a simple enough tool that nonetheless made complex tabulations.
For example,
quipus
seem to be both color & information-coded, a language array formed into a database containing everything from GDP, taxes, the census, & who knows what else... perhaps even religion, history & narratives requiring talmudic-level interpretations of a magistrate. Which the Tawantinsuyu indeed had: a venerable position called
quipumayoc
.
So whoever wielded this record-keeping thingamajig would be a cross between a comptroller counting knots worthy of wampum beads multiplied by a mnemonic device like the
lukasa
(or memory board) belonging to the Luba a half a world away in the
Congo
.
Stuff goes deep.
Like chocolate,
quipus
are best preserved in cool, dry, dark environments. Like
quipus
, this chocolate gets tied up into (k)nots. Nothing special nor overwhelming; just inestimable core chocolate flavor.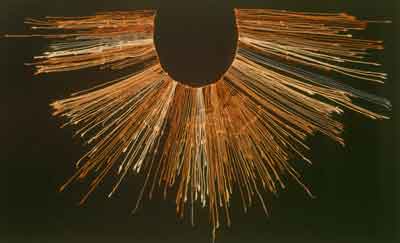 Quipu (Larco Museum, Lima Peru)
| | |
| --- | --- |
| Color: | cooled crimson (almost Bolivian) |
| Surface: | ace craft; nary a blemish; Bonnat raising the stakes |
| Temper: | flashy... nearly Pralus-like |
| Snap: | high 'n tight |
Aroma 7.8 / 10
Peruvian
vines snagged on horseback leather then it fumes tobacco leaves -> cooks down to algarrobina – that starchy syrup made from Black Carob trees reminiscent of cocoa; very green along the edge break
Mouthfeel 12.6 / 15
| | |
| --- | --- |
| Texture: | Wax Factor™ |
| Melt: | slow... for... ever... last (voluminous too) |
Flavor 44 / 50
carbon-copy of the Aroma (literally too w/ slight charring at the bottom): fringe fruit around mild & simple chocolate -> darkens to that algarrobina syrup -> fruit to the fore (raisin now flirting w/ Bolivian plum) -> tails off more cocoa
Quality 17.4 / 20
Stéphane Bonnat
acknowledges that he knows scant about the provenance of these seeds. Rumors whispered to him about "fabled Chuncho" cacáo fell mostly on deaf ears. He has heard it all before. That those could've been among the very first cacáo seeds ever harvested by man sounded enticing enough to just go with it & market the hype, except he also understands the inverse correlation between the size of a "single origin" (in this case a huge area "somewhere around Cuzco") & the depth of the relationship between manufacturers & growers. For him, that meant too much of one, too little of the other.
Barsmiths
that can specify a grower's name (
Shawn Askinosie
for example) or the chief of the local growers' association (
Zotter
for instance) or co-op (
Divine Chocolate
) are most likely to have a well-defined source point. Lacking that, Bonnat therefore scrapped the "Chuncho" idea.
Though sourced from same southern part of
Peru
, these are far from
Bonnat's Apotequil
character or
Apurimac by Domori
& more in line taste-wise with Zotter's Peruvians out of
Naranjillo
and
Satipo Pangoa
farther up north... almost eerily quiet... virtually zero bitterness / nil astringency... with just a touch of nearby
Boliviano Nacional
hints to resurrect notions of Chuncho chocolate since geneticists in 2010 verified that Cuzco
wild
cacáo bears similarities to
Bolivia's Rio Bení cacáo
nearby. "Interesting", to use on term on
the C-spot's™ Banned Words List
.
Wrapped so tight around itself, this Cusco hardly unwinds. Bonnat must've exceeded even his normal formula of setting the conche twice as long as refiner.
Creates pretty straightforward chocolate of ample CQ (Chocolate Quotient or baseline cocoa flavor free of any nuances), albeit cuffed & cut off by butter. Rather mysterious why a maker would treat such a mild-mannered bean to further amelioration until remembering that butter is Bonnat's house specialty. Plus, he follows a fixed percentage for practically all his bars: 25% sugar, X% cocoa mass, & Y% butter. Count it as custom.
Altogether, the upshot is a bar with natural sweetness &, moreover, unreal distance, among the longest chocolate meltdowns ever... & that alone satisfies.... right up there with
Hachez
. Neither the softest nor roundest but plenty of interminable if simple pleasure.
ING:
cocoa mass, sugar, cacáo butter
Reviewed January 2011