Impact
This bar sticks out like a sore thumb, in an otherwise average line-up from Olivia, because tasters are sucking all its goodness hard off their finger tips.

Better to get licked that way than, say, Psalms 72: they that dwell in the wilderness shall bow before; & enemies shall lick the dust
Appearance 4 / 5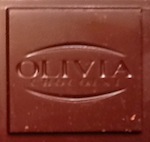 | | |
| --- | --- |
| Color: | tan veering on opaque |
| Surface: | in Olivia's finest tradition -- dusted, flaked, chipped, cracked |
| Temper: | polished coat |
| Snap: | 76% weakling |
Aroma 8.5 / 10
evolves right under the nose: lean, even serene, nut mass (weaker than a pea / stronger than a mac... works out nicely) -> jute sack (storage?) -> slightly soured cocoa lets off cherry cordial & lite tobacco -> black olive
Mouthfeel 11.9 / 15
| | |
| --- | --- |
| Texture: | soft 'n dry butter pad |
| Melt: | powdered dissolve that lecithin fails to congeal |
Flavor 47.1 / 50
cocoa dust -> dried mango starts to interline it -> tobac-smoked olive (intriguing) -> builds savory bits against a sour counterpoint (granadilla) -> gentle-rocking back bitter (think 'sea buckthorn' or bitter apricot) -> rum (Bacardi 151) -> terrific gestalt of móle forces from all the preceding -> minor malting -> charcoal &, alas, some chalk (stemming from that jute in the Aromatics) -> hay & tonka (vanilla's influence on these seeds) round out the balance & return to a cocoa ending
Quality 18.2 / 20
What a difference 10% additional sugar makes for
Olivia's 86% flatliner
from the same seed lot.
Indeed, nothing in this barsmith's short career -- still under development -- prepares one for, or explains, it. An achievement that surpasses anything
Olivia
has done to date to harken back to early
Bessone
when that label released the unexpected & shockingly great
Ceylon
. That bar, a
Milk Chocolate
, actually made some sense since Bessone came to chocolate from the confectionary world. This relatively high percentage
Dark
affair plays in an altogether different league from, again,
Olivia's 86%
or its
76%-Raw
.
Bizarre. Maybe just beginner's luck... so ride it while it's hot.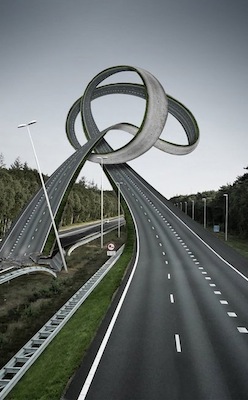 A not-so-classic out 'n back twister. But, oh, what a ride.
Big, bold & beautiful. Very dark in tone... some deep umami notes, with only trace acidic offsets. All of them well harmonized (even the chalking almost rises to the level of a grace note).
Apt parallels to
Rogue's Hispaniola
, especially as savory móles / fraternal twins. Only the density patterns distinguish them. Less condensed here & with a more elliptical A-B-C-A progression (opening & closing cocoa sandwiches sweet fruits / savory compounds / spice racks) compared to the unbound nature of the Rogue.
The only real detraction / distraction: subpar Texture; a chocolate rather short in the conch (in contrast to the
86%
which feels over-conched & therefore stripped) perhaps to compensate for a warmer roast.
Whatever the exact cause,
Olivia
produces a winner from these pods that hang several branches above the rest of the field (including that of its
own line
; in all fairness some of it handicapped by being "
raw
"). Doubly impressive from a fledgling label.
Truly a grand ornament in this or any collection. A bar to build on.
INGREDIENTS:
cocoa mass, sugar, cocoa butter, lecithin, vanilla
Reviewed March 15, 2012