Impact
Appearance 4.8 / 5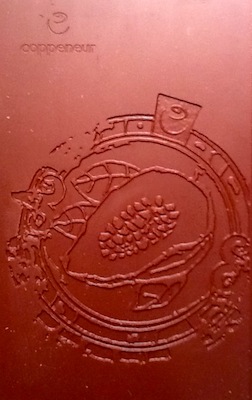 | | |
| --- | --- |
| Color: | cinnamon brown |
| Surface: | kissable... deep French-kissable (quite remarkable for a German bar) |
| Temper: | cinematic quality |
| Snap: | snickering |
Aroma 9.1 / 10
clean cream lines & clear cocoa butter expressed for somewhat of a rarity in a
Dark-Milk
: redolent
White Chocolate
mousse -> light caramel brushing
Mouthfeel 12.7 / 15
| | |
| --- | --- |
| Texture: | viscous; thick |
| Melt: | Slo-Poke™ befitting the Flavor |
Flavor 33.4 / 50
starts life really sweet, kid sweet / candy sweet: Sugar Babies™ & Tootsie Roll™ -> gets a little dirty... as the cocoa catches up to the dairy 'n sugar to reveal malted-chalk counterpoised against butter-caramel of some super hi-def (despite the now metallic offset from the dirt / chalk) -> malingering caulk the aftermath
Quality 12.2 / 20
Coppeneur
, no stranger to the
Dark-Milk category
, has released a half dozen or more in recent years, including
the vaunted Tabuna from PNG
.
Ghana Vollmilch
replaces
Uba Budo sourced in São Tomé
in the company's revamped line-up. The association between this & that extends beyond the fact that both are
West African
in origin. The tiny island of
São Tomé
once provided the seedlings & trees that formed the foundation for all of West Africa's cacáo groves that now dominate world cocoa production with up to 70% of the global commodity market.
If
Ghana Vollmilch
be the lactating companion to
Coppeneur's Ghana Dark
(the base couverture employed for this bar), the bond is reinforced in their both sharing the trait of steady, unadorned delivery. Pretty constant once they hit mid-stride. And while that midpoint here features a superb full-throttle butter-caramel (rich & creamy), the finish collapses under the spectral of terrifying off-notes. Nothing in the
Ghana Dark
suggests as much so the culprit lies in tainted milk powder or some rancid vanilla.
Either way it spoils a sensationalized beginning & middle, & leaves all that sumptuous
White Chocolate
in the Aroma unrealized with a girding underside that will alienate most
Milk Choc
fans, while the early onset dairy-caramel won't play well with
Darksiders
.
Enough to make everyone upset.
INGREDIENTS:
cocoa mass, whole milk powder (23%), cocoa butter, sugar, vanilla
Reviewed April 24, 2012