Impact
Bribri society in
Costa Rica
organizes itself by matrilineal clans. This confers both status onto women & tangible benefits to them since they are the ones who inherit the land & prepare sacred cacao draughts essential to Bribri rituals.
According to their beliefs,
Theobroma cacao
used to be a woman which Sibu (God) turned into a tree. This echoes the female-cacáo connection throughout
Mesoamerican cultures
. Because of this link, cacáo branches are never chopped for firewood; & chocolate is reserved for special occasions, ceremonies & rites of passage such as when young girls undergo their first menstruation. To help earn their livelihoods, several Bribri women's associations produce organic, handmade chocolate for outsiders (e.g., Bambu in the Talamanca Indigenous Reservation)
Otherwise, their cacáo stays in-house. Specifically, the Bribri spiritual practice centered around the conical house whose design symbolizes the universe. Such homes can also be located in
Amazonian
groups belonging to the Macro-Chibchan language family who traded with Mesoamericans in ancient times.
These houses are supported by 8 pillars representing the animals that helped Sibu construct the universe. The house has 4 levels, one for each found in the world:
ground level or the Earthly plane we inhabit;
in the 2nd level dwell the spirits of plants & animals, as well as owners of the rivers, this is where Sibu's helpers live;
on the 3rd live the spirits who spread disease & suffering, & descend periodically to cause grief on Earth;
The highest level of the conical house is where Sibu resides, accompanied by his helper, the king of vultures, Sarcoramphus papa. It also houses the most malign spirits as well. The Bribri explain that Sibu keeps them enclosed there, like a warden keeps the inmates in a prison to approximate the maxim 'keep your friends close & your enemies closer'.
3 more levels exist beneath the world, one of them where Bribri souls go after death.
This bar of chocolate could use a few more layers of its own to accompany the journey there.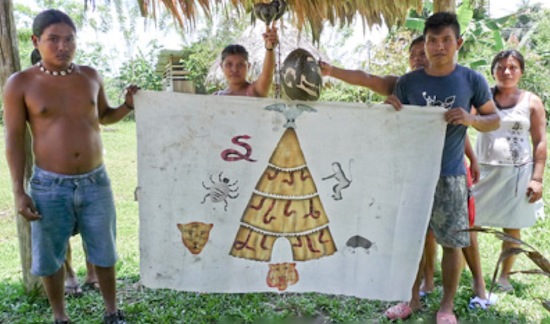 Bribri in Talamanca holding a batik that illustrates the spiritual significance of the conical house (photo from De la Pura Vida)
| | |
| --- | --- |
| Color: | dark pewter |
| Surface: | bubbling |
| Temper: | a first -- foil(!?!?) wrapper transfer |
| Snap: | a turtle |
Aroma 7.7 / 10
Mouthfeel 13.1 / 15
| | |
| --- | --- |
| Texture: | very acceptable; fine fat & fluidity |
| Melt: | measured; stringent pucker |
Flavor 40.1 / 50
hops in brown spice rack in a pub hall...cornuts 'n sawdust included -> ventures into typical
CR terrain
(molasses, coffee, black olive) -> burrows underground for light clay & sediment -> pulls out a pili nut & soiled tamarind
Quality 15.2 / 20
Cacáo
cultivated by an elder woman in the Bribri community.
After that rawkus romp in the opening rush (the interaction of raw sugar cane & cacáo), this reverts back to the norm for
CR
. Generally supine & void of highlights.
Exceptionally good action on the lipids though, in the Texture, to suggest that CR experienced a bumper crop of
high-fat content cacáo
.
INGREDIENTS:
cocoa mass, raw sugar
Reviewed February 20, 2013