Impact
Does 55% still counts as '
Dark Chocolate
'? Technically. Any lower though & it qualifies as chocolate-flavored
sugar
.
But
Cravve
employs the
Bernachon
method of calculating only the
cocoa mass
in its cacáo-content percentage (which should be the norm as opposed to the more common
cocoa mass + cacáo butter
; & yet another confirmation why
the C-spot
®
only lists the percentage parenthetically to the '
CHOCOLATE TYPE
' category of every review).
As a result this bar plays bigger than its 55% advertisement, more pronounced & closer to 65%... that is, if anything about this bar can be believed. (See
Quality
section below.)
| | |
| --- | --- |
| Color: | morose mauve |
| Surface: | heavy brush strokes |
| Temper: | flat / desolate |
| Snap: | a shocker for its percentage |
Aroma 9.4 / 10
power trio of a candy bar

1. Thin Mints Girl Scout® Cookies;
2. Cinnamon Red Hots®;
3. Twizzler's® Licorice

breathes to rose attar

sensational
Mouthfeel 8.7 / 15
| | |
| --- | --- |
| Texture: | dry / unforgiving |
| Melt: | dysregulated / spastic |
Flavor 42.3 / 50
a melange of the above Aromas in brown sugar that lasts for half the total progression -> bland paper pocket 'n wax & twine (the latter in line with Texture) yet no let up in the spice impressions -> new sensation for the finale: stringent cardboard
Quality 14.8 / 20
Uncanny.
Seriously taste doctored. With so many "experiments" conducted in the field nowadays, who can say if these flavors emanating from this bar are naturally derived (from de-pulped, slaty, less fermented bean base) or just stealth additives (either
to spike the pulp in the ferment pile
or
the liquor in the refiner
).
In the past
Fiji brought forth some strange cocoa butter reviewed by the C-spot
®
but this feels so peculiar to suspect some weirding going on. (Horrendous
Texture
: ropes manufactured from waxy butter & powdery sugar, probably the outcome of expeller-pressed butter heated up too high in the 160º C / 320ºF range.)
The wrapper professes this to be wild-harvested, so who knows. Then again, plotting the GPS coordinates (listed beneath the 'wind harvest' claim on the wrapper; click image upper-right to enlarge) lands up about 100 miles due west of
Fiji
... smack in the middle of the ocean.
Hydroponic farming has come a long way in recent years. Just ask indoor
cannabis growers
who potentiated the THC levels in their crops. But can cacáo grow underwater? Now that'd truly be wild harvesting.
Oh, that explains it... they're smoking on it.
Simply put, nothing like it.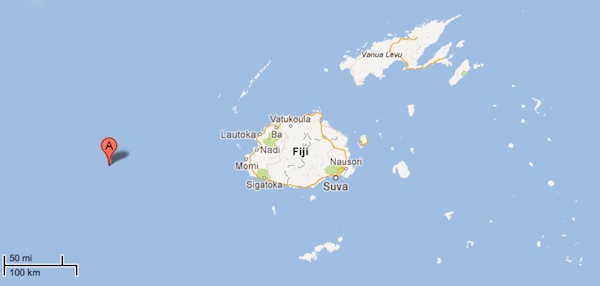 Drop pin points to the GPS coordinates 18º 00'S 175º 30'E listed on this bar's wrapper
,
INGREDIENTS:
cocoa mass, sugar,
cocoa butter
Reviewed January 10, 2013