Impact
Art has always been food for thought. Nowadays food is art, at least according to the Dallas Museum where nearby 72-oz steaks amount to mere hamburgers. Artist Stephen Lapthisophon's show --
Coffee, Seasonal Fruit, Root Vegetables, & Selected Poems
-- examines with a microscope the materials of everyday life. Bascially Warhol 3.0.
Evidently that message gets to
Rogue
, now enmeshed in synesthesia, a veritable gallery of
flavor & visuals
on exhibit in this bar.
Rogue taps a fellow renegade for the jacket's graphics; 3-D geometry; cubist Toblerone (click image at right to enlarge). Then trumps
Zotter's artist-in-residence
by feeding customers a Mies Van Der Rohe maxim (
God is in the details
). While
the Barsmith section of this website
relies on the more conventional 'devil's in the details' to account for the vagaries in chocolate-making -- which infers God presides over their apparent consistency for order amidst chaos -- this nod to meticulous detailing signals an ever emerging Rogue aesthetic.
show more »
show less «
| | |
| --- | --- |
| Color: | silver rouge |
| Surface: | immaculate save for a monster release mark (molding / setting peccadillo) |
| Temper: | beyond a mirror… self-absorbed lucite gel |
| Snap: | almost criminal to break this beauty bar & it feels the same way -- resistant… hence, jagged break line |
Aroma 8.3 / 10
distinct
pronounced nut skins
that loofa quinoa burger, plantain, & fenugreek in a rather un
Porcelana
guise
settles into more of this varietal's likeness with breaded folds (croissants / buttered crumbs)
add a speck of charcoal
Mouthfeel 11.1 / 15
| | |
| --- | --- |
| Texture: | shatter-glass foretold by its Snap… into hard wax |
| Melt: | duralast |
Flavor 44.3 / 50
herbaceous landscaping (dusky warty avocados tumbling over the
Venzy
llanos) framed in soft wood (bamboo) -> flour bathing in olive oil, the central subject, until out runs a nut pack (shells / skins / meats inclusive) -> drupe pit (mamey sapote) -> darkens into a heavier / harder wood (araguany & its quercetin bark) -> spot glutamate -> black truffle unto black stone -> closes on bitter apricot kernels
Quality 18 / 20
Not
all cacáos
are the same. Therefore, their percentages in finished chocolate should vary.
Finally a label that calibrates
Porcelana
at or near its correct pitch -- 80% (
Pralus the prior heavyweight at 75%
). Which puts to rest any arbitrary notions of a certain cacáo-content percentage representing some benchmark.
A while back the editor of
the C-spot
®
encouraged the
barsmith
from
Rogue
during a keynote panel of a chocolate festival to offer an outlier bar at $25 per, as a sort of tine to addressing some of the macro socio-economic issues ailing the field which this site discusses at length on numerous occasions. Rogue demurred, saying the market "isn't ready for it". Well, at $18 a pop -- the price territory of
Bonnat Xoconuzco
&
Éclat Good 'n Evil
-- perhaps it's getting there. Chocomanes should be flattered to pay it for that valuates upward their obsession... in the memory bank if nowhere else because however quasi-auctionable / collectible the cost, this won't sit on the shelves or in the cupboard.
Only consumed.
If
Balao
heralded Rogue's newer style, Porcelana 80% confirms it. Though discrete they share a similar bend, a pneumatic quality. This more confined & constricted in a narrow slip, exemplified by that tightly-wound, high-strung
Texture
.
Rare interpretation: The Porcelain Eclipse… of blinding vision as the pall sets in. Nothing sumptuous. Hardly a peaches 'n cream affair. Unless in the Goth sense with mascara bleeding on the sweetheart-cum-vixen. The spot of darkness alluded to in
Coppeneur's Porcelana
envelopes fully here, practically pole-to-pole, as with Invictus, foreshadowing at first then overshadowing at last.
Cocoa nuts rolled out & stretched into chocolate liquor amount to a canvas for the Roguester's handiwork.
Essence
Stark
Austere... to the edge of severe.
Cerebral rather than visceral.
Rogue externalizing its inner-
Domori
. That Italian house underwent an additional shiver in tone with a shift in equipment starting with
Guasare
, a genetic & geographic cousin to this Porcelana. Ditto Rogue. Each attaches a certain cool to their radiance.
The refinements highly rarefied & pinpoint precise. Both countenance a regal reserve, a photoshopped polish that borders on the inanimate. Beautiful stasis, unmoved. The mannequin model viewed in too many layouts -- distant & at a remove -- & all the better for it due to its fragility that the slightest breath might crater. Shot in B&W of course, an ode to an André Kertész still life more than an Edward Weston or Ansel Adams.
Few shall dislike it; fewer still can love it. But its ultra qualitative finesse is undeniable.
Virtually perfect. Too perfect.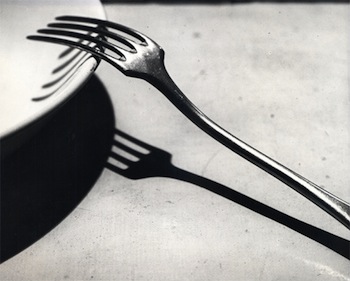 The Fork; André Kertész (1928)
INGREDIENTS:
cocoa mass, sugar
Reviewed January 16, 2014