Impact
A world premiere: the first
Guasare
to hit the global market & the first to be so recognized anywhere. (
Idilio
also plans to roll out a Guasare via
Felchlin
sometime later this year.)
The great poet Fernando Pessoa, also a considerable esoteric philosopher who was versed in the ethics of Spinoza, Schopenhauer's will-to-power, & the West's most rigorous dialectician in G.W. F. Hegel, once said, "there's no metaphysics on Earth like chocolate!" This, from a mind whose own work explored the realms between the material, spiritual & transcendent. Quite the endorsement (& consequence) of chocolate phenomenology.
By its very definition, in order for the metaphysical to achieve greatness it must give itself away. And that is what the melt in chocolate signifies. In so doing it attains its complete expression. Much like a life itself.
Domori's
Guasare... 1 small tree of
cacáo
; 1 giant treat of cocoa.
pwnsauce.
Appearance 3.9 / 5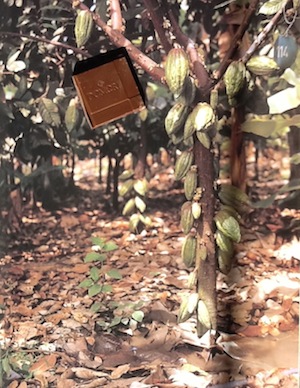 Holy cacáo, Batman, does chocolate really grow on trees?
Only with a quadrant of Domori's Guasare bar superimposed on a photo by Maricel Presilla showing the Guasare varietal that belongs to the species Theobroma cacáo can such an illusion trick the mind, Robin.
Smells like the handiwork of the Joker masquerading as Wonka.
| | |
| --- | --- |
| Color: | just on this side of light brown reflecting Porcelana-like white seeds |
| Surface: | slight concavity to the mold |
| Temper: | scratchitti (scratched glass) |
| Snap: | taut |
Aroma 9.2 / 10
toasted chocolate-cream puff sprinkled with chopped macadamias -> aerates to steaming hot cocoa
Mouthfeel 12.6 / 15
| | |
| --- | --- |
| Texture: | tight butter crystals foretold in the Snap |
| Melt: | comes true & prolonged |
Flavor 47 / 50
chocolate bang right off the rip -> releases cocoa in its many guises (brownie, fudge, cupcake, icing / fine-frosting, liquor, et.al.) -> caramelization stirs the pot & assumes the profile -> the melt-thru softens it further as cocoa butter adds roundness & softness -> no fruit to the rumors of
Guasare's
complexity really, save for lots of serene delicacies of a certain interior mode that show toward the end of the progression (making hay out of a quiet tonka with just a touch resin & dappled bitterness of pitanga shockingly close to freshly mown grass) ->
Milk Choc
flush with blanched almonds -> dried shredded coconut... otherwise chocolate thru 'n thru
Quality 17.8 / 20
This particular
Guasare
shares a similar backstory to
Domori's Chuao
,
Porcelana
,
Ocumare
& several other cultigens which the label, in conjunction with partners on the ground in
Venezuela
, the Franceschi family, transplanted from one region of that country to another. Part & parcel of the
Domori's
rescue & recovery mission of rare
Criollo
relics.
Specifically, Guasare came down from the mountain redoubts of Sierra de Perijé in Zulia State near the
Colombian
border, tracked to a remote orchard there named Tía Locha along the riverbank of the Rio Guasare. Due to its very isolation, Guasare has yet to suffer from the introgression of dumb clones & severe hybridization. Consider it therefore an "old" Criollo of relatively pure heritage.
Seedlings were taken to the agricultural nursery Campo Experimental San Juan de Lagunillas around Merída, Venezuela where they propagated it for surrounding
cacáo groves
. One of them, Finca San Joaquin, exported its entire harvest exclusively to the Japanese market before that property fell into the hands of Chavista squatters & disrepair.
Thankfully, the Franceschis entered the derby to get their hands on Guasare for its flavor of high-renown & its productivity of high yield (the latter quite unusual for Criollo). Some of it now finds a safe harbor in the family plot at Hacienda San José in the Paria Peninsula.
Domori's Guasare 70% is a bar of inordinate CQ (
C
hocolate
Q
uotient or baseline cocoa flavor free of practically any interference from overtones & undertones).
Nothing wrong with that per se & yet nothing extraordinary either until realizing that this tastes very much like what chocolate is supposed to... like, well, chocolate.
Dead-on, plain & simple
. Without all the make-up & additives (just cocoa mass + sugar, that's all folks).
For some, this may produce just a shrug. If so, maybe the world has become jaded always on the look-out for novelty & the next-next; & has come to expect too much from Domori. That after having delivered greatness for years, everyone got spoiled; & that chocolate without beer or pork grinds or some extreme floral note or "
raw
" edge is just... well, chocolate.
Alright, so here's a sop to them: as with
Domori's Porcelana 2012
& its
IL100%Criollo blend
, this tastes of someone still experimenting with a new roasting protocol. Robust roast? Who would ever accuse Domori of that? It accomplishes for Domori a similar net result as
Felchlin's
sluggish longitudinal conches: listless, almost melancholic. And while that's an overstatement, this bar veers in such a heated direction to raise the question, precisely because it reaches oh-so-near-sublime & just shy of the pinnacle peaks to imagine that Domori circa 2010 would have scaled it completely.
All others however, & especially those true chocomanes, will offer no shrift in acknowledging that this is one helluva...
chocolate
. True, few veterans will find anything really earth-shattering about Guasare. It generally conforms to the genial kind of coastal Venezuela cacáo. In other words, just pretty damn good.
INGREDIENTS:
cocoa mass, sugar
Reviewed April 5, 2012