Impact
One of the largest chocolate giants in the world tackles one of the smallest origins -- from the roots up.
A generation ago,
Puratos
introduced an internal line named
Belcolade
. Since then it has grown into a huge industry player. In 2012 Puratos signed a joint venture with Grand-Place to create
Puratos Grand-Place Vietnam
.
Chocolate gets interconnected like that.
Lest the premium sector thinks this presents just another example of Big Chocolate encroaching on the artisanal niche… well, true enough but with a difference. Both CEO Eddy Van Bell & the Cocoa Group Manager Marie-Amélie Ormieres actually appreciate & understand flavor -- a facet the industry at large has lost track of.
Moreover, after conducting due diligence, they're developing projects in other renowned &/or historical
destinations
featuring native
cacáos
. All in a quest to both seize an opportunity & lend their considerable resources to revive cacáo's fortunes in some hard-pressed places.
Vietname presents an anomoly in that its cacáo trees are relatively young compared to other origins, most planted since Year 2000 onward & its groves intercropped with local fruits for a diverse income stream. This contrasts with the hard facts that plague chocolate globally: better prospects in even rubber & bananas, plus an aging population of cacáo trees & cacáo growers, threaten the sustainability models of the industry's revenues.
Except to hear &, better yet, taste the fruits of Belcolade's labor in the next year or two.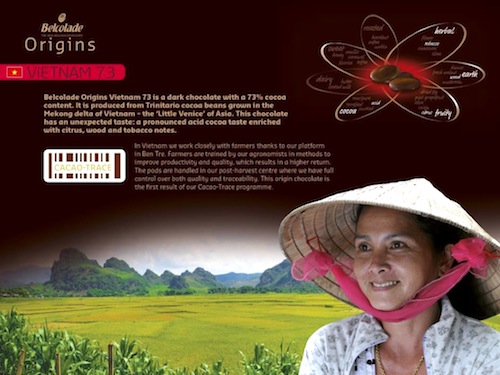 Envisioning a Bright Future: happy chocolate or looking happy to get out of it?
| | |
| --- | --- |
| Color: | deep brown |
| Surface: | disks that fit the slot between a U.S quarter & half-dollar |
| Temper: | soft buff |
| Snap: | meekly lyrical |
Aroma 7.8 / 10
smoked pork (overfermented?) blows off in favor of warming spices (in character with
this origin
) -> cookie dough with friendly nuts to disorient toward
Venezuela
-> trees & leaves appear (latex + tea) -> finally diffuses rich cocoa plumage
could go either way: boom or bust
Mouthfeel 14 / 15
| | |
| --- | --- |
| Texture: | uniform / friction-free; nary a bump or even crease |
| Melt: | pneumatic |
Flavor 41.2 / 50
5-leaf akebia a k a 'chocolate vine' for its scent of cocoa-vanilla (in line with this chocolate's predecessor --
Grand-Place 72%
), followed by a direct chocolate hit (the
Dông Nai
influence), citric flirt (from
Bến Tre
) in & around it, overshadowed by a now-brownie shade -> mild dusty tannins flutter as faint sandalwood, with prior acidity, surround in a halo-formation -> tea in the
Aroma
translates into uncured tobacco leaf rolled around the tongue -> ambrette a k a rose mallow (rich, slight floral, & heavy musk-like with a tobacco-edge of its own) heralds a sweet rush to the finish on whites (cane, marang, + translucent longan) -> closes the lid with wood
Quality 15.4 / 20
As a business-to-business supplier, this sample presentation, developed for sales & marketing personnel, represents similarly to
Grand-Place's trade couverture
. Part of Belcolade's growing
Origins
portfolio, & parcel to efforts in
Vietnam
to increase production from around 20,000 hectares to 50,000 hectares by the year 2020.
A mix of
Bến Tre
&
Dông Nai
cacáos gathered at Belcolade's collection & fermentation center in Bến Tre itself, then shipped to Belgium facilities for processing. According to the company it follows a unique protocol which enhances
flavors
. Nothing too unusual in the taste however to suggest such, such as starter cultures to initiate the fermentation in an attempt to control & direct flavor outcome. The company instead relies on the 'tried 'n true' to control Vietnamese hybrid cacáo which tends toward the very acid, oft overpowering, in some micro-regions (Bến Tre among them). Solar drying then finishes the post-harvesting.
As expected from a company of such resources & experience, this bar is technically proficient. So much so it refines out just about every possible strident mark to produce a chocolate perceptually sweeter than its 27% sugar level & ameliorate a relatively high roasting curve. All of which curbs the complexity of a
blend
, especially one from
Vietnam
with its distinct regional variations.
Indeed, this bar only peripherally evokes Vietnam. By emphasizing Dông Nai over Bến Tre, it assures a mainstream
basal cocoa
contour at the expense of brighter
fruit-laden
conveyances.
As with Grand-Place Vietnam 72%, Belcolade could do well to reapportion the ratios, slightly increasing the Bến Tre contribution which would create some needed uplift in this rather planar profile.
Good nonetheless, such as it is.
INGREDIENTS:
cocoa mass, sugar,
cocoa butter
, lecithin
Reviewed August 15, 2014