PIEDRA de PLATA:
Harvest 2014
Rain Harvest 2015 Dark & Light
2016 El Niño
Harvest 2017
by
TO'aK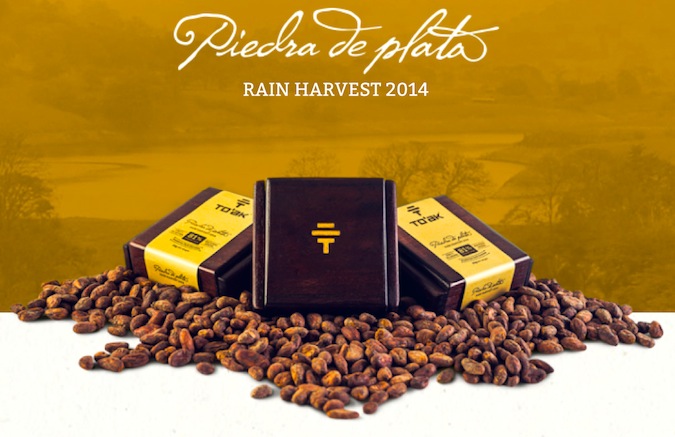 Impact
FLASHBACK REVIEW -- below are segments of TO'aK's
Píedra de Plata
cocoa & chocolate, first reviewed in 2014, followed by updated iterations in 2015 & then again in 2020. The rating & metrics (upper right) are a composite average.
*************************************
What worth a chocolate bar...
A family friend who repped the NBA once said in response to a player asking about his worth in a pending contract extension "you're worth whatever you can negotiate".
In negotiating the current market, the ambition here knows no bounds, nor audacity. The immersive website, the handcrafted slide-top box, & the enclosed tongs for handling the delicacy (nothing but the Spanish elm utilized for the fermentation cases shall come between chocolate 'n tongue, in keeping with the
terroir's
continuum) only partially inflates the US$260 per bar -- a price based on a strict calculus of labor manhours. Nothing too ostentatious either, like alba truffles or edible gold leaf, overshadows the centerpiece. Leaving the accessories out, this still weighs-in a hefty indulgence by chocolate standards.
Dylan sang, long after 'the times they are achangin', that 'people are crazy / times are strange'.
W'all gone loco or somethin'?
show more »
show less «
Appearance 4.9 / 5
High Presentation of Chocolate at the Exhibition
| | |
| --- | --- |
| Color: | pewtered purple (Rain Harvest 2016 El Niño exhibits a mahogany-verging-rosewood |
| Surface: | molten flush |
| Temper: | stately proud without pretense |
| Snap: | sounds amplified / synthetic; deserves "severance" payload |
Aroma 8 / 10
Seeds
incredibly light acetic acid + cleared woods (mahogany)
81% -- Harvest 2014
very wooded as elm leeches into a balsamic sour twist on a bar-b-q môlé… summed up as perfect 'sweaty' pork rub
aerates hallmark
Arriba
blackberry & a less hallmark black tea
Rain Harvest 2015 Dark
typifies the Arriba region in another direction: leguminous & chocolatiferous (cocoa stone works) -> humus
Aged 4 Years
mite acetic acid blows into modest gooseberry -> saddle leather -> climbing vines
Rain Harvest 2015 Light
duplicates the
Dark
(above) except this feasts on yeast & emits a musty candied-flower apparition in addition to wood, fronds + a fruit swell
Rain Harvest 2016 El Niño
78% cacáo-content
pretty blackberry blossoms on brown cocoa-forest bed
Rain Harvest 2017
76% cacáo-content
slight extra tart / sharp & more amplified than the year before (
El Niño
above)
Mouthfeel 10.7 / 15
| | |
| --- | --- |
| Texture: | archetype Arriba wax (foretold in the Snap) |
| Melt: | curdles some over a lengthy course |
Flavor 43.9 / 50
Seeds
TO'aK
sorts these into 2 broad types: a) slightly plumper / heftier & rounder selection bearing greater
Nacional
morphology & b) a more russet-skinned tier of divers 'other'
cacáo
-- call it 'Mixed Hybrids' -- & far more redolent unhusked than the relatively absent aromas of the preceding 'a'. Both on average a bit underweight (less than 1 gram per 100 seeds), an attribute, partially, of their biosphere preserve environment.
On the tongue, the presumed
Nacional
-centric seeds touch off sweet & easy… yes, traditional banana-inflections found in just about all
Nibs
almost the world over + papaya that yield to savory elements (greens & truffles) with only mite bitterness (& thin at that) -> back brazil nut -> aft-taste of classic Arriba slate-chocolate / blackberry pip. Really well-behaved.
The
Mixed Hybrids
, on the other hand, grate the T-buds ('T' for Taste) & project a generalized tartar incrustation that begets a tuber chip -> fiber then wood sustains the length.
NOTE:
TO'aK
purposefully excludes the
MIxed Hybrids
from production in their bars & goes to considerable lengths to select & sort accordingly.
81% -- Harvest 2014
slips in black currant to raisin -> quick elm strafes in warm / welcome levels over some mangrove terrain -> black coffee -> walnut -> loses magnitude even as the progression flirts with that blackberry & tea from the
Aroma
-> light forest herbals join even lighter gentian roots which start to set the table for the 'green fruit' finish -> cottons some & grows buttered blandishments -> very thin stringency (or what the choco-nonscenti dub 'green banana')
Rain Harvest 2015 Dark
pings around blackberry-wax, closely followed by strong cocoa support -> manioc meal -> holds its poise thru a twine & sisal coil -> back-flush of compounds lead to an intensely dark balsam-plum sweetened by lucuma (hi-point / bar-on) -> cocoplum -> ripples away off yeast extract
Aged 4 Years
carnauba wax -> wild jungle peanut -> wafer / cookie dough
Time really smooths & rounds this vintage into an easier faceable profile
Rain Harvest 2015 Light
Bar
sweet spices escort some breaded fruit (dense moraberry) -> cinnamon Red-Hots
®
, the candied floral of the
Aroma
+ a vanilla/inga-cocoa all roll up together -> sapote -> phosphorescences of banana-coffee
Culinary Coins
self-same berry gush at the front settles into a cocoa bed of tannic undergrowth -> wood chips -> some gum (acacia; reinforced in the Texture) -> mallow root -> black cherry
Rain Harvest 2016 El Niño
flash spice grinds down into tannic bluestone cocoa funneling toward blackberry jam -> fleeting camphor
writes that in 2016 the valley of Piedra de Plata experienced torrential rains (thanks to El Niño weather patterns) followed by an unexpected drought during the critical ripening period. The result: somewhat quick yet excellent progression. Pronounced & defined. El Niño really carries the chocolate current in this one.

Rain Harvest 2017
fudged beginnings -> holds onto wafer as fruit tries to break thru.... finally does (citrus mash) toward the last trimester of the progression -> faint rear peppercorn, then wooded coffee -> back end mildly stringent leguminous stoneworks -> creams away off on plantain
Quality 17.6 / 20
81% -- Harvest 2014
Presentation outstrips processing & data-gathering outpaces decision-making but, with such hype anticipating a letdown & after speaking with the principles of
To'ak
about their overall methods, this frankly fares better than expected.
A grownup percentage (81%) benefitted by weather in Píedra de Plata valley of
Ecuador
which proved drier than normal in March 2014; thus concentrating, theoretically, the sugar content of the pulp which ferments these
cacáo seeds
.
Despite the promised notes of berries & plums, precious little acidity materializes to manifest those fruits in any major degree, or even much astringency for, presumably, a
Nacional
rooted genotype. Just no real pucker to speak of. As such, only scant to nil traces of Arriba's fabled floral prints (orange blossom, jasmine, occasionally lilac), perhaps because the seeds underwent a ferment of up to a week, well beyond traditional Arriba Nac'l cycles of 2 to 3 days which create its characteristic stringent traits that seduce many into faked flowers.
Customary Nac'l tags though -- coffee / blackberry / nut -- clearly embedded within, & bitterness virtually absent though residual tannins stand in nicely. The latter contributed largely by elm. Yes, beyond the tongs to lift this on the tongue, elm imparts significant impact to the profile in a carryover from the fermentation cases themselves.
A moderate roast for an Ecuador, which conventionally handles stronger heat, counters
Equatoriana's
conch (the manufacturer for
To'ak
), a firm accustomed to churning a shade too aggressively which simultaneously throws off the
Texture / Melt
.
This finished chocolate pretty much encapsulated by the lone, lean seed accompanying the package (see photo under the 'Show More' link in the
Impact Statement
above) in a nice 'bean to bar' touch.
All in all, a respectable if incomplete result, one that Jerry Toth & Carl Schweizer of
To'ak
can nonetheless take pride in as they prepare for the next harvest. Earnest & dedicated, they stand committed to the mission -- both for cacáo & the rainforest as evidenced by their
Third Millennium Alliance
which established the Jama-Coque Eco-Reserve along the Pacific coast of Ecuador, a stretch more threatened than the
Amazon
as only 2%. still survives. This mirrors in some respects the demise of
Brazil's Mata Atlântica
across the continent which enjoys some reforestation thanks in part to a resurgence of cacáo cultivation.
They're aware of the obstacles & of their position among the constellation of
barsmiths
. Unlike a few early-stage peers who hang a chocolate shingle & wing it,
To'ak
carefully plots its course & this bar shows, literally, the fruits of their labor. Whether they make it or not largely depends on consumers willingness to buy at a feasible charge that could fluctuate before settling.
Whatever one thinks of the business model, hand it to them for audacity in daring to test a new revenue structure in contrast to the raft of consultants who dash
around the globe
at odds with themselves professing artisanal principles while advising cocoa plantings by the metric tonnage, processing equipment built for volume / scale, throughput spreadsheets, efficiencies, economies of scale… the whole MBA-wad which, granted, reflect the practical reality that at current market prices chocolate remains cheap fodder for mass production under the ideological rubric that more & more growth of whatever qualitative standard equals 'better'.
Reviewed October 31, 2014
Rain Harvest 2015 Dark
80.5% cacáo-content; Rainharvest 2015
As narrated in
TO'aK's
story-book which comes with this collectable box presentation,
Dark
literally connotes the
fruits of cacáo
picked during the early season (February 21 thru March 26, 2015), ripening only under moderate sunshine. These
seeds
definitely got wet though during the rain season. In response, the built-up acidity received a longer ferment cycle + a commensurate inverse conche -- a sub-
Zotter
-level 9 hours.
A midpoint merger on the palate between
Duffy's 83%
& the
Brasstown 75%
, all from the same general vicinity. A bit straitjacketed yet tremendous depth, especially that final stanza of deep purpling fruit.
Reviewed November 10, 2015
Rain Harvest 2015 Light
73% cacáo-content; Rainharvest 2015
As its name conveys, this seed allotment, plucked from mid-April to mid-May, enjoyed both appreciably more rain AND sunshine, netting higher natural sugars / lower acidity, thus allowing for shorter fermentation. The total sum of factors, including more added cane sugar, still plays darker, & certainly denser, than it's advertised 73% cacáo-content.
TO'aK's
most accomplished bar to date. Spreads then covers both vertical & horizontal axes, displaying fairly broad range rooted in some considerable depth for a chocolate of intensity without brutality.
Indeed the label demonstrates incremental advances on every link in the production chain (save for
Texture
, a slog endemic to Arriba-grown cacáo) from the seed selection to the box collection (if that's possible; was already tops). Hence, the bump-up in its rating from a year ago.
Reviewed November 10, 2015
2020 Update:
The
2016
and
2017
harvests -- allowed to mature as part of this nameplate's
Aged Chocolate collection
-- show
To'ak
hitting its stride. A label that produces quality with consistency.
INGREDIENTS:
cacáo, sugar