Andean Peru: High-End 96%; "Criollo Cuvée" 82%; Barranquita 75%
by
Zotter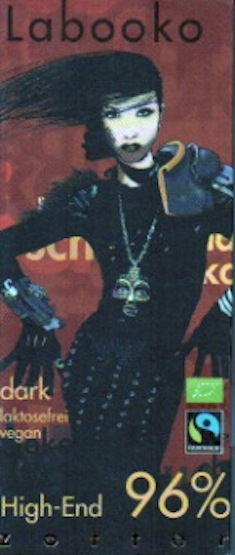 Impact
Zotter
in a triple-bar ode to chocolate habitats on & around the Andean Mountains of
Peru
– there laying on a log, looking up in the forest canopy, with millions, literally millions of chocolate drops flittering above, the susurration of their flight, soft as breath on
Theobroma
leaves. Some kind of portal opened in the heavens & abundance poured down over this spot on Earth, on the sound of chocolate, poured ceaselessly, poured before time & thru time & poured into every cell of bodies savoring it. Oh, to live this truth every day, even but for 1 whole hour at least… falling for it again, embodying the billion-years legacy of evolution that lives in every cell.
Alive.
When gone, let's hope it comes back again.
And again.
| | |
| --- | --- |
| Color: | paler shades of brown |
| Surface: | pro |
| Temper: | Zotter's trademark shimmer |
| Snap: | taut high |
Aroma 8.1 / 10
High-End 96%
very deep woods, big
Earth
, cocoa & coconut shells
"Criollo Cuvée" 82%
peanut oil in a flower bed along a cinder path
Barrranquita 75%
wild
Amazon
peanut x equally wild pink camu-camu
Mouthfeel 12 / 15
| | |
| --- | --- |
| Texture: | standard |
| Melt: | regular until a 3rd quarter collapse |
Flavor 43.6 / 50
High-End 96%
dense forest minimally opened by a sugar crystal or two ->
cocoa butter
a harbinger of vegetal savor seasoned by a salt grain which together spell umami -> coconut shell & black cocoa, the lone pre-cursor to latent chocolate
"Criollo Cuvée" 82%
light
Naked
chocolate (a reflection of this bar's color) -> under-riding cream -> small bitter cuffed in manioc grain (very welcome) -> black café separate from the cream -> semi-bitter salad green (a sprout from the vegetal action in the
High-End 96%
[above]) -> chocolate-dipped plantain & potato chip
Barrranquita 75%
instant & clear cocoa -> camu-camu edge on the fringe -> hash chocolate -> woods ear mushroom (welcome bitter) -> Peru balsam -> chicory root -> sweetens up cherimoya -> sacha inchi
Quality 17.8 / 20
High-End 96%
34-hour conche
Zotter
no stranger to high-percentage
Peru
. Witness his unsweetened
100%
-- a stratospheric bar in the annals of chocolate. And 34 hours in the conche, by Zotter standards, equates with eternity. Necessary though.
It nets a pretty austere bar without being stark. Definitely flirts on the edges of allowing a glimpse of what its
full flavor spectrum
entails if only more sugar were added.
That vegetable patch in the midsection makes the rest worthwhile.
INGREDIENTS:
cocoa mass, sugar
"Criollo Cuvée" 82%
Piura, Peru; Aprocap Co-op
20-hour conche
Note the quotes around
"Criollo" Cuvée
added by Zotter itself.
Criollo
nowadays demands that.
Not a tremendous panoply of flavor -- Piuras only
rarely
offer such -- but this vintage of white-seeded
cacáo
marks a significant upgrade from his
original 80%-class Piura Peru
.
Barrranquita 75%
Just to the northeast of Tarapoto, the location of the Agri MInistry & the USDA field station for cacáo genetics. As
Orquidea demonstrates
, not all San Martin cocoa is equally poor. This bar here follows in that near-groundbreaking precedence. Best of the set.
INGREDIENTS:
cocoa mass, sugar,
cocoa butter
, salt
Capsule Summary
Peruvian cacáo
scatters all over the quality map from great to terrible, pedigreed & bulk-grade. In this trio of Peru bars, Zotters sources, as usual, select seeds though nothing rises to the level of Earth-shattering / world-stopping. They all sit in a fairly confined range which by no means surveys the broad diversity of the country's innumerable varietals. And the real surprise of the bunch comes from the most unexpected origin --
Barranquita
.
As a high-percentage collective however (spanning 75% to 96%), few other
barsmiths
can match it.
Reviewed 17, 2015