Vanilla Bean White;
Coconut Milk;
Dark Coconut Milk;
70% Dark Belize
by
Charm School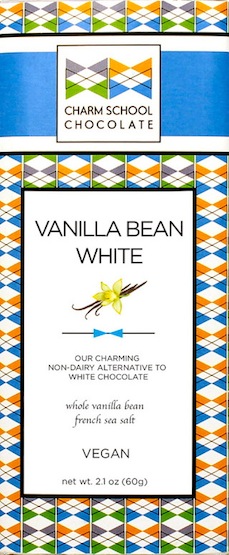 Impact
Charm
rides in a White Knight on a trojan horse.
Years ago flavorist
Joseph Zotter
released an exceptional
White Chocolate utilizing coconut
.
In Nouveau Puritanical America, Josh Rosen of
Charm School
takes a healthy vegan tack, especially for the lactose intolerant, swapping out cow's milk entirely with coconut milk, leaving flavor as a side note.
But flavor's aplenty in this sweet bar.
Ditto the 3 others in a developing charm offensive already building serious chocolate cred beyond being merely good-for-you, it's good-to-you.
Everyone likes that.
| | |
| --- | --- |
| Color: | gorgeous hues all around from blushing rouge to biege white |
| Surface: | baby-smooth; unique slanted-gable mold |
| Temper: | invisible to the naked eye |
| Snap: | pizzazz but softer than "regular" bars |
Aroma 9.3 / 10
70% Dark Belize
just dripping fermented fruit + a carbolic undercoat

Dark Coconut Milk
coconut centric, dominant & pervasive accented by a saline pop

Coconut Milk
coconut cake -- truly scrumptious

Vanilla Bean White
lemon-coconut croissant
Mouthfeel 12.2 / 15
| | |
| --- | --- |
| Texture: | shredded wax |
| Melt: | semi-long |
Flavor 44.3 / 50
70% Dark Belize
initially the bletted fruits of the
Aroma
-> heavy treacle -> fudge -> goopy raisin -> sour twang offsets that char at the fringe -> rising cherry blossom blooms to sour cherry (unexpected & exceptional) over a brownie point
Dark Coconut Milk
deep toffee-caramel -> savory mineralized salt lightly brushing & interlining the preceding -> malted cereal grains -> date / fig / tamarind trio (sensational) -> palm sugar… holds this for a good third of the progression... flash sour-milk, coconut style
Coconut Milk
takes a little while to finds its bearing then clicks in on date-cake (incredibly good) -> coconut caramel -> slow dissipation to that slightly sour milk (albeit coconut)
Vanilla Bean White
elemental… deconstructs into its constituent parts (particularly coconut) -> melts into a honey lemon-drop -> slightly caustic at the edges -> butter (more cow than cocoa) -> candy corn -> lingering subliminal
cocoa butter
Quality 17 / 20
70% Dark Belize
Maya Mountain Cacao
Fraught beginning, especially that overbearing treacle, then the contour continually adds & accumulates to an incredible resolution. Atypical for recent harvests of Maya Mountain in several respects but enough of its conventional tags (re: raisin) to abide by the origin.
INGREDIENTS:
cocoa mass, sugar,
cocoa butter
Dark Coconut Milk
Really well-seasoned with Fleur de Sel -- neither heavy-handed nor evanescent; just the right touch which sustains the flavor beyond its progression. It never truly dies out or even stalls but the length, in terms of sequenced changes, shortens right after the midpoint.
The very ending mimics to a small degree
Hershey's® milk
note (re: the butyric acid which comes from fats; in a process called controlled lipolysis, fatty acids decompose, resulting in a rancid "goaty" taste). While some may object to it as a defect, it piques interest & maintains attention.
A prototype ready for production.
Coconut Milk
49% cacaáo-content
Charm
schooling the masses on a different kind of
Milk Choc
. Everyone swoons.
Again, deftly proportioned & executed. Nary a note out of place. Even the "sour" ending turns up lemon-like.
A label showing the way with a fresh take on an old format.
Major innovation via a minor tweak.
INGREDIENTS:
cane sugar, cocoa mass, cocoa butter, coconut, sea salt, vanilla
Vanilla Bean White
34% cocoa-butter content (deodorized);
Ecuador
Looks un-deodorized but that beige / taupe coloring driven by vanilla & coconut instead.
Other than that caustic note (contributed by tapioca &, perhaps, the sunflower lecithin), this conveys excellent gastronomics despite a generally low (White)-CQ (for baseline cocoa quotient).
Altogether a separate flavor & quite distinct from standard
White Chocolate
.
Charm
clearly on to something here.
INGREDIENTS:
cocoa butter
, sugar, coconut, tapioca syrup, sea salt, sunflower lecithin, vanilla bean
Reviewed July 6, 2015