Impact
'tis back-to-skool for the mollycoddled 9-11 generation... those adorable li'l cupcakes, muffins, & flapjacks who grew up in a security-saturated era violated by –- trigger warning –- terrorism.
The NYTimes reports Ivy League students – supposedly America's crème-de-la-crème -- set up "safe spaces" which offer calming music, cookies, Play-Doh™ & videos of frolicking cuddly puppies to help students cope with academia.
Guess the kids who hid under desks during Cold War nuclear test-drills were too dumb to know how to manipulate authorities (teachers, principals, parents, etc.) into getting things like less homework & more grading on a curve let alone dorms that resemble resorts.
Ergo, the free speech movement of the hippy 60s is banned. Ditto, obviously, this irreverent site with its tongue-in-cheek commentary that damages the psyche of
barsmiths
whose ego, invested in their business, rails against critiques passing judgment on the "
subjectivity
" of chocolate taste. How dare anyone. Of course, accuracy, not to mention honesty, are casualties in this impulse to just shut everything down but glowing praise.
While
the C-spot
™ shuns personal assassinations, focusing squarely on product, it also advocates that the best way to trump hurtful expression is to produce better expression rather than silencing people except, again, unless it laps up & kisses ass of course.
Maybe the light at the end of this dark tunnel illuminates a rainbow where cultural change liberates everyone to be free of bullying, snark, petty snipes, vanity… all the chafe of an antagonistic society hell-bent on image, money, & sex. Then again, like Revenge of the Nerds, it probably just wants to invert the social order to call the shots & meter out ridicule for their erstwhile abusers so the oppressed can become the oppressors.
Consider this half-tribute -- half because Gen 9-11 keeps coming of age & as MLK Jr. noted if God renders judgment only at the end of one's term, who can do so beforehand -- as a wholehearted salute to
Dick Taylor
. In its relatively short-life, this chocolate maker frees itself from the confines of just its comfort zone & faces challenges rather than hiding from them. That alone commands respect.
Appearance 5 / 5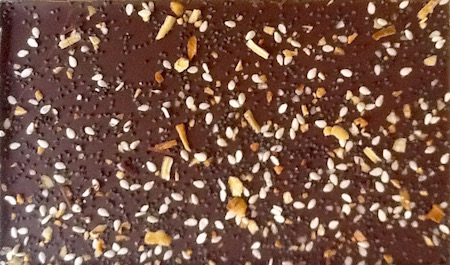 Color:
Guatemala: blanco brown con rojo cast
Vietnam: another pale brown
HSU: brownest of the set in the....
Surface:
Guatemala & Vietnam cleaner than a car wash - hyper-clean...
HSU: .... face of a speckled backside (see photo below)
Temper:
... but unpolished
Snap:
tender is the bite
Aroma 7.2 / 10
Guatemala
mayo on white bread
evolves toward aioli / tapenade
last air on dry tannic cocoa dust / dirt
basically a sour patch fat

Vietnam
a den of iniquity, sorcery, & reverie

HSU
stand clear: dehydrated garlic
Mouthfeel 11.8 / 15
| | |
| --- | --- |
| Texture: | nano-granular |
| Melt: | hydro lipids |
Flavor 38.3 / 50
Guatemala
instant fruit thrall (rambutan sweet then currant tart immediately thereafter) on a conventional cocoa conveyance -> plantain -> ventures into stringent agave & tequila territory.... maintains poise & enough sweetness to obviate the need to card check IDs -> robusto takeaway

Vietnam
spice-infused chocolate brownie (no cupboard spices but wild ceremonial varieties) turns chocolate spice-cake -> back sour just at the detectible limits yet enough to impede the foregoing -> slight pink grapefruiting onto guava -> splintering sandalwood -> flushes out in a swamp

HSU
WYS2IWYG (What You See AND SMELL Is What You Get)... garlic & a whole lot more coming... meandering chocolate... sesame backup -> poppies reinforce the nut quotient -> salt kicks it all into gear & together seals it for a gestalt unimagined heretofore in this bar's progression... includes the underlying cacáo acidity so prevalent / redolent of Dick Taylor's other releases (a couple of them above)
Quality 13.7 / 20
Guatemala
Conan; Lanquín Alto Verapaz; Finca Chimelb
Recent
Guatemalan cacáo
has been so squamate to earn the moniker
Squatemala
, a sad state of affairs for a region once extolled as the zenith of chocolate culture. This shows signs of turning a corner in the origin's fortunes.
True, a motley slew -- uneven allotment both in terms of
seed type
(another "
Trinitario
"; re: no one really knows WTF it is) & fermentation rate (profile lurches on the edge of an astringent insurrection). Compounding the FX is a less than vigorous processing. And while
Dick Taylor
overstates the flavor with liner notes of "blackberry peach cobbler" -- they kinda appear... elements of both fruits exist, just uncoiled together -- this holds current interest &, moreover, real promise that the next harvest will be better still.
INGREDIENTS:
cocoa mass, sugar
Vietnam
Mekong Delta; Cho Gao Co-op
Mekong-strong... in a stranglehold. Whereas
Soma treats
these same seeds with commensurate refining,
Dick Taylor
backs off (no overtime for this conche) & not to this cacao's advantage which calls for some push -- especially at this percentage -- in order to pull in the manifold spectrum. A sweet 'n sour compote / compost.
INGREDIENTS:
cocoa mass, sugar
HSU
72% cacao-content; Maya Mountain Cacao; Belize
Basically an
Everything Bagel
found in shops everywhere that swaps out the bagel for a bar & the sprinkles on top (or in this case on the bottom) form an 'everyone-in-the-pool' party.
Remarkably they work together, no mean feat considering a)l the disparity in ingredients & b)
Dick Taylor's
base chocolate
. Which all adds up to (hyper)complexity the friend of this
barsmith
.
Whether by design or default, winging it or engineering it, an assemblage deserving of its labeled Special Edition Bar (click image upper right to enlarge).
INGREDIENTS: cocoa mass, sugar, sesame seeds, poppy seeds, garlic, onion, salt
Reviewed September 28, 2016