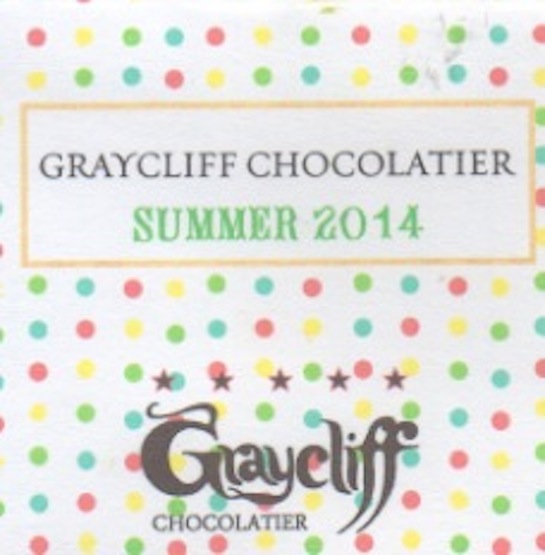 Impact
Boxed chocolate is where
cacáo
goes on Sunday afternoons.
Graycliff
serves it up daily for comfort fare.
Presentation 3.4 / 5
stock packaging (box, design, plastic trays)
machine-grooved molds within
Aromas 3 / 5
encased
Textures/Melt 8.1 / 10
| | |
| --- | --- |
| Shells: | thick, bullet-proof walls |
| Centers: | generally the opposite |
Flavor 44.3 / 50
no mistaken IDs… easily identifiable & well-articulated with solid / strong chocolate bases whether
Dark
,
Milk
or
White
Quality 25.9 / 30
Nothing daring; pretty standard combinations. Nor much in the way of pastry finesse & flair.

But, wow, some real down home-cooking with great pop sensibilities.
Selections
Chai Tea
--
Milk Choc
thru & thru… & as much pumpkin pie as chai; cozy & comforting
Bacon
-- a fat pig of a piece with sloppy feet & monster hammy flavor;
Graycliff
could've spared the swine & just re-melted some
PNG
Morobe from the likes of
Amano
,
Omnom
,
Ducasse
, or
Mast Bros
Hazelnut
-- hard
Milk Chocolate
bite; timid hazelnut that misfires some butterscotch more than gianduia
Nutella
-- better than the jar variety thanks to a thick
Dark Choc
shell that furnishes the spread with some much-needed backbone
Pineapple Goat Pepper
-- no spark / heat, just sweetly-sick putty in
White Chocolate
enamel
Mint
-- a healthy dose of the herb + the cocoa, each joined in clarity, strength & balance; executed with aplomb
Goat Cheese
-- immediate, identifiable, & shockingly innovative because
Graycliff
elects to house it in a
White Chocolate
shell with coconut shreds; tastes far less abysmal than it sounds
Pistachio
-- dressed in
White Chocolate
; terrific juxtapose even if the White acts rather industrial, the green nut meat lays it out into savory peanut-like territory
Mocha Praline
-- the name only partially states it, add huge prune accents (presumaably the interaction of cocoa-on-coffee); perfectly struck balance of forces; stunning mold-architectures completes this world-class piece
Almond
-- white nut meal inside
Milk Choc
; slight off-chalk point prior to vanilla-caramel wresting the progression; all's fair which ends there
Vanilla Bean
-- only the heart-shape separates what approximates a standard
Dark-Milk
chocolate
Mint
-- another in a series of
White Choc
-based ganaches; perhaps peppermint, emphasis
pepper
; spice hot… kitchen improv?
Brandy Cherry
-- been some time since sampling this old standby classic, now passé to the nouveau scene stuck on salted caramels & chili pepper truffles; brandy the difference maker here, adding depth & interest; a welcome re-introduction by
GraycliffPeanut Butter
-- salted
Milk Choc
; direct hit of the original intent before Reese's
®
dove into pleated spud cups
Key Lime
-- yet another
White robe
& somewhat pasted with chalk, none of it however stops Graycliff from encapsulating a true infusion of this piece's namesake; easy
Salted Caramel
-- slays it
Reviewed June 30, 2014