Impact
Africa
is choc-full of proverbs & paradox.
The Asante, for instance, sport a matrilineal kingship - one way to achieve gender equality – that emerged from the central forests in a country once known as
The Gold Coast
. From riches obtained as middlemen in the gold &
slave trade
while trafficking between neighboring Mandè & Hausa, the Asante fashioned their royal arts, none more important than the Golden Stool (or
sika 'dwa
in their Twi dialect). First enthroned by Nana Osei Tutu, the original Ashantehene, it represented the spiritual center & unifying force of the people (
sunsum
). At his side could typically be found court servants who wore mystical discs called 'Soul Washer's Shields' which were used for purifying the King's spirit.
Now before any needy soul-patched Gen Xers & GenYs out there start hatching plans to wipe away the dreadful anxiety of ruling the world & get their rebel credentials back -- ya know who you are, ye who take up faraway causes & charities while ignoring the local variety (like some globejetters robbing the cradle of the species by plucking babies from Malawi)... this doubtlessly might seem to fit the bill, even if it fails to fill the void. Do the world a favor & stay away from there.
This bar stands for much more than grandstanding. Part of the company's 'Maker's Series', it in some ways commemorates the life of
Scharffen Berger
co-founder Robert Steinberg (1947 – 2008).
True, it hails from
a single origin
rather than a signature blend upon which Scharffen Berger made its mark after Steinberg learned the art from
Bernachon
. But when the Asante king dies, his stool is blackened with blood in a ritual sacrifice (parallells abound between this & cacáo's sacred use in
Mesoamerica
). All in accordance with an Asante proverb, 'when a shield wears out, the framework still remains'.
Translation: good people die but their deeds live on.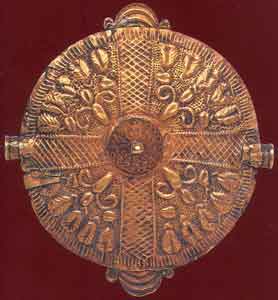 Asante Soul Washer's Shield; gold, 20th Century, Ghana (Newark Museum Collection)
Appearance 4.5 / 5
double fortification: box & wax paper
| | |
| --- | --- |
| Color: | cherry wood |
| Surface: | bit of a dirty smudge pot... thick viscous smelt; fudge swales, bubbles & gurgles on back |
| Temper: | mirror, mirror on the wall... |
| Snap: | clangor & a banger; picking up on Temper – tight, almost fire cracker sharp for 65% |
Aroma 8.1 / 10
simply rich: dank cinnamon-cherry stream off a cocoa-brownie bed of beautiful clove 'n kola-wood planks -> rare appearance in
African cacáo
of canned flash-golden peach -> wood & rubber predominate in the open air, followed on by tobacco 'n polished shea nuts in humus
Mouthfeel 13.2 / 15
| | |
| --- | --- |
| Texture: | smooth w/ weight; among S-B's best |
| Melt: | protracted; only slightly astringent |
Flavor 44 / 50
blasts the roof off on cocoa -> red, white & black cherry bambaataa (Bing; Rainier; & Mountain) -> under cut by clove -> here come the nuts (shea & kola + their phosphoric acid component) accompanying very mild wooden bitterness (hallmark of black cherries) -> vanilla over light biscuit -> reverbates tannic cocoa bark + chokeberry -> raisin (converted from the black cherry) floors the down shaft
Quality 17.6 / 20
Cherry themed from the color to the nose & the tongue. Strong heft both in terms of mass & flavor thanks to high enough proportion of cocoa mass acting as a counterweight to sugar - CBS (Cocoa Mass / Butter / Sugar) ~4:5:5 – delivering more punch & power than most
semisweets
. 35% sugar content feels about right for
S-B's house-style
(light roast / easy conche; the former avoids the usual coffee grinds found in
Ghana
, while the latter guards against running flat) without which the tannic force of those wood notes (possibly construed as tobacco by some) would just bring the lumber down, hitting the head with a 2x4, & resounding too raw on the tongue. But overall it give this bar its vibrance & a tiny measure of bringing wild cherry to the civilized.
ING:
cocoa mass, sugar, cacáo butter, soy lecithin, vanilla beans
Reviewed Autumn 2010