Impact
REDUX REVIEW
: In terming quinoa a "superfood",
El Ceibo
resorts to the PR buzz (& who dare blame them?) devised by Aaron Moss then seized by the likes of rawfood muftis, & foisted wholesale upon gullible consumers by Dr. Oz & Oprah.
While no single food can supply all of life's sustaining nutrients, quinoa comes as close as any other in the plant & animal kingdoms. But how much quinoa can anyone handle at a single sitting for 3-squares a day in order to satisfy the RDA for all nutrients? The answer would seem to be massive carb load.
In a sign of just how the marketeer-cons pervert commonplace notions, what qualifies as a superfood today once passed for a staple. The very farmers who grow quinoa in the Andes & whose ancestors ate it for millennium (the barley, corn, & wheat of their region) can ill-afford to consume the hard-earned fruits of their labor for it has become too dear & thus earmarked a cash crop for export. The "superclass" (yet another wonderful superlative) that inhabits the financial capitals of the world (Wall St., Silicon Valley, DC, The City in London, Dubai, et.al.) & graze for their sustenance along the foodways of urban "farmers' markets" thusly receive the bounty that goes with "fine baby lettuce", at $32 per pound, whence they can next appear in yoga studios & ashrams as phytos meditated upon for their sunlight principles whose glow behind the navel gazing offers a glimpse of divinity. Of course practicing deep-breathing Prāṇa by lighting up some hydro green bud (another superplant!) will naturally achieve the same high.
Before long, just about every edible will claim superfood status because if it's good enough to eat for human consumption, then it must contain at least a modicum of nutritive value that can be highlighted. The newest old M.O.: sensationalism sells.
Somewhere in Indiana, for instance, a crabapple association might discuss at their next knitting circle… men & women alike; now that pro athletes are squealing out of the closet (
as did a contributing editor of the C-spot®
), guys can fess up to this activity as well… launching an ad campaign about the stuff their parents threw away, or what they as kids threw at each other in the backyard, & rave instead about its antioxidant superpower in line with the old adage 'an apple a day' – any apple for that matter – 'keeps the doctor away'.
But why in the hell would anyone want that? Docs now have superdrugs.
This Redux Review contains a composite of one posted in January 2011 & a revised edit since
El Ceibo
recently added Uyuni salt to the mix.
**************************
Quinoa, sacred 'Mother Grain' (
Chisaya mama
) to the Incas whose emperor sowed the first seeds each Spring with his 'golden implement'.
Bolivia
now holds to it more dearly than
Peru
.
High in protein including a full complement of amino acids & fiber + cacáo's vitamins & minerals... &, this, virtually a complete meal in a bar that fires off a chocolate buckshot with quinoa pellets as so many shrapnel dispersing stuff like peanuts & more for a native twist on a Reese's™ cup.
| | |
| --- | --- |
| Color: | crimson-brown |
| Surface: | Doppler effect: constellation of white quinoa light up a quasi-Xmas display to appear red |
| Temper: | twinkling |
| Snap: | laser sharp |
Aroma 9.5 / 10
aeromatically gifted: Nestlé's Crunch Plus – lush
Milk Chocolate
-like decadence further enriched by grains (brown rice / quinoa) & nuts (almonds / roasted peanuts) dripping oil -> kid-in-the-candy-shop reds (cherry / raspberry) -> plum coffeecake -> stewed prunes -> bluestone -> marshmallow
assumes a heavier countenance with salt
Mouthfeel 12.3 / 15
| | |
| --- | --- |
| Texture: | soft micro-crunch |
| Melt: | slow-mo |
Flavor 45.1 / 50
lots of landscaping flavors
peanuts out of the gate against a pure chocolate hit for an unsalted Reese's™ -> butterscotch toffee brittle -> mild saponin washes in a diffuse bitter, brings bittersweet almond & tea leaves ->
Boliviano's
inherent red plums intensify to purple ones -> sweeping marshmallow -> oxalic acid in the guise of poppy seed -> goes into the woodshed... resin over damp soil -> lead Pencil no. 2 -> gunsmoke -> sugar ensures it never loses aim on chocolate-peanuts -> caps it vanilla-quinoa
Quality 17.4 / 20
Indigenous thru & thru, right down to the last root.
The high & the dry: quinoa can grow at high altitudes (up to 4,000 meters) & requires next to no husbanding, just leave it alone, which suits the El Ceibo cooperative living in the Alto Plano just fine.
Ditto cacáo except it requires labor-intensive harvesting. The salt on the other hand comes from the world's largest salt beds at Uyuni in the country's southwest… a place too saline for any agriculture. It barely registers on the tongue... disappears really in contrast to its albedo, said to be so great (no, kiddies, not libido but "reflective properties") that it's the only spot on Earth visible to the naked eye from the moon.
Hardy overall constitution yet ultimately delicate flavor: pretty much a ruck that starts coming like tumbleweed by the mid-section (a real taste of
the territory
) then shifts into a seemingly natural match to transform that tough slaggard of a
75% base
in creating this bar with good chocolate instincts.
Special.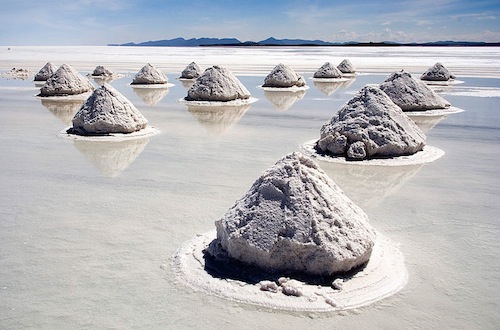 ING:
cocoa mass, sugar,
cocoa butter
, quinoa, soy lecithin, Uyuni salt
Reviewed January 2011
Revised July 30, 2013